11/30/06 17:09
We know you go to unclebarky.com for the articles. But just in case...
By ED BARK
OK, you probably haven't focused yet on that little guy up above with a microphone to his mouth. Recognize him? Why, that's
Justin Timberlake
, king of the "wardrobe malfunction."
He'll be tempting fate anew with what CBS calls his "breakout performance of the decade on the sexiest night on television." So all apparently is forgiven from the 2004 Super Bowl XXXVIII halftime show, when Timberlake ripped off Janet Jackson on CBS' time. He'll now be singing selections from his
FutureSex/LoveSounds
CD during CBS' Tuesday night, Dec. 5 telecast of
The Victoria's Secret Fashion Show
(9 central, 10 eastern).
Playing along are models
Gisele Bundchen, Adriana Lima, Karolina Kurkova, Alessandra Ambrosio, Selita Ebanks
and
Izabel Goulart
. Oh for the simpler times of simpler names like
Ethel Mertz.***
CBS has canned
3Lbs.
after three episodes. Rushed onto Tuesday nights after the new series
Smith
lasted just three episodes, the drama starred
Stanley Tucci
as a headstrong Manhattan brain surgeon. CBS had planned to bump
3 Lbs.
up an hour on Dec. 5 in deference to the
Victoria's Secret
special. But now a rerun of
The Unit
will step in.
***
Ill. Sen.
Barack Obama
will take the
Jay Leno
plunge on NBC's Friday, Dec. 1
Tonight Show
. Obama, who's considering a 2008 presidential run on the Democratic ticket, is one of many prominent pols to "demonstrate their relaxed, good-humored side" on
Tonight
, says NBC. Others include
Al Gore, George W. and Laura Bush, John McCain, John Kerry
and frequent guest
Arnold Schwarzenegger
, who announced his successful campaign for California governor in Leno's presence.
11/27/06 21:13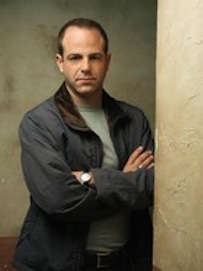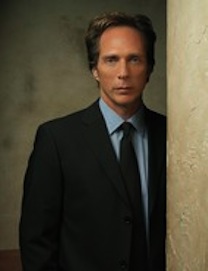 Shot to hell? Secret Service Agent Paul Kellerman plugged FBI manhunter Alex Mahone on Prison Break's fall finale.
By ED BARK
Actor
William Fichtner
turned 50 on Monday. He likely had a better time than his
Prison Break
character, who was left for dead that night on the show's Nov. 27th fall finale.
The shooter, duplicitous Secret Service Agent Paul Kellerman (
Paul Adelstein
), fired on Fichtner's twisted FBI guy, Alex Mahone, in the episode's closing minutes. He then fled with freed brothers Lincoln Burrows (
Dominic Purcell
) and Michael Scofield (
Wentworth Miller
) in yet another alliance switcheroo.
Mahone lay suitably motionless, but is he really a goner?
"That's the big cliffhanger," Fox spokesman
Todd Adair
said via email Monday night. "Someone is confirmed dead in the winter premiere, though."
That's coming on Jan. 29 after a Jan. 22 recap of the second season's first 13 episodes, filmed entirely in North Texas. Adair said the 14th episode also will mark the return of Mahone's wife, Pam (
Callie Thorne
).
"By the end of tonight's finale, you'll be begging for more!" a Fox pitchman boomed about halfway through Monday's episode. Ain't too proud to beg, but not in this case. This has been just an OK ride so far, with more than a few far-fetched convolutions. Demonic Theodore "T-Bag" Bagwell's on-again, off-again hand, now magically refitted with a prosthetic, is but one of the series' sheer fantasies. The guy would have bled himself dead or be fatally infected by now. But
Robert Knepper's
vividly creepy portrayal of the character remains airtight.
Now they'll have two months to regroup and maybe reconfigure exactly where the hell the show is going. A third season renewal is no cinch yet. So it's a tricky business trying to plot your way toward either a finish line or yet another cliffhanger. In this particular case, that can be a really tough cell.
11/26/06 19:23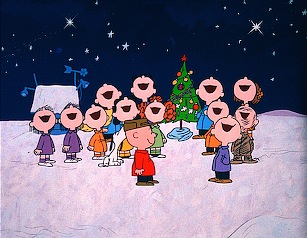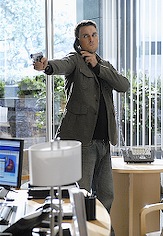 Charlie Brown rides again on ABC, but The Nine is being holstered.
By ED BARK
ABC has benched
The Nine
indefinitely after last Wednesday's episode lagged a distant third opposite CBS'
CSI: NY
and NBC's
Medium
. The taut serial drama, spun from a prolonged bank robbery/hostage-taking ordeal, will be supplanted on Wed., Nov. 29 by a
John Stossel
20/20
special titled "Cheap In America." It's the last night of the November "sweeps."
Roly poly
Charlie Brown
, a holiday perennial since 1965, returns uncommonly early this year. ABC has scheduled
A Charlie Brown Christmas
for Tuesday, Nov. 28 at 7 p.m. central, 8 eastern
Warren Beatty
will be the newest C.B. DeMille honoree at the Golden Globes, set for Jan. 15 on NBC. Consider the source, but it's the Hollywood Foreign Press Association's highest honor -- for lifetime achievement. Last year's choice was
Anthony Hopkins
. A woman hasn't been feted since 2000, when
Barbra Streisand
won.
Fox has figured out what to air in place of its two canceled
O.J. Simpson
specials. On Monday, Nov. 27, look for a repeat of the ubiquitous
House
after the fall finale of
Prison Break
. Wednesday will bring a rerun of
Bones
.