06/30/19 10:32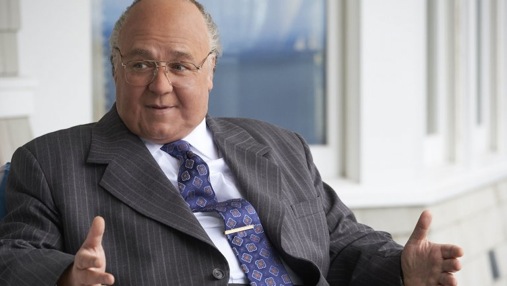 Russell Crowe fills the role in The Loudest Voice. Showtime photo
Premiering:
Sunday, June 30th at 9 p.m. (central) on Showtime
Starring:
Russell Crowe, Sienna Miller, Annabelle Wallis, Naomi Watts, Seth MacFarlane, Simon McBurney, Aleksa Palladino, Guy Boyd, Josh Stamberg, Patch Darragh, Barry Watson, Jaime Jackson, Josh Helman, Susan Pourfar, John Rue, David Cromer
Produced by:
Tom McCarthy, Jason Blum, Alex Metcalf, Liza Chasin, Kari Skogland, Jeremy Gold, Marci Wiseman, Padraic McKinley, Russell Crowe
By ED BARK
@unclebarkycom on Twitter
Making up is hard to do -- or so it would seem in turning Russell Crowe into Roger Ailes.
Showtime's seven-part
The Loudest Voice
, launching on Sunday, June 30th, manages to be seamlessly convincing, though. A combination of the actor's weight gains and some remarkably convincing prosthetics have put Crowe in fine form for a role that few could have imagined him playing. The Oscar-winner from
Gladiator
brings the combative and controversial Fox News Channel founder alive, even if Ailes is first seen lying dead next to an empty prescription pill bottle. He lived to be 77, but died in disgrace less than a year after resigning from FNC in 2016 when allegations of workplace sexual harassment became public via a lawsuit by former FNC anchor Gretchen Carlson.
Carlson, played by Naomi Watts, is only fleetingly seen in the three episodes made available for review. And that's not until hour three, when she approaches Ailes at a party and successfully coaxes him to set up an interview for her with then Republican presidential candidate John McCain. Later in the episode, Carlson ends their Q&A by cheerily telling McCain, "Sounds like a winning message to me." This is hardly the comportment of an objective journalist, but fits right in with Ailes' determination to derail Barack Obama's presidential candidacy. The primary source material is Gabriel Sherman's 2014 book
The Loudest Voice in the Room: How the Brilliant, Bombastic Roger Ailes Built Fox News -- and Divided a Country
.
Crowe's performance begins with a voice-over that accompanies his corpse. "I know what people are going to say about me," he narrates. "I can pretty much pick the words for ya. Right wing. Paranoid. Fat. And I'm not going to argue with them. I am a conservative. I
do
like to eat. And I believe in the power of television. Giving people what they want, even if they don't know they want it."
By this time,
Loudest Voice
has rewound back to 1995, with Crowe as Ailes first seen filling his face in a diner during the Christmas season. It's then on to a face-to-face meeting with NBC CEO Jack Welch (John Finn), who's dropping Ailes as head of both CNBC and spinoff network America's Talking (which soon would become MSNBC).
"Whatever they're saying I did, it didn't happen," Ailes says vaguely before Welch refers to an ongoing HR investigation of whatever he's accused of doing. Even so, he receives an affectionate sendoff from his staff, many of them in tears.
"We love you," a woman tells him.
"Now you tell me?" Ailes ripostes.
Crowe is constantly on camera as Ailes, chortling, yelling, cursing and even trying a little tenderness with CNBC producer Beth Tilson (Sienna Miller), who will become his third and last wife. His emotions are fully conveyed, with no hint of restriction by those aforementioned prosthetics. This is Ailes unleashed, not encased, with Crowe acting up various storms in Sunday's rousing opening hour. He's already savoring the idea of screwing Welch with a competing cable news network that will corner an untapped market by disseminating "an American message wrapped up in a conservative viewpoint." And he has a receptive ear in Rupert Murdoch (solid work by Simon McBurney), whose worldwide News Corporation will be bankrolling FNC.
Episode 1 also sows the seeds of Ailes' predatory bent. He recruits blonde beauty Laurie Luhn (Annabelle Wallis), ostensibly as one of FNC's talent bookers. Primarily though, she's his mistress. And by the time of Episode 3, a repulsed and self-drugged Luhn is being ordered to "dance for me" in her bra and panties while Ailes shoots video.
"Who protects you," Laurie?" he asks.
"You do," she says in a fog before orally gratifying a grunting Ailes. It's a thoroughly creepy sequence that also could be easily denounced as flatly gratuitous. But Luhn, who recently dropped a $750 million lawsuit against Showtime after a private settlement was reached, had earlier gone public with her story to Sherman. His subsequent account, published after the book was released, detailed what Luhn said was 20 years of sexual abuse by Ailes.
Other notable characters are omitted from Showtime's limited series, at least in terms of actors playing them. Megyn Kelly, who became one of Ailes' accusers, initially was envisioned as a peripheral character but later was cut. Bill O'Reilly, referenced as a suspected sexual predator in Episode 2, is shown only as himself in footage from his show,
The O'Reilly Factor
. "What, did he get handsy or something?" Ailes inquires before ordering president of business and legal affairs Diane Brandi (Susan Pourfar) to "just take care of it."
FNC star Sean Hannity is portrayed, but innocuously so far, by actor Patch Darragh. And Seth MacFarlane, as head PR guy Brian Lewis, has little to do but smirk in the first two hours before getting a little more to chew on in Episode 3.
Episode 2 deals at some length with the shocking events of Sept. 11, 2001, with Ailes gradually convincing Murdoch that "we've got a big part to play. This is our time, Rupert. This is our time."
It's also time for Ailes to conspire with Vice President Dick Cheney (John Rue) in terms of orchestrating a plan to invade Iraq. "You're a patriot, Roger," the veep tells him before speaking at a big public gathering and mouthing some of the words Ailes has hand-crafted for him.
Episode 3 advances to 2008, with Obama on a roll despite Ailes' and FNC's best efforts to put McCain in office. Although he admires his military service and comportment as a prisoner of war, McCain's "message is about as limp as Liberace's handshake," Ailes grouses. Furthermore, Obama's veep, Joe Biden, currently being pummeled by several of his rivals for the 2020 Democratic presidential nomination, won't be happy to hear Ailes call him "dumb as an ashtray" during a meeting with Obama's head strategist, David Axelrod (David Cromer).
By the end of this hour, Obama is president but Ailes has secured a prime consolation prize -- "full editorial control" of Fox News. During a visit to his hometown of Warren, Ohio, he's treated as a hero and vowing in a speech that "together we can make American great again."
This seems like more than a bit of a stretch in terms of coining Donald Trump's 2016 clarion call and FNC's full-blown partnership with his eventual presidency.
Unaware of his infidelity, Elizabeth "Beth" Ailes likewise is her husband's true-believing partner, sharing his right-wing views and enjoying the creature comforts his status has provided them. Their little son, Zachary (now 19), is given the daily chore of daily raising and lowering the American flag outside his parents' palatial suburban home. He probably should spare himself from watching any of
Loudest Voice
, particularly the aforementioned Episode 3.
Loudest Voice
otherwise is riveting at the start and somewhat less so as time marches on. Crowe's portrayal of Ailes of course is the major drawing card, and he is nothing if not fully immersed. The characters around him can't help but pale in comparison, but it would help if some of the supporting roles were more vividly acted. McBurney comes closest as Murdoch while Miller is capable as the Mrs. who so far knows nothing of his mistress and other transgressions.
The current mainstays of Fox News Channel seem more likely to ignore the film than openly denounce it on the air. After all, who at his old network would want to reopen the gaping wound that Roger Ailes became? It's easier to keep blasting away at the 20 Democrats currently running for President. Of that Ailes would approve.
GRADE:
B+
Email comments or questions to:
unclebarky@verizon.net
06/12/19 14:38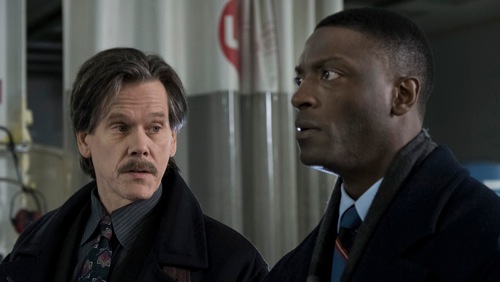 Kevin Bacon & Aldis Hodge team up in Boston-based
City On A Hill
. Showtime photo
Premiering:
Sunday, June 16th at 8 p.m. (central) on Showtime
Starring:
Kevin Bacon, Aldis Hodge, Jonathan Tucker, Mark O'Brien, Lauren E. Banks, Amanda Clayton, Jill Hennessy, Jere Shea, Kevin Chapman, Catherine Wolf
Produced by:
Barry Levinson, Tom Fontana, Ben Affleck, Matt Damon, Chuck MacLean, Jennifer Todd, Michael Cuesta
By ED BARK
@unclebarkycom on Twitter
A showy command performance by Kevin Bacon won't be taking
City on a Hill
to new heights.
It's enough, however, to give Showtime another
Ray Donovan
in terms of watchable, serviceable, jut-jawed crime hours.
Boston again is the familiar site of embedded police corruption, with Bacon leading the charge as hard-drinking, chain-smoking, carousing FBI agent Jackie Rohr.
"What used to make this city great was that it was run by bad men, who knew they were bad," Rohr rasps (not roars) in the opening minutes.
But there's a new agent for change in the form of crusading assistant DA Decourcy Ward (Aldis Hodge), a proud African-American who clashes with Rohr before uneasily aligning with him. It's all set in the early 1990s, with a gang of armored truck robbers at large. Of course it will go beyond that. All in due time.
The series' executive producers include two familiar teams -- Barry Levinson/Tom Fontana and Ben Affleck/Matt Damon. They may not know many or any new tricks anymore, but can still deliver some solid, straight-ahead punches.
Showtime made the first three episodes available for review, with Rohr striding through them while Ward increasingly makes his presence felt.
On the other side of the law, Boston's Ebb-Tide bar supplies weapons for Frankie Ryan (Jonathan Tucker), his drug addicted, screwup brother, Jimmy (Mark O'Brien) and accompanying henchmen who wear full-faced, hard plastic white fright masks while stealing stacks of fresh cash. They didn't anticipate killing anyone, but whaddya gonna do when things go awry? So three bodies also are missing. This vexes Frankie's wife, Cathy (Amanda Clayton), who otherwise does the money laundering.
When not shaking down or protecting informants, the married Rohr is pleasuring himself with a woman who isn't his wife. Jenny Rohr (Jill Hennessy) is left feeling unfilled while her live-in battle ax ma (Catherine Wolf) stirs the pot against Jackie. There's also a rebellious daughter thrown in. Her name is Benedetta (Zoe Colletti).
Ward is much better situated at home, where his wife, Siobhan Quays (Lauren E. Banks) both encourages and cajoles him. There are no problems in the bedroom.
After an energetic start and a nice twist at the end of Episode 1,
City on a Hill
slows its pace a bit while taking a predictable turn in terms of Jenny's desires to resume her teaching career in the face of Jackie's indifference toward her. She's gotten no comfort from the family's old-line Catholic pastor, who asks Jenny to ask herself, "What's your part in the failure of your marriage?"
Jackie, not a church-going type anymore, prefers to quote the wisdom of Roy Cohn, the gut-punching attorney pal/mentor of both Joe McCarthy and a young Donald Trump. Among Cohn's mantras: "If you held onto the lie, the bullshit, against all evidence, there was nothing anybody could do." Rohr has come to thoroughly believe this when it comes to coverups. Perhaps he also has a crystal ball in terms of future presidential administrations.
City on a Hill
is likely to get a nice, multi-season run on Showtime, which in addition to
Ray Donovan
has three other ongoing veteran dramas in its arsenal --
Homeland, Shameless
and
Billions
. It's become a network that knows how to get these things done. And it looks as though it's done it again.
GRADE:
B
Email comments or questions to:
unclebarky@verizon.net
06/12/19 10:03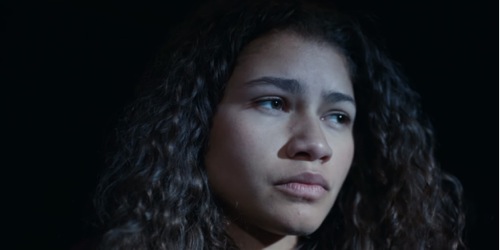 In a high school haze. Zendaya stars in Euphoria. HBO photo
Premiering:
Sunday, June 16th at 9 p.m. (central) on HBO
Starring:
Zendaya, Hunter Schafer, Jacob Elordi, Alexa Demie, Algee Smith, Sydney Sweeney, Maude Apatow, Barbie Ferreira, Angus Cloud, Storm Reid, Nika King, Eric Dane, Javon "Wanna" Walton
Produced by:
Sam Levinson, Drake, Future the Prince, Ravi Nandan, Kevin Turen, Hadas Mozes Lihtenstein, Ron Leshem, Daphna Levin, Tmira Yardeni, Mirit Toovi, Yoram Mokady, Gary Lennon, Jim Kleverweis
By ED BARK
@unclebarkycom on Twitter
A passing reference leaves its mark in Episode 3 of HBO's aggressively graphic
Euphoria
.
The kid sister of central character Rue Bennett (Zendaya, already on a first name basis) is alone in her room, immersed in her IPad. What's she watching?
My So-Called Life
, Gia (Storm Reid) tells Rue.
Today's high schoolers weren't anywhere near being born when the
then very daring ABC coming-of-age drama series
premiered a quarter-century ago and lasted just one season.
Euphoria
, which launches Sunday, June 16th on HBO, makes the disaffected youth of Pittsburgh's Liberty High seem like the original comic book versions of Archie, Jughead, Betty and Veronica. But it certainly shows how far we've come -- or fallen.
Euphoria
's most jarring scene, among many, is of a corpulent, abuse-craving man masturbating his fully exposed penis into an erect state while watching a live feed of masked, half-dressed high schooler Kat Hernandez (Barbie Ferreira), who insults him on demand for payment in return. So should any parent in their right mind allow their adolescents to watch
Euphoria
? I'm gonna vote "No" on that one. Not that the kids won't find a way.
Those of a certain age (anyone over 30) rightly might shudder at the thought that
Euphoria
is an even close to accurate depiction of contemporary high schoolers. Whatever one's political persuasion, the goings-on in the four episodes made available for review are not at all what we want for our kids.
Of course, some of the featured parents are majorly screwed up, too. Topping that list is Cal Jacobs (Eric Dane), a prosperous, bullying businessman who secretly harbors a video collection of his rough sexual escapades with high school girls. But as we see in a flashback, his son, Nate (Jacob Elordi), discovers them as a pre-teen. Hello, sculpted spawn of Satan. Nate ends up being both a star football player for the East Highland Blackhawks and a terrorizing, twisted brute.
Some of the decidedly dark turns in
Euphoria
seem better suited to a mob drama. Nate is bad enough. But there's also a thoroughly ruthless drug overlord who terrorizes both Rue and her nominally protective supplier, Fezco (Angus Cloud). Fezco otherwise dispenses his wares with help from a baby-faced little associate known as Ashtray (Javon "Wanna" Walton, who in real life is a pint-sized boxing prodigy). In Episode 4, Fezco and Ashtray dispense drugs from their "pretzel stand" at the annual town carnival.
Adapted from a same-named Israeli series,
Euphoria
is heavy on Zendaya's narrative, which recounts both her story and those of other key high school characters. Principal among them is Jules Vaughn, a transitioned newcomer played by transgender woman Hunter Schafer. In addition to a cavalcade of executive producers (including Drake and Future the Prince among the 13 listed by HBO),
Euphoria
also has a credited "transgender consultant."
Jules, among those who run afoul of Nate's perverted father, later finds herself bonding with Rue. Their relationship blooms, grows and arguably offsets some of
Euphoria
's gratuitousness. Particularly when we learn about Jules' traumatic formative years in an Episode 4 that lamentably also veers into more of Nate's over the top villainy.
Rue's self-absorption and drug addiction make
Euphoria
a very tough sell in the early going. Her eventual and seemingly serious attempts to get sober may gradually elicit more sympathy -- or not. Meanwhile, Rue's poor mother, Leslie (Nika King), tries to keep from going off the deep end herself.
Perhaps striving to make a "statement,"
Euphoria
's number of exposed penises exceeds the series' bared breasts in these first four of 10 episodes. And it's not even close, with Rue even presiding over a fantasy treatise on "dick pics." Some might see this as an overdue form of gender equality after HBO's
Game of Thrones
had it the other way around until the #MeToo movement took hold and rendered the series' comparatively chaste down the stretch.
Given its high school focus, HBO likely has its most controversial series ever in
Euphoria
. And to what end? The series' visual style points and redemptive qualities -- yes, there are some -- tend to be overwhelmed by a wealth of excesses. The performances, particularly by Zendaya, Schaefer and Ferreira -- are not the problem. But getting "real" doesn't have to mean diving head first into a cesspool of drugs, profanity, promiscuity and a borderline indifference to it all. That's where
Euphoria
so far fails not only itself, but the many impressionable youth that likely will be the series' core audience.
GRADE:
C+
Email comments or questions to:
unclebarky@verizon.net