02/25/08 16:27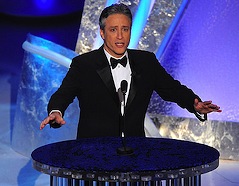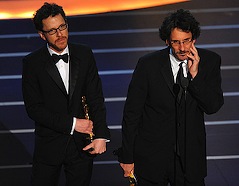 Host Jon Stewart and best picture directors Ethan and Joel Coen.
By ED BARK
Audience levels for Sunday's 80th annual Oscar-cast sunk like the Titanic, according to "fast national" ratings released Monday afternoon by ABC.
The three hour, 38 minute telecast, minus three minutes of closing credits, hit a historic low of 32 million viewers, based on figures compiled by Nielsen Media Research since the 1974 ceremony. Oscar shows before then were only computed in total households.
Last year's trophy giveaway drew 40.2 million viewers. The smallest number of total viewers before Sunday's Oscars had been the March 23, 2003 ceremony on ABC, in which 33 million viewers watched
Chicago
win for Best Picture. But that show had to compete with periodic war bulletins from ABC News anchor Peter Jennings, who brought viewers updates on the U.S. military's ongoing march to Baghdad, which had begun just five days earlier.
Oscar's Sunday night performance fell below last month's opening night of Fox's
American Idol
, which drew 33.4 million viewers for a two-hour audition outing from Philadelphia. The next night's tryouts in Dallas almost outdrew the Academy Awards with 30.4 million viewers nationally.
ABC's ratings press release accentuates whatever positives can be gleaned, including the fact that Oscar "towered over" this year's earlier awards shows, including the Grammys (17.2 million viewers), the Emmys (13 million) and January's strike-impaired, celebrity-free Golden Globes press conference (6 million).
Many of Sunday's winners and movies were unfamiliar to mass audiences. The Best Picture winner,
No Country For Old Men
, so far has taken in a modest $64 million in domestic box office receipts.
The most-watched Oscars ever, in 1998, drew 55.2 million viewers. A little movie called
Titanic
won for Best Picture that year. It's the all-time champ in domestic B.O., with just over $600 million in ticket sales.