03/15/12 14:16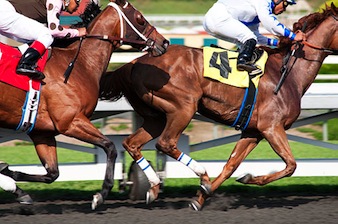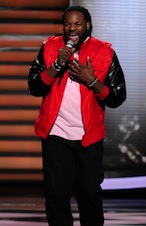 The horses of Luck and disqualified Idol finalist Jermaine Jones.
HBO/ABC photos
By ED BARK
HBO's
Luck
has run out of it.
The horse racing drama is no more after the euthanizing this week of a horse injured during filming. Two other horses met the same fate during production on Season 1 of
Luck
, which is currently airing on HBO. The latest tragedy occurred Tuesday while
Luck
was shooting a planned Season 2. Track scenes originate from Santa Anita Park in Southern California.
"It is with heartbreak that executive producers David Milch and Michael Mann together with HBO have decided to cease all future production on the series
Luck
," the network said in a release issued Wednesday evening.
HBO said it had maintained "the highest safety standards throughout production, higher in fact than any previous protocols existing in horse racing anywhere with many fewer incidents than occur in racing or than befall horses normally in barns at night or pastures."
But the network said it couldn't guarantee against future accidents and "accordingly we have reached this difficult decision."
Luck
marked Dustin Hoffman's first starring role as a TV series regular, with Nick Nolte also a part of the cast. Milch and Mann said in a joint statement that "the two of us have loved this series, loved the cast, crew and writers. This has been a tremendous collaboration and one that we plan to continue in the future."
***
Fox has sent finalist Jermaine Jones packing after learning he had not copped to a previous police record while applying for the show. In a statement, the show generically cited "veracity issues and failing to disclose information."
Fox reacted to an earlier report by
tmz.com
that said Jones twice had given false names to police and had a total of four outstanding arrest warrants for driving with a suspended license and "disorderly conduct with an open container."
Jones is scheduled to plead his case Thursday on HLN's
Showbiz Tonight
, which airs at 10 p.m. (central).
***
Whew. A
Real Housewives of Dallas
edition that had been in the casting/development stages has been stiffed by Bravo.
Exec. VP of original programming and development Andy Cohen told
zap2it.com
Thursday morning that this particular concoction would be a non-starter. To which your friendly content provider adds, "Bravo."
***
Hallmark Channel made a slew of programming announcements Thursday, including the premiere this fall of
Marie!
, a one-hour weekday afternoon talk show to be hosted by "international superstar" Marie Osmond.
The network's executive vice president, Michelle Vicary, said that Osmond is "someone we all feel that we know, and the essence of who Marie is fits perfectly with the Hallmark brand to be emotive, family-oriented and celebratory." Osmond is, above all -- emotive.
***
ABC has marked May 13th for the series finale of
Desperate Housewives
. And the network says that the premiere date for its syndicated
Katie
talk show, starring Katie Couric, will be on Monday, Sept. 10th.
WFAA8, an ABC affiliate, will carry the show in Dallas. It likely will air at 4 p.m. weekdays.
03/08/12 12:52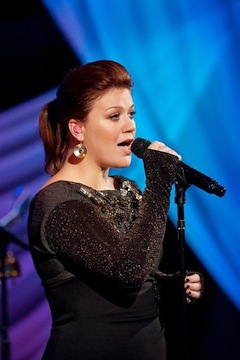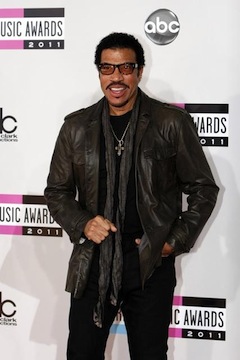 Duets mentors Kelly Clarkson and Lionel Richie ABC photos
By ED BARK
And then there was only one Big Four broadcast network without a star-studded singing competition series.
That would be CBS after ABC announced Thursday that it will launch
Duets
this summer.
The show's four "chart-topping superstars," who include inaugural
American Idol
champ Kelly Clarkson of Burleston, will "individually set out on a journey across America looking for undiscovered talent worthy of being their proteges," ABC says in a publicity release.
Besides Clarkson, the competing stars are Lionel Richie, Robin Thicke and Jennifer Nettles. Says Clarkson: "The simple fact that I get to go out and find two people that I believe in, sing with them every week, and help them accomplish their dreams is an amazing thing that I can't wait to be a part of."
Clarkson lately also has appeared on NBC's hit singing competition
The Voice
, serving as a guest mentor. Her original starmaker, Fox's
Idol
, lately has been surpassed by
Voice
as prime-time's most-watched series. Fox also has Simon Cowell's
The X Factor
, which will return in the fall with two new judges and a pair of new hosts.
ABC says that the winning amateur competitor in
Duets
will win a recording contract with Hollywood Records. Those interested in auditioning can
go here for more information
.
03/07/12 09:33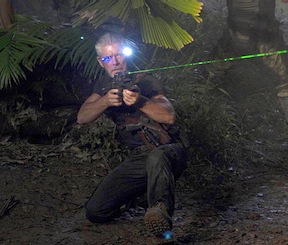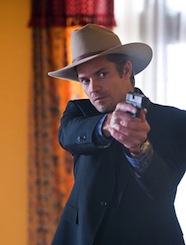 Terra Nova no longer a big shot, but Justified will keep shooting.
Fox/FX photos
By ED BARK
The dino-powered
Terra Nova
is looking for a new stomping ground while
Justified
will live on through at least a Season 4.
Or to put it another way, the majority of new series on Fox (and most other broadcast networks) never see a second season. But a clear majority of newcomers live longer and prosper on cable cousin FX.
Fox's official cancellation of its costly
Terra Nova
, whose executive producers included Steven Spielberg, came without further comment Tuesday. FX's pickup of
Justified
, which still has five episodes remaining in its ongoing third season, came with effusive praise for the modern-day western.
Filmed abroad and waylaid from a scheduled sneak-preview last spring because of production delays,
Terra Nova
's 13 episodes averaged 10.1 million viewers, with 4.6 million in the advertiser-coveted 18-to-49 age group, according to data from Nielsen Media Research that also includes delayed DVR viewing.
Justified
so far is drawing an average of 7 million viewers for its weekly multi-runs, with 3.4 million in the 18-to-49 age range, says an FX publicity release. It also has a season order of 13 episodes.
The producers of
Terra Nova
say they're looking for a new home because the series has performed very well internationally. But its average price tag of $4 million an episode apparently made it too rich for Fox's broadcast network bloodlines. Cable networks on the other hand have both commercial and subscriber revenue streams, although
Terra Nova
may still be too costly for the likes of Syfy or TNT, which has renewed another special effects-laden futuristic Spielberg series,
Falling Skies
, for a second season.
Addressing TV critics in January at the winter network "press tour," Fox entertainment president Kevin Reilly said the network "made money" on
Terra Nova
, but the show "was hunting for itself creatively through the season . . . If we had more holes on our network, we'd be thrilled to just lock it right in."
But the production costs and logistics weighed heavily against making more than 13 episodes of
Terra Nova
per season, Reilly acknowledged. The usual full-season order for a scripted drama series is 22 episodes. So in the end Fox backed away, even though it certainly will have some holes next season with the announced cancellation of
House
, the likely dropping of
Fringe
(which Reilly said was
losing
money) and the failure of freshman series such as
The Finder
, which has been exiled to Friday nights to finish out its run.
On FX and other basic cable networks such as TNT and AMC, it's comparatively rare for a series to fall by the wayside after just one season. Besides
Justified
, FX currently has fellow multi-year series such as
Sons of Anarchy, Archer, It's Always Sunny in Philadelphia, Louie, Wilfred
and
The League
. FX also has renewed
American Horror Story
for a second season.
In that context, it was an aberration when FX's critically praised boxing series
Lights Out
, got punched out after Season 1. But on Fox and its three main broadcast network rivals -- ABC, NBC, CBS -- this season's official list of freshman dropouts already includes Fox's
Terra Nova
and
Allen Gregory; ABC's Charlie's Angels, Man Up!, Work It and Pan Am; NBC's The Playboy Club, Prime Suspect and Free Agents; and CBS' How To Be A Gentleman.

That first-year casualty list will only grow later this spring, with ABC virtually certain to ax The River while NBC assuredly will part ways with The Firm, Are You There, Chelsea? and quite possibly, Whitney.