06/02/11 13:34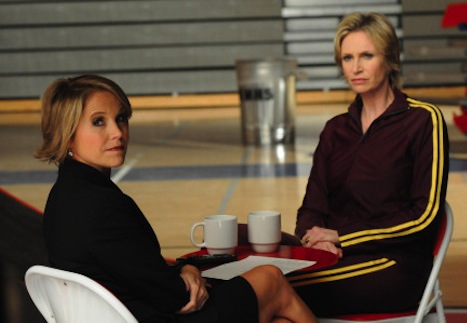 Lynch with guest star Katie Couric in earlier Glee episode. Fox photo
By ED BARK
Nominees might need thicker skins than usual at this year's prime-time Emmy awards.
Jane Lynch, who gleefully lobs industrial strength insults as
Glee
's Sue Sylvester, has been named to host the Sept. 18th ceremony on Fox.
"I am tickled pink to be hosting," Lynch says in a publicity release. "I'm looking forward to singing, dancing and sporting my finest tracksuit."
The 63rd annual Emmy presentation will be produced by reality maestro Mark Burnett (
Survivor, The Voice
), says with all due sincerity that Lynch was "my first and only choice."
She will be the third openly gay host of the Emmys in the last seven years. Ellen DeGeneres presided in 2005 (as well as 2001) and Neil Patrick Harris in 2009. Last year's host was Jimmy Fallon.