12/21/09 09:58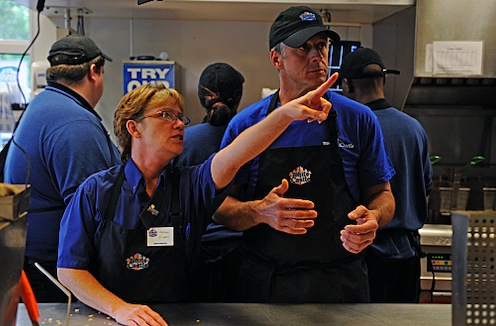 White Castle gets microscoped in early hour of Undercover Boss.
By ED BARK
CBS has announced its post-Super Bowl attraction -- and its replacement for the struggling Sunday night hospital drama,
Three Rivers
.
It's
Undercover Boss
, to be launched after the network's Sunday, Feb. 7th telecast of Super Bowl XLIV. The one-hour reality series -- executives clandestinely leave "the comfort of their corner office" to mingle with commoners -- then will move to Sundays at 8 p.m. (central) on Feb. 14th.
Also returning on that date is the 16th edition of
The Amazing Race
, which will precede
Undercover Boss
at 7 p.m.
Cold Case
moves back to Sundays at 9 p.m.
In limited mid-season tinkering, CBS also announced that the 20th edition of
Survivor
will be a "Heroes Vs. Villains" affair set to premiere on Thursday, Feb. 11th. It'll be a gathering of good and bad from previous
Survivors
, with the principals to be named later.
Survivor
host
Jeff Probst
also will be presiding over a one-hour
Live For the Moment
special on Thursday, Jan. 28th. CBS says that Probst will escort "someone on a series of adventures and experiences that create special life moments with their family and friends." That person then shares his or her "inspiring insights."
***
NBC will throw another unscripted hour on the grill with
Perfect 10
, emceed by
Guy Fieri
of Food Network's
Diners, Drive-Ins and Dives
fame.
The Peacock has ordered eight episodes of the "family friendly" game show, in which contestants will compete in a "series of simple, yet nerve-wracking games that can reward them a $1 million prize." There's no air date yet.
****
Let me make this crystal clear. Comedy Central's
The Daily Show
and
The Colbert Report
at last will be going to high-definition on Monday, Jan. 4th. The network promises "crisp picture quality."
12/10/09 15:20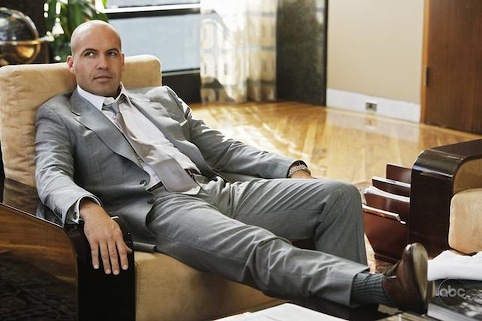 Billy Zane stretches out as philandering lawyer in The Deep End.
By ED BARK
Mostly filmed in Dallas -- but set in L.A. -- ABC's
The Deep End
will premiere on Thursday, Jan. 21st at 7 p.m. (central) opposite the latest new edition of CBS'
Survivor
.
That seems a little early for an adult legal drama, even though the very complex
FlashForward
previously occupied that spot before going on hiatus until March.
Deep End
's most familiar face is
Billy Zane
(
Titanic, The Phantom
) as veteran two-timing lawyer Cliff Huddle. ABC press materials say he's bedding the firm's paralegal while still married to fellow attorney Susan Oppenheim (
Nicole Ari Parker
).
Also starring are
Matt Long
(
Jack and Bobby
),
Leah Pipes
(
Sorority Row
),
Ben Lawson
(
Neighbours
),
Tina Majorino
(
Big Love
) and
Mehcad Brooks
(
True Blood
).
Their characters, described by ABC as "eager and attractive law associates," are all thrust into the cutthroat Sterling law firm, where "they must fight for themselves and their clients to stay afloat in these shark-infested waters."
OK, we get it.
12/01/09 16:33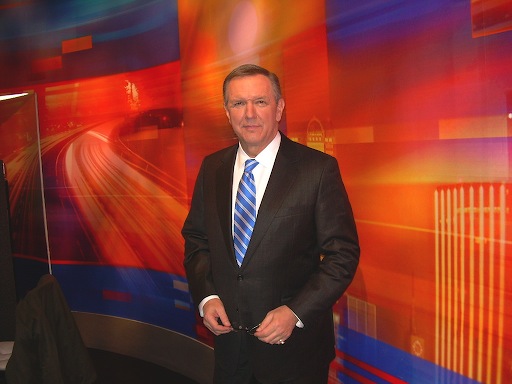 Charles Gibson during 2008 stop at WFAA8. Photo: Ed Bark
By ED BARK
ABC News has announced the date of the final
World News
edition anchored by
Charles Gibson
.
It'll be Dec. 18th, with
Diane Sawyer
set to leave
Good Morning America
and succeed Gibson on a still unannounced date in January.
ABC disclosed Gibson's surprise decision to step down in an
early September announcement
.
Jon Banner
, executive producer of
World News
, said on his
"World Newser" blog
that "we're going to spend a good deal of time during his final week on the air looking back at the stories Charlie covered, hearing again from some of the remarkable people he interviewed, and paying tribute to our friend and colleague, and the enormous contribution he has made to ABC News over the last three decades."
Enough said for now.
***
Also on the ABC front,
Oprah Winfrey
will interview
President Obama
and First Lady
Michelle Obama
during her
Christmas at the White House
special, scheduled for Sunday, Dec. 13th.
Winfrey, who very publicly endorsed Obama's presidential candidacy, also will "showcase behind-the-scenes preparations as the White House gets ready for the holiday season," a publicity release says.
***
Mark your calendars and arrange your clothing in neat rows. The season finale of USA's
Monk
is coming on Friday, Dec. 4th at 8 p.m. (central).
Monk
has run for eight seasons, with star
Tony Shalhoub
picking up three acting Emmys as "defective detective" Adrian Monk.