10/31/19 10:38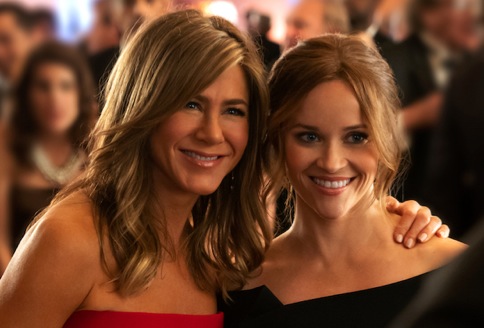 Jennifer Aniston and Reese Witherspoon power
The Morning Show
. Apple TV+ photo
Premiering:
The first three of 10 episodes begin streaming Friday, Nov. 1st on Apple TV+
Starring:
Jennifer Aniston, Reese Witherspoon, Steve Carell, Mark Duplass, Billy Crudup, Gugu Mbatha-Raw, Nestor Carbonell, Karen Pittman, Desean K. Terry, Jack Davenport
Produced by:
Mimi Leder, Kristin Hahn, Kerry Ehrin, Reese Witherspoon, Jennifer Aniston, Lauren Levy Neustadter, Michael Ellenberg
By ED BARK
@unclebarkycom on Twitter
A promotional blitz has preceded the Nov. 1st dawning of Apple TV+ and its wealth of original content.
In terms of star power and financial investment, though, one series rises and shines above the others. It's
The Morning Show
, with a cast fronted by Jennifer Aniston, Reese Witherspoon and Steve Carell. Apple TV+ has already committed to at least two seasons of a provocative potboiler that could be subtitled
Today on Trial
. The first three of Season One's 10 episodes will stream on Friday before the rest are doled out at the rate of one a week. The opening cost to consumers is $4.99 a month.
As Aniston and Witherspoon noted in a recent interview with
CBS This Morning
's Gayle King, the storyline of
Morning Show
underwent a significant makeover after
Today
's Matt Lauer and
This Morning's
Charlie Rose were dismissed after charges of sexual misconduct.
Lauer's transgressions allegedly occurred in the workplace, which makes the takeoff point for
Morning Show
more in line with his demise. The perpetrator in this case is veteran co-host Mitch Kessler (Carell), who has sat beside Aniston's Alex Levy for the past 15 years.
During the three hours made available for review, The #MeToo movement is both praised and questioned in ways that might anger women who believe that even a hint of criticism is out of bounds. But the executive producers are virtually all women, with Mimi Leder (
China Beach, The Leftovers
) also directing the first two episodes. All of which refreshingly makes
Morning Show
more than a mere polemic. It certainly has its share of showy verbal outbursts, though, with Witherspoon's high-strung Bradley Jackson gaining instant viral video fame for hers while Aniston and Carell likewise blast off in high-decibel scenes. If you're looking for characters at the ends of their ropes, you've come to the right place.
The cutthroat world of network waker-uppers is also on full display. Newly installed news division president Cory Ellison (Billy Crudup) is ruthless at all costs in his determination to lift the UBA network's sagging
Morning Show
ratings. "Let's use this to reinvent ourselves," he tells Alex in hopes of exploiting Mitch's firing. "Chaos. It's the new cocaine," he proclaims in a later episode.
He's otherwise high on local reporter Bradley's blow-up during a "No More Coal" protest in West Virginia after a participant knocks down her cameraman. Her tirade ends with a banshee scream, and of course it's all caught on-camera to the delight of millions of social media voyeurs. So she's invited to appear on
The Morning Show
for what turns out to be an icy one-on-one interview with Alex, who strongly objects to furthering Bradley's fame. "You're good," Alex tells her off-camera at interview's end. "Good luck in Hamhock, Virginia."
But by this time it's clear that the nefarious Ellison isn't about to let Bradley return to Siberia. So let's just say that
Today's
post-Lauer teaming of Savannah Guthrie and Hoda Kotb is also reflected in
Morning Show
. But how it comes to this is a fairly ingenious plot turn.
Meanwhile, Carell's Mitch is livid about the "injustice" of it all, smashing his big-screen HD TV into smithereens to climax a prolonged rant. "They can't just take my life away based on hearsay," he protests. "Ya know what? I didn't rape anybody! I didn't hold a gun to anyone's head. It was consensual."
Career-driven Alex is determined to pick up the pieces via a message to viewers delivered strictly on her terms.
"There are consequences in life. As a woman, I can say there often aren't enough of them," she tells the audience. And although her longtime co-anchor will be missed (she claims to have never seen
that
side of him), "you (viewers) are part of this family, and we will get through this together."
Episode 1 climaxes with a terrific scene between the newly separated
Morning Show
desk mates. Kerry Ehrin's script writing is sharp as a tack here, including Alex's #MeToo punchline.
The second episode resumes the workplace duplicity and infighting, with Alex both on edge and on point while her mostly male bosses plot and scheme. She's every bit as career-driven as they are, demanding approval rights to her new co-anchor while the deposed Mitch vows to fight rather than acquiesce "when the #MeToo mob comes knockin' at your door."
"I am as innocent as any straight middle-aged man there is," he tells
Morning Show
executive producer Charlie "Chip" Black (Mark Duplass) during another butting of heads. "The only problem is that seems to be illegal these days. This is McCarthyism."
Episode 3 keeps the story cooking, again on both fronts. Alex keeps firing away at the male bosses determined to rein her in, most notably at a deliciously scripted all-hands-on-deck showdown. "Guess what? America loves me," she proclaims. "And that means I own America . . . We are doing this my way, because, frankly, I have let you bozos handle this long enough." Pause, one-two. "Not the apology you were expecting?"
Look also for a cathartic scene between Alex and guest star Martin Short, who turns out to be fully cringe-worthy (even to Alex) during their discussion of how to fight back against the "puritanical and myopic" #MeToo Movement.
A constant throughout is the vainglorious world of high-level network TV, where full-blown idealism tends to be strictly for losers. CNN media analyst Brian Stelter, whose 2013
Top of the Morning
formed the initial basis for
Morning Show
, cashes in as a consulting producer on this series. But he wrote the book long before the Lauer/Rose banishments. Back then, it was merely NBC's
Today
vs. ABC's
Good Morning America
in a pure and simple, win-at-all-costs ratings war.
Apple TV+'s
Morning Show
dares to walk an up-to-the-moment minefield in a surprisingly unflinching manner. No one gets an entirely free pass. Instead there are overriding questions on who looked the other way and whether Carell's Mitch in fact was a full-blown sexual predator on a show teeming with amorality and lusts that are hardly gender exclusive.
Aniston fully takes command and registers the best "serious" performance of her career while Witherspoon and Carell also are fully and convincingly invested. It all makes for a series that is anything but sunny side up.
The Morning Show
strives to execute a very difficult balancing act, with women in off-camera command instead of assuming the positions assigned to them -- by men. The result so far is more than fair, but with continued storytelling perils ahead.
GRADE:
B+
Email comments or questions to:
unclebarky@verizon.net