04/09/19 11:31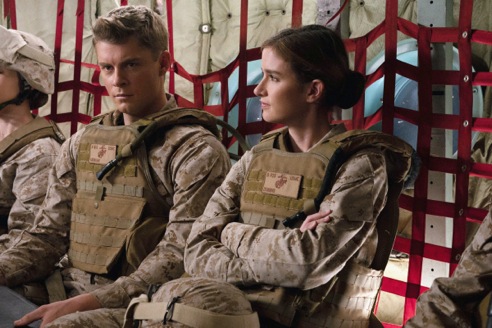 Luke Mitchell & Anna Wood star as Marine Corps cuties in
The Code
. CBS photo
Premiering:
Tuesday, April 9th at 8 p.m. (central) before moving to Mondays at 8 p.m. on CBS
Starring:
Luke Mitchell, Anna Wood, Dana Delany, Ato Essandoh, Phillipa Soo, Raffi Barsournian
Produced by:
Craig Sweeny, Sarah Timberman, Carl Beverly, Marc Webb, Christine Moore, Craig Turk
By ED BARK
@unclebarkycom on Twitter
Military justice has been very good to CBS with the everlasting
NCIS
and its two spinoffs.
The premise is basically the same but the uniforms have changed in
The Code
. This time it's the Marine Corps at work, with Luke Mitchell and Anna Wood heading the cast as two Leatherneck cuties who trade quips when not sparring in court. After Tuesday's post-
NCIS
showcase,
The Code
moves to Mondays at 8 p.m. (central) in place of
Magnum, P.I.
, which earlier was renewed for a second season.
Capt. John "Abe" Abraham (Mitchell), previously wounded in combat, wasn't sure he wanted to stay in the Corps until fellow captain Jason Hunt (guest star Will Swenson) aided his transfer to the legal division. But now Hunt is newly dead after being stabbed in the gut by a PFC who seemingly was trying to go AWOL. It all seems pretty cut-and-dried after Hunt's widow tells Abe, "I want you to put this guy away." But complications ensue, as they always do.
Capt. Maya Dobbins (Wood) is assigned to defend the assailant, and thinks she has grounds to implicate a higher-up. It all has to do with the numerous head injuries suffered by PFC Ian Morehead (guest star Evan Hall) during his time in Afghanistan. Was he in his right mind? Or does sneering battalion surgeon Noah Hewitt (guest star Mark Deklin) share in the blame? The courtroom drama heats up when Hewitt hires a high-priced, pompous civilian attorney with a tongue-twisting surname to represent him. That would be none other than Hermes Papademotropoulos (guest star Wayne Duvall). Successfully say that fast 10 times and win an extra day of leave.
The Code
's regular cast also includes Ato Essandoh as Abe's courtroom colleague, Maj. Trey Ferry, and Dana Delany as Col. Glenn Turnbull, who runs the overall show. Delany, who came to fame in ABC's
China Beach
military series, isn't given much to do in Tuesday's premiere. But she does get to "clean up nicely" in civilian clothes for one of her scenes.
The otherwise youngish cast has their salutes down pretty good and their uniforms crisply squared away. As a former Marine, your friendly content provider never managed to look this good all the way back in the late 1960s.
CBS has an arsenal of crime-and-punishment dramas, with
FBI
and the aforementioned
Magnum
reboot already making the grade among this season's newcomers.
The Code
, which is both nicely produced and also thoroughly predictable, looks destined to likewise get a Season Two. Meanwhile, the Army, Air Force and Coast Guard are still waiting their turns.
GRADE:
C+
Email comments or questions to:
unclebarky@verizon.net
04/08/19 14:07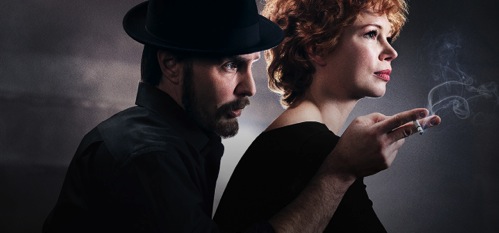 Sam Rockwell & Michelle Williams light up Fosse/Verdon. FX photo
Premiering:
Tuesday, April 9th at 9 p.m. (central) on FX
Starring:
Sam Rockwell, Michelle Williams, Paul Reiser, Norbert Leo Butz, Margaret Qualley, Aya Cash, Nate Corddry, Evan Handler, Susan Misner, Kelli Barrett, Bianca Marroquin, Blake Baumgartner
Produced by:
Thomas Kail, Steven Levenson, Joel Fields, Lin-Manuel Miranda, Nicole Fosse, Charlotte Stoudt, Tracey Scott Wilson, George Stelzner
By ED BARK
@uncleebarkycom on Twitter
From a storytelling standpoint, the back-and-forth choreography is not without stumbles.
Performance-wise, though, FX's eight-part
Fosse/Verdon
is never less than all that jazz. Sam Rockwell as dance maestro/taskmaster Bob Fosse and Michelle Williams in the role of dancer/mate/muse Gwen Verdon are exceptional embodiments of this peerless but problem-plagued partnership.
Rockwell, coming off an Oscar nomination as George W. Bush in
Vice
, makes that role seem like a mere trifle. His comb-over alone is something of a wonderment.
Williams, the least-noted member of
Dawson's Creek
's fab four, has gone on to accomplish more than her three co-stars combined with four Oscar nominations and what should be a certain Emmy win for this prolonged showcase of her talents.
Among Broadway's giants, Fosse has few if any peers. He won eight Tonys for his choreography and was nominated an additional three times. Verdon received best actress honors in three of the musicals they did together (
Damn Yankees, New Girl in Town, Redhead
) and was nominated in two others (
Sweet Charity, Chicago
).
But she was never seen on camera in Fosse's small but noteworthy collection of feature films. He won an Oscar for directing
Cabaret
and was nominated for his two other movies,
Lenny
and
All That Jazz
, in which Roy Scheider and Leland Palmer played approximations of Fosse and Verdon under the names Joe Gideon and Audrey Paris.
In increasingly visual times, and as time passes, this makes it lamentably easier for younger generations to be completely ignorant of their towering accomplishments on Broadway, which in reality have been seen by only a select few.
The self-destructive Fosse died in 1987 of a heart attack while Verdon expired in 2000 after a number of inconsequential film and TV roles in later life, including two appearances in
Walker, Texas Ranger
as a character named Maisie Whitman. Broadway legend Angela Lansbury became better known later in life for her many years as the star of CBS'
Murder, She Wrote
. In contrast, Verdon never had anything close to a defining TV vehicle.
Fosse/Verdon
, of which the first five episodes were made available for review, revisits their gloriously turbulent times in a way that seems too piecemeal at first. Its flashbacks are frequent and at times all too brief, with white-on-black subheads -- "19 Years Left, 16 Years Left," etc. -- spelling out Fosse's remaining life span.
Stick figure approximations of Shirley MacLaine and Liza Minnelli are fleetingly seen in the early going. MacLaine starred in Fosse's film flop version of
Sweet Charity
while Minnelli won an Oscar for his acclaimed
Cabaret
. But neither registers in
Fosse/Verdon
.
Fosse's first wife, Joan McCracken (Susan Misner), is more of an in-and-out presence during the womanizing Fosse's courtship of Verdon. She suffers from some sort of illness, with one of the between-flashback subheads reading "2,369 days before Joan McCracken's death." OK, but otherwise what's the point here?
Fosse/Verdon
also can have a
Mad Men
vibe, with pals Paddy Chayefsky (Norbert Leo Butz) and Neil Simon (Nate Corddry) coming to the fore in an Episode 5 that pretty much stays in place at Fosse's Southhampton, NY beach house. The rainy weekend gathering also includes impressionable young daughter Nicole Fosse (Blake Baumgartner), Verdon with her new boyfriend, and Fosse's latest conquest, Ann Reinking (Margaret Qualley).
Verdon is still cajoling Fosse to choreograph a Broadway version of
Chicago
, with her in the lead while she can still dance. But he wants to direct Dustin Hoffman in the film
Lenny
, about controversial groundbreaking comedian Lenny Bruce. He's otherwise recently removed from the Payne Whitney Psychiatric Clinic, where a previously suicidal Fosse checked out after six days instead of staying for the prescribed one month. He's supposed to be taking extended time off, but as Verdon tells Reinking, "The best thing for Bob Fosse to do is work."
Williams is particularly superb in this episode, whether singing a touching torch song in memory of her late close friend, Joan Simon (Aya Cash), or vowing to do
Chicago
with or without her husband, from whom she separated but never divorced. Verdon is something of a cunning enabler/disabler, knowing that both of their careers depend on collaboration. Her concern for his well-being is genuine, but also self-serving. If he doesn't work, neither does she -- at least not in a gainful way. And without her eye in the editing room,
Cabaret
might well have been a disaster instead of a triumph. The FX title is perfect in that sense. They really are one entity, although his constant cheating can be a considerable irritant.
Fosse/Verdon
at times is chilling in its depiction of choreographer as sexual predator. Fosse cavalierly continues an affair in Germany while pleading with Verdon by phone to fly to his aid on the set of
Cabaret
. And while prepping
Pippen
for the Broadway stage, Fosse's physical advances are rejected by a beautiful blonde cast member with a lead role. On the following day he humiliates her at rehearsal before telling another actress to step in. She later capitulates, knowing full well what it will take to get her role back. (
All That Jazz
also depicts this particular seduction/rejection.)
Rockwell is fully invested in a role that challenges him well beyond the semi-caricature he played in
Vice
. Self-assured and brusque when calling the shots, he's otherwise an emotional adolescent, or sometimes an infant.
As with
Feud: Bette and Joan
, FX is pulling back the curtain on a powerful but inherently flawed show business partnership. Except that Gwen Verdon and Bob Fosse endured, prospered, battled and used one another for a far longer period.
Fosse/Verdon
can be flawed in some of the ways it pieces together their lives and times. But any faults are not with the stars.
GRADE:
A-minus
Email comments or questions to:
unclebarky@verizon.net
04/03/19 15:20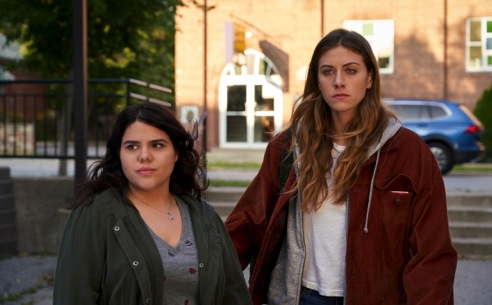 In the Dark focuses on the unseeing Murphy Mason (right). CW photo
Premiering:
Thursday, April 4th at 8 p.m. (central) on The CW
Starring:
Perry Mattfield, Brooke Markham, Rich Sommer, Morgan Krantz, Casey Diedrick, Keston John, Derek Webster, Kathleen York, Lindsey Broad, Calle Walton,Thamela Mpumlwana
Produced by:
Corinne Kingsbury, Jonathan Collier, Ben Stiller, Jackie Cohn, Nicholas Weinstock, Michael Showalter
By ED BARK
@unclebarky com on Twitter
Disagreeable Murphy Mason wears her blindness like a suit of armor, repelling any inclinations to have a personal life beyond drinking, smoking and one-night stands.
Save for one exception in The CW's better than expected
In the Dark
. Murphy's (Perry Mattfield) bonding with 17-year-old street kid Tyson Parker (Thamela Mpumlwana) came only after he deterred a mugger from beating her to death. She's been visiting him regularly ever since, usually bringing a candy bar. But then one night Murphy finds him dead. Or does she?
Tyson's disappearance fuels the three involving episodes made available for review, with Murphy trying to be an amateur sleuth without ever joining the Chicago police department. So this isn't about a crime of the week solved by an ad hoc pro-and-amateur detective team.
In the Dark
instead is an ongoing mystery being put together with small weekly puzzle pieces. And although the going can be slow, the cynic at its center can be quite a show. As when Tyson's drug-running cousin, Darnell James (Keston John), attempts to order breakfast for her, which Murphy resents. "I think whoever started that trend should be punched in the nuts," she rejoins before spurning pancakes in favor of eggs over easy and crispy bacon. Will that be all?
Murphy's erstwhile best friend otherwise is lesbian roommate Jess Damon (Brooke Markham). She's a veterinarian at Chicago's Guiding Hope, a pressed-for-funds dog-training center run by Murphy's adoptive parents, Hank and Joy (Derek Webster, Kathleen York). Murphy draws a salary, but her "work" schedule mainly consists of smoking and laying around while nursing hangovers. Dad's the more patient one while mom's pretty much had it. As has nerdish co-worker Felix Bell (Morgan Krantz), the main butt of Murphy's serrated one-liners.
In the Dark
also features nice guy single detective Dean Riley (Rich Sommer), whose daughter, Chloe (Calle Walton), just happens to be blind, too. Murphy softens in her presence and offers dad some tips on how to treat her. This makes Dean more disposed to help her find Tyson despite no dead body or evidence pointing to foul play.
A hunky food truck dude named Max (Casey Diedrick) makes the scene in Episode 2. He's determined to break through Murphy's hardened exterior but his illicit business with Darnell seems to make him a little suspicious if not outright duplicitous. Just in case this isn't enough, add Murphy's oft-insulted guide dog Pretzel and Jess's lover, Chelsea (Lindsey Broad). That's a lot of mouths to feed with dialogue, even if Pretzel generates his own script.
Murphy, sightless since age 14 due to a degenerative disease, gets a number or razor sharp lines during the course of finding her bearings. Mattfield excels in delivering them while the rest of the cast tends to march to her beats.
TV series starring blind characters have been very few and far between, with neither
Longstreet
nor
Blind Justice
lasting beyond their first seasons. In both dramas, sightless sleuths solved crimes of the week.
In the Dark
stretches beyond that premise, melding a serial mystery with the gradual maturing of its lead character.
It remains to be seen, so to speak, whether
In the Dark
will play itself out in a single season or find other ways to extend beyond that. The show's creative team, headed by creator Corinne Kingsbury and including Ben Stiller, so far have put together a show that's surprisingly and bracingly watchable.
GRADE:
B
Email comments or questions to:
unclebarky@verizon.net