TV Bulletin Board (Aug. 14) -- Vick submits to 60 Minutes ticks
08/14/09 13:45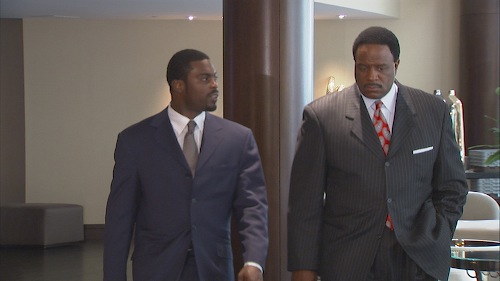 Michael Vick, newly signed with the Eagles, and James Brown
By ED BARKMichael Vick
will go public on CBS'
60 Minutes
Sunday to tell interviewer
James Brown
of his remorse after serving jail time for bankrolling a dog-fighting ring.
"It's wrong, man," he says in an excerpt provided by CBS. "I feel, you know, some tremendous hurt behind what happened. And, you know, I should have took the initiative to stop it all. I didn't. I didn't step up. I wasn't a leader."
***
NBC's
The Jay Leno Show
has booked
Jerry Seinfeld
as its first guest. As previously reported, the inaugural musical guests are
Jay-Z, Rihanna
and
Kanye West
, who will perform "Run This Town" from the Z-Man's upcoming new CD. Launch date is Sept. 14th, with the show airing Mondays through Fridays at 9 p.m. central.
***
TNT has announced plans for the series finale of
Saving Grace
, which is set to end with nine new episodes scheduled to run next summer.
Series star
Holly Hunter
, who will compete for a best actress Emmy next month, plays Oklahoma detective Grace Hanadarko, whose self-destructive behavior vexes but never discourages a guardian angel named Earl. The series premiered in 2007. Its current summer run ends on Tuesday, Aug. 18th (9 p.m. central).
***
The Great American Country (GAC) cable network will air
Country at the White House
on Saturday, Aug. 15th at 8 p.m. central.
Among the performers for President Obama is Dallas resident
Charley Pride
, the first African-American to make it big in country music. He'll be singing "Mountain of Love" and "Kiss An Angel Good Morning." Also on the bill are
Brad Paisley and Allison Krauss
with Union Station.
***
Also on the country scene this weekend, the longrunning duo of
Brooks & Dunn
will tell
CMT Insider
while they're breakin' up after one allegedly final concert tour next year.
"I mean, honestly, we both feel like it's just too good of a horse to ride it into the ground, so that's kinda it," Brooks says. Their segment airs on Saturday, Aug. 15th at 12:30 p.m. central on cable's Country Music Television (CMT).