HBO's The Righteous Gemstones: preach your viewers well
08/15/19 09:07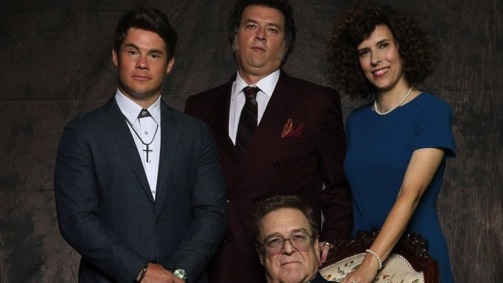 John Goodman heads up a family of prototypically phony preachers. HBO photo
Premiering:
Sunday, Aug. 18th at 9 p.m. (central) on HBO
Starring:
Danny McBride, John Goodman, Edi Patterson, Adam DeVine, Cassidy Freeman, Tony Cavalero, Tim Baltz, Walton Goggins, Skyler Gisondo, Greg Alan Williams, Jennifer Nettles, Dermot Mulroney
Produced by:
Danny McBride, Jody Hill, David Gordon Green
By ED BARK
@unclebarkycom on Twitter
Creator/executive producer Danny McBride takes his usual approach with his latest HBO series.
Following the paths of
Eastbound & Down
and
Vice Principals
, McBride's
The Righteous Gemstones
is coarse, irreverent, sometimes excessive and completely unconcerned about whether you're offended or not. In the case of a series about crooked, greedy televangelists, "irreverent" is the most operative word. But riotously funny also applies. Even God might be busting a gut.
McBride plays Jesse Gemstone, oldest son of patriarch Eli Gemstone (the ubiquitous but always welcome John Goodman). There's also younger brother Kelvin (Adam DeVine) and festering sister Judy (a gem of a performance by Edi Patterson), who's generally pushed aside when dad and sons are doing any big family business.
The three men are first seen at a "24 Hours of Saved Souls" marathon in China, which washes out during the climactic baptism celebration. They then fly home separately, on an unholy trinity of planes named The Father, The Son and The Holy Spirit. Judy has a few choice words for them upon arrival back home in South Carolina, where they all live palatially. "Kelvin, eat my ass" is among them. You gotta love her.
The first six episodes were made available for review. They rather oddly range in length from just under an hour for the first one to a bit over a half-hour for No. 6. Sunday's premiere sets up a blackmail scheme built around video of Jesse snorting coke amid a gaggle of topless women. The head blackmailer wears a devil mask, and there's also something of a surprise in store for those who haven't already deduced it before the "reveal" in Episode 2.
Meanwhile, an unaware Eli continues to mourn for his deceased wife, Aimee-Leigh, the "magic" who kept the family together.
Righteous Gemstones
is sentimental rather than cynical in this instance. Eli truly loved Aimee-Leigh, who makes a glorious appearance in a flashback Episode 5 that so far is the series' best. By this time, Walton Goggins (McBride's co-star in
Vice Principals
) has already made his mark as Aimee-Leigh's (Jennifer Nettles) problematic brother and fellow evangelist, Baby Billy Freeman.
The present-day Baby Billy has a shock of white hair the size of Idaho. But it's in Episode 5 that he really soars with what used to be the trademark song-and-dance routine he did with his sister. Trust me, you'll be immensely entertained by the cornpone "Misbehavin,' " which is rinsed and repeated with a new partner in Episode 6.
Eli Gemstone, who has come to despise Baby Billy, nonetheless hires him to head up a new "Prayer Center" in a vacant shopping mall space that used to be occupied by Sears. The idea is to steal the flock of Locust Grove's resident reigning preacher, Johnny Seasons (Dermot Mulroney), proprietor of the town's First Baptist Church. But winter is coming when Seasons spits out his contempt for Eli's rampant greed. "The Gemstones are a disgrace," he rages. "An absolute disgrace to all ministries. Con men. Baboons."
Those are fightin' words. But a brawl doesn't break out until Jesse dubs sister Judy's boyfriend, B.J. (Tim Baltz), a "wisp of a man" during the family's weekly Sunday brunch.
McBride's Jesse strides around in too tight shirts while his devoted wife, Amber (Cassidy Freeman), is too awash in creature comforts to be anything but blissed out. Their three sons are another matter, though. The oldest is prodigal and the stay-at-home middle one has no problem with profanely speaking his mind. Then there's that incriminating video. It's all enough to make Jesse equal parts cocksure and insecure. And McBride is long accustomed to broadly playing those dualities.
Goodman, who's doing double time on ABC's
The Conners
, has an equally grand but somewhat more restrained time playing Eli. In Episode 3, his dry, matter-of-fact dismissal of Aimee-Leigh's no-account brother -- "Baby Billy's a sack of shit" -- is so perfectly delivered that it seems heaven-sent.
DeVine's Kelvin, whose best friend is a muscular former Satanic cult member named Keefe (Tony Cavalero), so far is having a tougher time breaking through as a resonating character. His strongest episode, No. 4, telescopes earnest Kelvin's headlong efforts to be an effective youth minister.
As sister Judy, though, Patterson registers from the moment she opens her mouth. Her inflections and digressions are comedy gold. The devil has won if she doesn't get an Emmy nomination.
And now some brief words about penises. You'll see some, particularly in Episode 3. It's the new "equality," as is also demonstrated in HBO's recently released
Euphoria
series. But as a turn-on, well, there's really nothing to see here.
Other than that,
The Righteous Gemstones
is hallelujah-worthy for its performances, energy, comedy, dramedy and occasional little heart tugs. HBO is giving it a major promotional push in times when its cupboard needs replenishing after the recent losses of
Game of Thrones
and
Veep
. There's no big message from on high here. Just enjoy yourself to the point that when HBO passes its monthly collection plate,
Righteous Gemstones
will be one big reason why you'll keep on giving.
GRADE:
A-minus
Email comments or questions to:
unclebarky@verizon.net