TV Bulletin Board (Thurs., July 26) -- CBS This Morning makes host change, GMA tops Today in key demo after nearly 17-year drought
07/26/12 11:36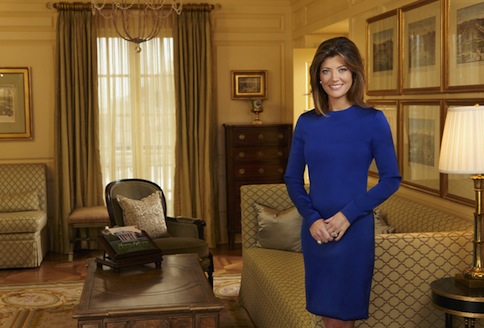 Norah O'Donnell in pose as White House correspondent. CBS photo
By ED BARK
@unclebarkycom
Perhaps it's only a blip compared to the recent morning drama on NBC's
Today
. But the ratings-starved
CBS This Morning
announced a similar host change Thursday, naming chief White House Correspondent Norah O'Donnell to replace Erica Hill.
Last month, after an embarrassing buildup to her rumored departure,
Today
sacked co-host Ann Curry in favor of that network's former chief White House correspondent, Savannah Guthrie. Curry then
tearily said goodbye
at the end of the show's June 28th telecast.
Hill, who teamed with incumbent Charlie Rose when CBS' latest morning makeover dawned on Jan. 9th, "is in discussions regarding a new role," the network said in a publicity release.
CBS News president David Rhodes said that O'Donnell, formerly with NBC News, "thrives on the kind of original reporting and newsmaker interviews that are the hallmark of
CBS This Morning
." She's scheduled to start on an undisclosed date this fall and will be giving up the White House beat.
The program, still a distant third in the network morning news ratings, has been positioned as a hard news alternative to the fluffier goings-on at
Today
and ABC's
Good Morning America
. So far the needle hasn't budged, with ABC trumpeting its latest
GMA
success story within minutes of the CBS announcement.
For the first time in nearly 17 years (dating to the week of Nov. 27, 1995),
GMA
is No. 1 in both total viewers and 25-to-54-year-olds, the main advertiser target audience for news programming. Measurements are for the week of July 16-20.
Actually
GMA
and
Today
tied in the latter demographic with 1.737 million viewers apiece while
CBS This Morning
lagged far back with 877,000.
ABC also noted that
GMA
's margin in total viewers -- 4.598 million to
Today's
4.245 million -- is its largest since May 15, 1995.
CBS This Morning
averaged 2.341 million viewers for the week.
Today
likely will regain its first place perch during two full weeks of on-scene coverage from London's Summer Olympics, which begin on Friday, July 27th with the opening ceremonies.
But is NBC otherwise worried? Yes, very, very worried that Guthrie may not wear well while
Today's
longtime godfather, Matt Lauer, is perhaps newly perceived by some as the guy who gets what he wants no matter whose heads roll.
***
Meanwhile, on NBC's still troubled prime-time front, the network has announced a new 10-episode
Dracula
series, starring the notably troubled but otherwise very talented Jonathan Rhys-Meyers.
The former Henry VIII of Showtime's
The Tudors
will play the venerable bloodsucker in what NBC describes as a "sexy, updated twist on the classic." The network's further description says that Dracula "arrives in London, posing as an American entrepreneur who maintains that he wants to bring modern science to Victorian society. In reality, he hopes to wreak revenge on the people who ruined his life centuries earlier. There's only one circumstance that can potentially thwart his plan: Dracula falls hopelessly in love with a woman who seems to be a reincarnation of his dead wife." Production begins later this year.
Rhys Meyers has had his share of off-screen problems, with several stints in rehab for alcohol abuse and a lifetime ban from flying on United Airlines because of what the airline described as "belligerent and disruptive behavior" during a 2010 incident.
The Dublin-born actor first came to fame in the United States in the 2005 CBS miniseries
Elvis
, where he played the title role.