Amazon Prime's Carnival Row paints a visual masterpiece on a somewhat messy storyboard
08/30/19 07:07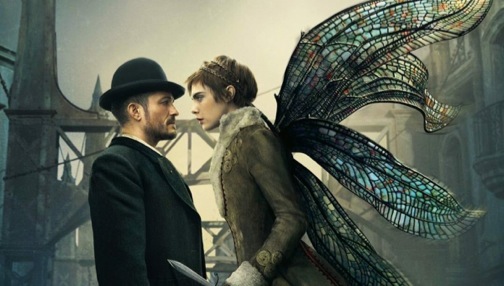 Winging it in
Carnival Row
with Orlando Bloom and Cara Delevingne. Amazon Prime photo
Premiering:
All eight Season One episodes begin streaming Friday, Aug. 30th on Amazon Prime
Starring:
Orlando Bloom, Cara Delevingne, David Gyasi, Tamzin Merchant, Jared Harris, Indira Varma, Arty Froushan, Caroline Ford, Simon McBurney, Karla Crome, Andrew Gower, Alice Krige, Maeve Dermody
Produced by:
Rene Echevarria, Travis Beacham, Marc Guggenheim, Jon Amiel, Orlando Bloom, Gideon Amir
By ED BARK
@unclebarkycom on Twitter
The winged, hardscrabble faeries of Amazon Prime's
Carnival Row
tend to cause flaps, and not only when flying.
Along with the hooved and horn-headed Pucks, they're refugees from war torn countries who get lumped together as "Critches" by those who see them as subhuman trespassers. The Burgue, where many have come to settle, is particularly inhospitable to their kind. So although this fantasy drama is set in 19th century Victorian England, the parallels are transparently clear. Immigration, deportation and racism are all very much in play.
The eight-episode Season One, all of which Amazon made available for review, at times falls prey to a sledgehammer approach. Its pacing also can be somewhat plodding, particularly when Inspector Rycroft "Philo" Philostrate (Orlando Bloom) is somberly walking the streets in search of clues to a string of very vicious murders.
But the thoroughly convincing special effects keep making the sale.
Carnival Row
is constantly wondrous to behold, with the seamless flights of the Faes (shorthand for faeries) always a how'd-they-do-that high point. These are not the TV days of old, when George Reeves clunkily flew his way through the
Adventures of Superman
. Featured Fae Vignette Stonemoss (Cara Delevingne) wings it with seemingly the greatest of ease before landing ever-so-gently rather than thumping like a parachutist. As flights of fantasy go, these are on another plane. (Amazon already has ordered a second season.)
Episode One begins with Vignette fleeing her homeland of Anoun, Timaoc in the face of the latest attack by The Pact. She eventually finds her way aboard a refugee ship that comes under heavy fire. Washing ashore in The Burgue, Vignette is the sole survivor.
Meanwhile, Philo is investigating the serial violence being visited upon a Carnival Row enclave of mostly dirt-poor immigrants. The brutish beat cops are of no help. Still, the dutiful Philo persists in his bowler hat and long black coat. He has a secret back story, fully revealed in a particularly picturesque Episode 3, that makes him sympathetic to the plights of the put-upon newcomers. This episode also serves as the origin story of how Philo and Vignette first met before events conspired against them. Seven years later in The Burgue, things have gotten very frosty indeed.
On the other side of town, the upper crusters are led by short-tempered Chancellor Absalom Breakspear (Jared Harris) and his willful wife, Piety (Indira Varma). They also have a balky grown son named Jonah (Arty Froushan), who later will come into play in a big way.
Add snooty Imogen Spurnrose (Tamzin Merchant) and her brother, Ezra (Andrew Gower). They live in an opulent house, but financial ruin is beckoning. Imogen sees a possible way out when a prosperous African-American Puck named Agreus (David Gyasi) moves in just across the street. His "kind" isn't wanted in the neighborhood, but perhaps a loan from him would be. So the dance begins between Imogen and Agreus -- and it takes a predictable course.
Otherwise the killings continue while tensions rise and resistance sects grow. An emerging character who becomes pivotal in all of the power-mongering talks in Trump-ian mode of how "chaos creates opportunity" -- so let's sew more of it. As a fiery young newcomer to Parliament, she's also reminiscent of Alexandria Ocasio-Cortez, but in reverse when it comes to immigration. Further detailing how she claws her way upward would be giving away too much.
You'll eventually know who the killer is after a considerable stacking of dead bodies. While getting to this point, though,
Carnival Row
takes on too many of the steamy serial qualities of a
Dallas
or
Dynasty
. And the acting, although pretty solid, is not of head-turning caliber.
By the end of Season One, a new story arc is in play, with the at-odds principals pretty much whittled down to a quartet after almost everyone else dies or flees. A feast for the eyes is guaranteed throughout, though.
Carnival Row
, whether airborne or down-to-earth gritty, keeps flexing the power of its oft-breathtaking visuals. The worlds it creates are the greater sums of its whole while the messages it sends can be a little too telegraphed.
GRADE:
B
Email comments or questions to:
unclebarky@verizon.net