True crime gets another workout in Acorn TV's methodical Manhunt
03/11/19 12:35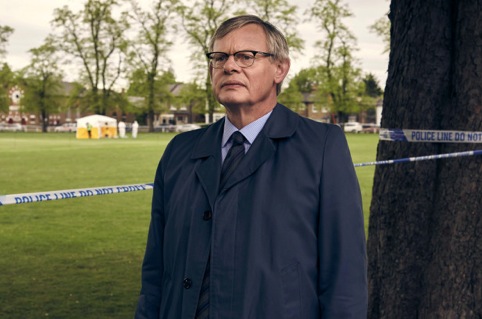 Martin Clunes is on the scent as the star of Manhunt. Acorn photo
Premiering:
Begins streaming Monday, March 11th on Acorn TV
Starring:
Martin Clunes, Katie Lyons, Stephen Wight, Peter Forbes, Claudie Blakley, Cara Theobold, Celyn Jones, Stephane Cornicard, Michele Belgrand
Produced by:
Phillippa Braithwaite
Directed by:
Marc Evans
By ED BARK
@unclebarkycom on Twitter
The true crime genre can plead guilty to showing no signs of abating.
Whether acted out or in documentary form, the pursuit of real-life perpetrators is as sure-fire a viewer lure as the latest "reality-competition" concoction.
Acorn TV's three-part North American premiere of
Manhunt
, which began streaming in its entirety on Monday, March 11th, trades on the real-life 2004 murder of a young French woman whose body was found on Twickenham Green. It was something of a viewing sensation in the United Kingdom earlier this year. But in truth, it's a bit of a slog at times, even at the economical length of roughly 48 minutes an episode.
Martin Clunes, best known as the star of the UK's long-running
Doc Martin
series, takes center stage as Detective Chief Inspector Colin Sutton. The real-life Sutton is billed as a co-writer of
Manhunt
, which focuses on piece-by-piece police work, much of it relying on clues gleaned from an abundance of public surveillance cameras. In that respect, it's reminiscent of the Chicago PD's meticulous sleuthing in the Jussie Smollett alleged hate crime case.
Sutton, who as portrayed by Clunes looks more like a philosophy professor than a take-charge cop, quickly becomes obsessed with who killed 22-year-old Amelie Delagrange and whether her murder can be linked to earlier such atrocities. His wife, Louise (Claudie Blakley), initially is excited about the boost this investigation could give to her husband's career. But she soon sours on the whole thing, particularly after hubby very belatedly reneges on attending her brother's wedding in Spain after being alerted to a possible new opening in the case.
The growing distance between husband and wife is a running thread throughout
Manhunt
. But in the end there's no effort to tie this all up.
Sutton's second in command, Detective Sergant Jo Brunt (Katie Lyons), borders on being a colorless nonentity. There's none of the crackling give-and-take reminiscent of the first season of
Broadchurch
, when David Tennant and this year's Best Actress Oscar-winner, Olivia Colman, butted heads as detectives Alec Hardy and Ellie Miller.
Manhunt's
navigations of clues and dead ends at times are enough to keep this pot simmering if not boiling. Nor is there anything wrong with Clunes' lead performance, which unfortunately is in service to a not-so-greater whole.
All in all it's just a mini-binge, though, easily polished off in one night. So I'm not warning you off of
Manhunt
, which at times makes its presence felt. Just don't expect to be all abuzz about it after justice is duly served.
GRADE:
B-minus
Email comments or questions to:
unclebarky@verizon.net