CBS' All Rise mostly just sits there
09/20/19 09:24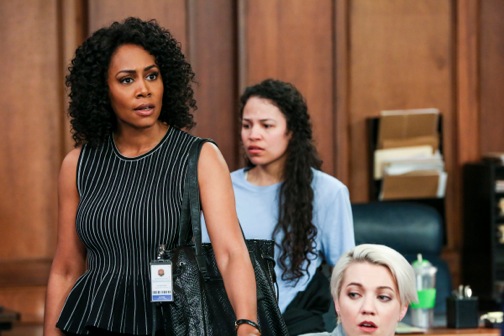 Simone Missick stars as a freshman judge in All Rise. CBS photo
Premiering:
Monday, Sept. 23rd at 8 p.m. (central) on CBS
Starring:
Simone Missick, Wilson Bethel, Marg Helgenberger, Jessica Camacho, J. Alex Brinson, Lindsay Mendez, Ruthie Ann Miles
Produced by:
Greg Spottiswood, Len Goldstein, Michael Robin, Sunil Nayar
By ED BARK
@unclebarkycom on Twitter

CBS' new courtroom drama very much feels like a warmed-over, cut-and-paste job from high octane producer Shonda Rhimes.
Perhaps the network still wanted what it could never have during the time Rhimes rolled out
Grey's Anatomy, Scandal, Private Practice
and
How to Get Away with Murder
during her exclusive run on ABC.
She's now vacated the broadcast network biz for a beyond lucrative deal with Netflix. But her reverberations remain, and CBS'
All Rise
has the same weak tea trappings of Rhimes'
For the People
, one of her latter day misfires for ABC.
Helming
All Rise
is Canadian actor turned producer Greg Spottiswood, whose first effort for American television stars Simone Missick as Los Angeles prosecutor turned judge Lola Carmichael. She's proudly African-American and determined to see justice served rather than used against minorities. Lola declares that most robe-wearers are out of touch with the real world because none of them look like the various people of color whom she studiously points out during the early minutes of Monday's premiere. In an earlier scene-setter, she lets off a young Hispanic who ripped off her laptop in the parking lot before quickly being apprehended by Lola's former prosecuting colleague, deputy district attorney Mark Callan (Wilson Bethel).
Wisecracking Mark is fated to someday appear before Lola while otherwise prototypically bantering with her. They otherwise clearly have feelings for one another beyond "Your honor, I object." There's also a budding interracial relationship between public defender Emily Lopez (Jessica Camacho) and charming African-American bailiff Luke Watkins (J. Alex Brinson), who feeds her inside info in the interests of both strengthening her case and engineering a first date.
Hovering over it all is ex-
CSI: Crime Scene Investigation
star Marg Helgenberger as senior supervisory judge Lisa Benner. She wants Lola to stay in her lane rather than play bumper cars with "The System."
The opening episode also cranks up a crazed white deputy who begins firing away in court after bellowing about how the "low lifes" are being allowed to "take over the whole damned city!" Yeah,
All Rise
can be as subtle as a ball peen hammer.
After tripping over her robe while taking the bench for the first time, Lola presides over the trial of a five-months pregnant Latina accused of robbery. It turns out she's a victim of circumstances as the daughter of a manipulative, no-good mom. This leads to a groaner of a pep talk from Lola. Meanwhile, Mark is prosecuting a nutty crook who insists on defending himself and has grown a beard to counter video evidence of him breaking into a convenience store.
Nothing you'll see rises to any level of must-see. Instead it's all pretty much preachy and pedestrian, with the diversity of the cast working against itself in terms of this show's labored approach to injustice and discrimination.
GRADE:
C-minus
Email comments or questions to:
unclebarky@verizon.net