Walton Goggins takes a big chill pill as front man for CBS' The Unicorn
09/26/19 15:18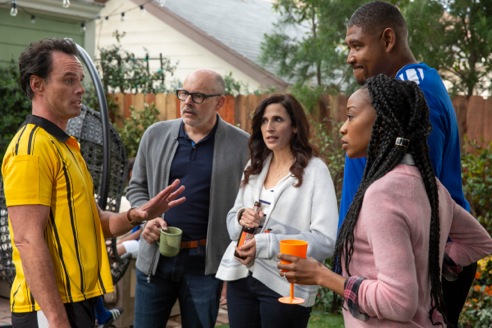 Walton Goggins shocks the universe, plays a nice guy in
The Unicorn
. CBS photo
Premiering:
Thursday, 7:30 p.m. (central) on CBS
Starring:
Walton Goggins, Rob Corddry, Michaela Watkins, Omar Miller, Maya Lynne Robinson, Ruby Jay, Makenzie Moss, Devin Bright
Produced by:
Bill Martin, Mike Schiff, Aaron Kaplan, Dana Honor, Wendi Trilling, Peyton Reed, John Hamburg
By ED BARK
@unclebarkycom on Twitter
Taking a break from playing a parade of unsavory weasels, Walton Goggins dials it way down as the star of CBS'
The Unicorn
.
So much so that in Episode 2, a close friend says of his character, "He's just too nice for this world." Whaaaaaaaat?!
No one ever came close to saying that about Goggins' Shane Vendrell in FX's
The Shield
. Or Boyd Crowder in FX's
Justified
. Or Venus Van Dam in FX's
Sons of Anarchy
. Or Lee Russell in HBO's
Vice Principals
. Or "Baby" Billy Freeman in HBO's ongoing
The Righteous Gemstones
.
Still, most actors yearn to branch out every once in a while. Goggins is doing so with a vengeance as good guy Wade Felton, who's still mourning the loss of his beloved wife a year after her death. He hasn't dated since. But his omnipresent quartet of best pals -- man, do they ever take a break from one another? -- insist that he re-enter the dating pool as that most desirable of eligibles. Namely a "unicorn" -- which makes Wade a triple threat. He's employed (maybe I missed exactly what he does), good-looking and has a track record of steadfast commitment to one woman.
Wade also has two daughters, Grace and Natalie (Ruby Jay, Makenzie Moss). They're not as keen on dad going out with other women after they've had him to themselves all this time. His friends have absolutely no such qualms, though. Nebbish Forrest and tolerant wife, Delia (Rob Corddry, Michaela Watkins), plus big lug Ben and tart wife Michelle (Omar Miller, Maya Lynne Robinson), don't quite physically push Wade out the door. But when you're "factory fresh," as Delia puts it, why not let the ladies do some test drives? There's more to life than volunteer soccer refereeing and a huge stockpile of post-wake frozen meals that Wade has finally burrowed through.
So earnest Wade very gingerly goes out on a date with a divorcee who wants to get into his pants faster than she can say "Your place or mine?" He's not quite ready, though.
Episode 2, which is built around another date, includes a plug for CBS' latest edition of
Survivor
, about which Wade knows nothing but Forrest knows everything. He's not clicking with Lizzie (guest star Christina Moore), but her texts keep coming and Wade is too sensitive to break it off.
"I can't hurt someone like that. I just can't," he tells his friends. Yes, Walton Goggins actually says this.
A third episode finds Wade reluctantly attending a widows' club meeting at which he's the only male. By the end of this one, he's learned that it's OK to let loose with his suppressed anger at losing the love of his life. But a fired-up Wade isn't about to Hulk out -- or anything remotely close to that. Listen hard, though, and you might hear him raise his voice.
There's no laugh track involved in any of this, which is heartening. And Goggins fares fairly well in this very tamped-down mode, even if a number of his previous characters clearly would want to choke Wade Felton to death.
The Unicorn
likely will have a tough go of it on Thursday nights this fall opposite the first full half-hour of Fox's NFL football. And some Goggins' fans might be put off their feed upon seeing him like this. Should that be the case, just use an episode of
Righteous Gemstones
as a chaser. You'll find him deliciously Goggins-esque as a resentful, conniving preacher intent on getting those collections plates spinning again. And then all will be right with your world again.
GRADE:
B-minus
Email comments or questions to:
unclebarky@verizon.net