TV Bulletin Board (Aug. 10) -- last call for King of the Hill
08/10/09 10:54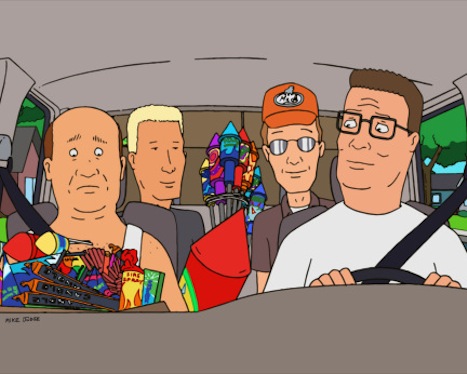 By ED BARK
Fox has set Sept. 13th for its "Southern-style send-off" of
King of the Hill
, which endured for 13 seasons.
The series finale, at 7 p.m. (central), will be back-to-back new episodes titled "The Boy Can't Help It" and "The Honeymooners."
Series creator
Mike Judge
, who now headquarters in Austin, based the series on his formative years in Garland, with fictional Arlen, TX standing in. He also is the voice of family patriarch Hank Hill, who shared countless six-packs with beer-loving buddies Dale, Bill and the incoherent Boomhauer, also voiced by Judge.
Guest voices over the years have included
Johnny Depp, Meryl Streep, Brad Pitt, Chris Rock, Sally Field, Rene Zellwegger, Ben Stiller, Jennifer Aniston, Matthew McConaughey
and
The Dixie Chicks
. In later years,
Tom Petty
became the recurring voice of Lucky, who married Hank's niece, Luanne.
***
NBC will get into the ring on Saturday, Aug. 29th with a one-hour package of highlights from
Wrestlemania 25
. The April 5th event drew 72,000 fans to Houston's Reliant Stadium, where the main event of
The Undertaker
vs.
Shawn Michaels
"tore the house down," according to NBC.
Mickey Rourke
, an Oscar nominee for
The Wrestler
, also dropped in "interjected himself into a match." Musical guests include
AC/DC, Korn
and
The Hives
.