American Soul shifts BET into scripted storytelling mode
02/05/19 09:19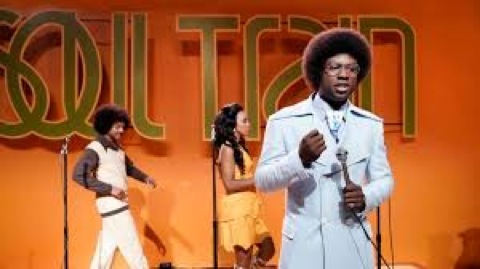 Don Cornelius runs the show in American Soul. BET photo
Premiering:
Tuesday, Feb. 5th at 8 p.m. (central) on BET
Starring:
Sinqua Walls, Iantha Richardson, Christopher Jefferson, Katlyn Nichol, Jelani Winston, Kelly Price, Jason Dirden, Kelly Rowland, Shannon Kane, Perri Camper, James Devoti
Produced by:
Jonathan Prince, Jesse Collins, Devon Greggory, Tony Cornelius
By ED BARK
@unclebarkycom on Twitter
Black Entertainment Television, longhand for BET, had its own Don Cornelius in Robert Johnson, who launched the network with his wife, Sheila, in 1980 and sold it to Viacom 20 years later for a reported $3 billion.
But while Johnson profited immensely (and stayed on as CEO until 2006), BET remained stagnant creatively as a home for cut-rate unscripted programming and videos that were criticized by some for perpetuating African-American stereotypes. The network stayed away from costlier scripted comedies and dramas throughout most of Johnson's reign. But BET's latest president, Scott Mills, is making a big scripted push after the network's
Being Mary Jane
, starring Gabrielle Union, had a four-season run and record-setting ratings.
Mills is promising a veritable onslaught of scripted programming this year, with a commitment to premiere five original new series, according to
The Hollywood Reporter
. First in line is
American Soul
, a 10-episode drama series starring Sinqua Walls as Cornelius, the founding father of
Soul Train
.
In Mills' view, BET's audience yearns for "high-end drama content" while at the same time "enjoying salacious reality programming." But, as he told the
Hollywood Reporter
, the network's viewers "have been clear to us that they don't want to see real-life African-Americans behaving badly on BET. Our audience values that, they just don't want it in our house."
If actually true, it's an interesting dichotomy. And based on the first two episodes of
American Soul
, BET is arguably having it both ways. One of the promotional tag lines for the series -- "Black folks as black folks was meant to be seen -- strong, powerful and beautiful" -- is also stated by Walls' Cornelius in an Episode 1 scene with Gladys Knight (fine work by Kelly Rowland).
But Cornelius also is shown behaving quite badly, whether it's philandering, snorting coke, bullying underlings, providing prostitutes as part of doing business, or putting a gun to his head in
American Soul
's opening scene before the drama flashes back from early 2012 to Chicago's summer of 1971. In short, he was a businessman -- by any means necessary. But his dream of a black-owned-and-operated answer to Dick Clark's
American Bandstand
required a single-minded toughness and/or amorality, which Cornelius deployed when needed. (His son, Tony Cornelius, is a co-executive producer of
American Soul
. So this portrayal has his blessing.)
Upcoming episodes will include portrayals of real-life star performers ranging from Diana Ross to Ike and Tina Turner. But the principal aspiring group in the early going is fictional. Brother and sister Kendall and Simone Clark (Jelani Winston, Katlyn Nichol), and their friend JT Tucker (Christopher Jefferson) comprise Encore, a stand-in for The Undisputed Truth. They were a one-hit wonder group, but it was a big one -- "Smiling Faces Sometimes." Encore winningly performs it at a club, but the kids are found to be too young to work where alcohol is served. Simone and Kendall then resort to auditioning as
Soul Train
dancers while JT finds himself getting into trouble.
The supporting cast also includes Iantha Richardson as
Soul Train
's put-upon dance auditioner, Tessa Lorraine, Perri Camper in the role of Cornelius' left behind wife, Delores, and Jason Dirden as ruthless black club manager Gerald Aims, who provides Cornelius with a gateway to Knight. Sprinkled in during the first two episodes are Knight's strong-willed manager, Ilsa Dejarnette (Shannon Kane), and white go-between Brooks Donald (James Devoti), who's needed to line up advertisers. One of them refers to
Soul Train
as "
Bandstand
for coloreds."
The scenes from the set of
Soul Train
are well-captured and choreographed. But BET's still limited production budgets are reflected in recurrent Vietnam War sequences involving the Clark kids' father. They're phony-looking to say the least, and really not needed at all.
Walls, formerly of Starz's
Power
series, is effective as Cornelius, although not to the point of blowing anyone away. His best scene is talking business to the reluctant Knight at a Gary, Indiana club. But
American Soul
also tends to bounce like a ping-pong ball from one set piece to another. The worst of this is when Cornelius is stopped by a taunting, white Los Angeles police officer for allegedly running a stop sign. "Sing for me," he's ordered, or be taken downtown. But the slobbering cop and his partner then get a call to a higher priority crime scene, which spares Cornelius any further indignities. It's all very ham-handed.
BET is moving in the right direction, though. The network had been running in place for decades under the profit-mongering Johnson.
American Soul
is a significant effort to get untracked and make a mark. Dramatizing how
Soul Train
came to be is a story well worth telling. And BET at long last has deemed itself the perfect place to do it.
GRADE:
B-minus
Email comments or questions to:
unclebarky@verizon.net