No new heights but a steady climb in Showtime's City on a Hill
06/12/19 14:38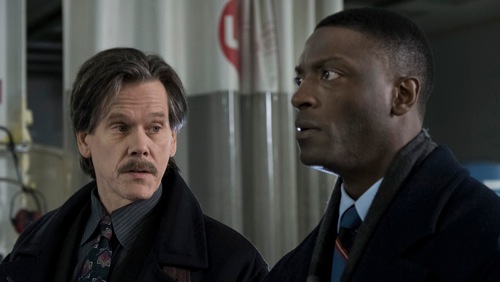 Kevin Bacon & Aldis Hodge team up in Boston-based
City On A Hill
. Showtime photo
Premiering:
Sunday, June 16th at 8 p.m. (central) on Showtime
Starring:
Kevin Bacon, Aldis Hodge, Jonathan Tucker, Mark O'Brien, Lauren E. Banks, Amanda Clayton, Jill Hennessy, Jere Shea, Kevin Chapman, Catherine Wolf
Produced by:
Barry Levinson, Tom Fontana, Ben Affleck, Matt Damon, Chuck MacLean, Jennifer Todd, Michael Cuesta
By ED BARK
@unclebarkycom on Twitter
A showy command performance by Kevin Bacon won't be taking
City on a Hill
to new heights.
It's enough, however, to give Showtime another
Ray Donovan
in terms of watchable, serviceable, jut-jawed crime hours.
Boston again is the familiar site of embedded police corruption, with Bacon leading the charge as hard-drinking, chain-smoking, carousing FBI agent Jackie Rohr.
"What used to make this city great was that it was run by bad men, who knew they were bad," Rohr rasps (not roars) in the opening minutes.
But there's a new agent for change in the form of crusading assistant DA Decourcy Ward (Aldis Hodge), a proud African-American who clashes with Rohr before uneasily aligning with him. It's all set in the early 1990s, with a gang of armored truck robbers at large. Of course it will go beyond that. All in due time.
The series' executive producers include two familiar teams -- Barry Levinson/Tom Fontana and Ben Affleck/Matt Damon. They may not know many or any new tricks anymore, but can still deliver some solid, straight-ahead punches.
Showtime made the first three episodes available for review, with Rohr striding through them while Ward increasingly makes his presence felt.
On the other side of the law, Boston's Ebb-Tide bar supplies weapons for Frankie Ryan (Jonathan Tucker), his drug addicted, screwup brother, Jimmy (Mark O'Brien) and accompanying henchmen who wear full-faced, hard plastic white fright masks while stealing stacks of fresh cash. They didn't anticipate killing anyone, but whaddya gonna do when things go awry? So three bodies also are missing. This vexes Frankie's wife, Cathy (Amanda Clayton), who otherwise does the money laundering.
When not shaking down or protecting informants, the married Rohr is pleasuring himself with a woman who isn't his wife. Jenny Rohr (Jill Hennessy) is left feeling unfilled while her live-in battle ax ma (Catherine Wolf) stirs the pot against Jackie. There's also a rebellious daughter thrown in. Her name is Benedetta (Zoe Colletti).
Ward is much better situated at home, where his wife, Siobhan Quays (Lauren E. Banks) both encourages and cajoles him. There are no problems in the bedroom.
After an energetic start and a nice twist at the end of Episode 1,
City on a Hill
slows its pace a bit while taking a predictable turn in terms of Jenny's desires to resume her teaching career in the face of Jackie's indifference toward her. She's gotten no comfort from the family's old-line Catholic pastor, who asks Jenny to ask herself, "What's your part in the failure of your marriage?"
Jackie, not a church-going type anymore, prefers to quote the wisdom of Roy Cohn, the gut-punching attorney pal/mentor of both Joe McCarthy and a young Donald Trump. Among Cohn's mantras: "If you held onto the lie, the bullshit, against all evidence, there was nothing anybody could do." Rohr has come to thoroughly believe this when it comes to coverups. Perhaps he also has a crystal ball in terms of future presidential administrations.
City on a Hill
is likely to get a nice, multi-season run on Showtime, which in addition to
Ray Donovan
has three other ongoing veteran dramas in its arsenal --
Homeland, Shameless
and
Billions
. It's become a network that knows how to get these things done. And it looks as though it's done it again.
GRADE:
B
Email comments or questions to:
unclebarky@verizon.net