TV Bulletin Board (Tues., Jan. 18) -- Reege taking his leave
01/18/11 13:09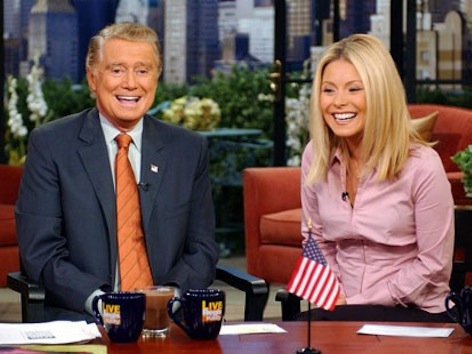 By ED BARK
Iconic Regis Philbin, a daytime TV staple and nighttime raconteur on numerous editions of
Late Show with David Letterman
, announced Tuesday that he'll be leaving
Live with Regis and Kelly
this year.
The 79-year-old gabmaster did not specify a departure date while breaking the news to viewers during the "host chat" portion of
R and K
. But he did say it will be sometime during the late summer or early fall.
"There is a time when everything must come to an end," said Philbin, who has been beset with health problems in recent years. "We'll have a lot of fun between now and then."
Philbin's co-host, Kelly Ripa, will remain with the show while its producers, the Disney-ABC Television Group, search for a replacement. Ripa joined Philbin in February 2001 after Kathie Lee Gifford left the show.
Live with Regis & Kathie Lee
(it used an ampersand back then) premiered in national syndication in 1988 after Philbin logged five years on
The Morning Show
, which was locally produced by New York's WABC-TV.
CNN's Anderson Cooper, a frequent fill-in for Philbin, would be an odds-on favorite to replace him were he not embarking on his own daytime syndicated talk show this fall. Of course plans can always change.
Philbin furthered his brand as the host of ABC's smash hit prime-time game show,
Who Wants to Be a Millionaire
. His distinctive, histrionic delivery is often mimicked by comedians -- and sometimes by Philbin himself.
***
CBS has given another big boost to
The Big Bang Theory
, rewarding the hit sitcom with a three-season renewal that will take it all the way through the 2013-2014 TV season.
"It doesn't take a theoretical physicist to see why this show is a big part of our comedy future," CBS entertainment president Nina Tassler said in making the announcement. "From ratings to critical acclaim to pop culture buzz, it's a struck a chord on all levels."
Big Bang
, which premiered in September 2007, will be squaring off for the first time against Fox's
American Idol
this week. In comments at the just-concluded Television Critics Association "press tour," Tassler declined to predict whether
Big Bang
might outdraw
Idol's
first half-hour among advertiser-coveted 18-to-49-year-olds.
"It's not an 'us versus them,' " she demurred. "I think there's enough (audience) to go around."
***
In other renewal news, Fox has picked up its freshman comedy
Raising Hope
for a second season. And ABC has announced it will bring a sextet of series back next fall. Wednesday night comedies
Modern Family, The Middle
and
Cougar Town
all will get third seasons. A trio of dramas,
Grey's Anatomy, Private Practice
and
Castle
, also are coming back.
ABC Family joined its big sister network's party by announcing pickups for both
Pretty Little Liars
and
The Secret Life of the American Teenager
.
***
PBS will reprise Ken Burns' monumental
The Civil War
this April to coincide with the 150th anniversary of the start of the war. The five-part miniseries originally premiered to huge acclaim in September 1990.
"Prior to
The Civil War
, my colleagues and I toiled in relativity anonymity," Burns said in a publicity release. "
The Civil War
created a new thirst for history and stories about America that has allowed us to explore a wide range of topics."
PBS said the reprise air dates will be April 3-7.
***
The History Channel's surprise decision to pull its first scripted miniseries,
The Kennedys
, leaves the eight-hour production without a U.S. home after FX, Showtime and Starz also subsequently passed on it.
History's early January announcement said that "after viewing the final product in its totality, we have concluded this dramatic interpretation is not a fit for the History brand."
Developed by former
24
co-creator Joel Surnow, who is outspokenly conservative,
The Kennedys
starred Greg Kinnear and Katie Holmes as Jack and Jacqueline Kennedy, with Tom Wilkinson as Joseph Kennedy Sr. and Barry Pepper as Robert Kennedy. It was scheduled to premiere this spring.
Early detractors of
The Kennedys
labeled it a right-wing hit job based on leaks of early scripts. But Showtime's new entertainment president, David Nevins, said
The Kennedys'
political content "wasn't a factor in our rejecting it."
"I looked seriously at it, and I thought it was well-acted, well-made and very watchable," he told TV critics. "And just what it really came down to is it didn't really feel Showtime. It didn't really feel, to me, 'premium cable.' "
In late 2003, Showtime aired
The Reagans
miniseries after CBS rejected it on grounds that it was an overtly political film that portrayed Ronald Reagan as something of a dunce. But CBS and Showtime are both owned by Viacom. So Showtime in effect did as it was told.
The Reagans
ultimately bombed in the ratings, and Showtime hasn't aired a miniseries since that time.