Besides villains, Batwoman also battles the comic superhero blahs
10/04/19 12:09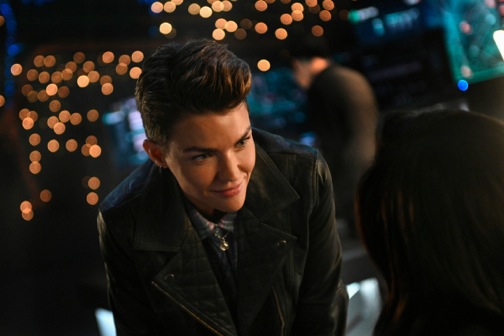 By night she's also the Caped Crusader. Ruby Rose stars in
Batman
. CW photo
Premiering:
Sunday, Oct. 6th at 7 p.m. (central) on The CW
Starring:
Ruby Rose, Rachel Skarsten, Dougray Scott, Meaghan Tandy, Elizabeth Anweis, Nicole Kang, Camrus Johnson
Produced by:
Greg Bernanti, Caroline Dries, Geoff Johns, Sarah Schecter
By ED BARK
@unclebarkycom on Twitter
Producer Greg Berlanti is to comic book superheroes what Donald Trump is to tweeting.
They just can't stop themselves.
Berlanti's latest,
Batwoman
, is being paired with Berlanti's
Supergirl
on The CW's caped Sunday nights. He also supplies the network with
Arrow, The Flash, Black Lightning
and
Legends of Tomorrow
, which will return in midseason.
Berlanti's not finished. On the mere mortal front, he helms two other CW series,
All American
and
Riverdale
, with a
Riverdale
spinoff,
Katy Keene
, coming early next year. Plus, his superhero portfolio is further populated by
Titans
and
Doom Patrol
for the DC Universe web, with
Stargirl
coming next year.
Back to
Batwoman
, which already seems like a long time ago in this review.
The title character is played by Ruby Rose, who in civilian life is Kate Kane. Berlanti, who is openly gay, has positioned her as TV's first gay lead superhero. But some were outraged -- how easy it is these days -- when Rose initially identified her real-life self as "gender fluid" rather than full-out lesbian. This made her "not gay enough" in some quarters, with Rose abandoning her Twitter account in the wake of a social media "uproar" that seems to have since died down.
DC Comics, which has put all of its superheroes through myriad changes over the years, reintroduced Batwoman as a lesbian of Jewish descent in 2006. And nope, the Australian Rose isn't Jewish either, which also prompted some criticism when she was first cast.
CW made the first two episodes available for review. And a major revelation at the end of the premiere hour most certainly counts as a "spoiler" that then serves as the driving force of next Sunday's second chapter.
So without getting into specifics, let's just say that Kate Kane is one big festering boil of resentments. This dates back to a very traumatizing tragedy in her pre-teen years. It took the life of Kate's mother while leaving twin sister, Beth, missing and presumed dead. Kate has blamed herself ever since.
Kate's hardboiled father, Jacob Kane (Dougray Scott in over the top form), since has remarried and founded the militaristic Crows Private Security firm. It's intended to keep Gotham on the side of law and order after Batman inexplicably blew town three years ago. (In Berlanti's
Supergirl
, Superman likewise was an on-screen no-show in the early going.)
Estranged from her dad, Kate also is embittered by the loss of her true love, Sophie Moore (Meagan Tandy). Flashbacks to military school years depict their physical affection for one another. But after being discovered in an intimate embrace, Sophie chose to disavow their relationship as the price for staying enrolled. Wouldn't you know it, she now works for Dad's security firm. And when Sophie is kidnapped by the deranged Alice (Rachel Skarsten) and her Wonderland Gang, Kate impulsively returns from an isolated survival training camp to help in any way she can.
This re-imagined
Batwoman
also gives Kate a stepsister doctor named Mary (Nicole Kang), who's running an under-funded clinic. Wizened Alfred the Butler, Bruce "Batman" Wayne's loyal, secret-keeping ally, re-emerges as Luke Fox (Camrus Johnson), a young African-American on the receiving end of Kate's guff. She remains perplexed by whatever happened to cousin Bruce -- until learning of his secret identity and then co-opting it.
These first two episodes swerve from one action scene to another, not always cohesively. And it's probably not a particularly good thing that Skarsten's Alice repeatedly steals the show while Rose in either role tends to be a grim, glowering drudge.
It can be tough, though, when you're a producer in charge of seven fall CW series on a network with just 12 of them. That's a whole lot to juggle -- in addition to Berlanti's numerous shows on rival networks -- and
Batwoman
sometimes drops the ball. It's a brand name with several new twists. But it also can seem like another one off the assembly line. The costumes change from one superhero to another. By now, though, they're looking interchangeable, too.
GRADE:
C+
Email comments or questions to:
unclebarky@verizon.net