ABC's Schooled could use a little detention
01/08/19 12:29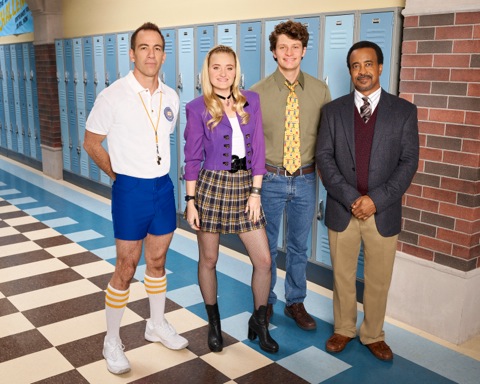 AJ Michalka (2nd from left) heads the cast of Schooled. ABC photo
.
PREMIERING:
Wednesday, Jan. 9th at 7:30 p.m. (central) on ABC
STARRING:
AJ Michalka, Bryan Callen, Tim Meadows, Brett Dier, Rachel Crow
PRODUCED BY:
Adam F. Goldberg, Doug Robinson, Marc Firek
By ED BARK
@unclebarkycom on Twitter
The original version of
Schooled
flunked as a planned spinoff of ABC's
The Goldbergs
.
A second try, premiering Wednesday, Jan. 9th in tandem with
The Goldbergs
, perhaps passes more than it fails but is at best a C student. AJ Michalka , who played oldest son Barry Goldberg's unlikely girlfriend, Lainey Lewis, graduates to the early 1990s to become an unqualified music teacher at William Penn Academy. Two other
Goldbergs
alums, cartoonish coach Rick Mellor (Bryan Callen) and ineffectual principal John "Andre" Glascott (Tim Meadows), also make the trip, this time as full-fledged regular cast members.
Nia Long, who had nothing to do with
The Goldbergs
, had been cast as the lead in the failed pilot as a character named Lucy Winston. She's since gone on to a regular role in CBS'
NCIS: Los Angeles
. But Rachel Crow remains, at least in the first episode, as the now unseen Lucy's rebellious daughter, Felicia.
As did Lainey, Felicia aspires to be a rock star. But they of course clash at first, with Lainey terming her an "angry rage monster" after booting her out of class.
The idea here is that Lainey perfected many of the student misbehavior patterns now being recycled by some of her students. "You can't blackmail a blackmailer, Missy," she informs Felicia. "I will so take you down."
Meanwhile, Coach Mellor is having his own problems with star basketball player Matty Ryan (guest star Hunter Doohan). He's modeling himself after Michael Jordan, which isn't compatible with being a team player in Mellor's view.
Everything is resolved, in gratingly sappy fashion, before a climactic little interview between Callen and the real-life coach he's more or less portraying. It turns out that Matty Ryan went on to become a real-life Big Somebody. Sports fans will get it.
Michalka brings a little studied sass to her central role before
Schooled
melts into a puddle of sentimentality. "In this job, the best teachers follow their hearts -- no matter what," Coach Mellor counsels her. It's a sudden transition from nincompoop to sage advisor in a sitcom where the prototypically stodgy Principal Glascott also sees the light -- in a big hurry.
Wendi McLendon-Covey, whose Beverly Goldberg is the best thing about that show, drops in for a blink-and-you'll-miss-it cameo at the start of
Schooled
. In future episodes, Brett Dier from
Jane the Virgin
will be rolled into the mix as young teacher Charlie Brown (also based on one of creator Adam F. Goldberg's real-life teachers).
There's possibly some potential here. But the only episode of
Schooled
made available for review neither rings the bell -- or answers it.
GRADE:
C
Email comments or questions to:
unclebarky@verizon.net