TV Bulletin Board (Tues., Sept. 14) -- NBC has ratings kill shots with two doses of prime-time football
09/14/10 10:50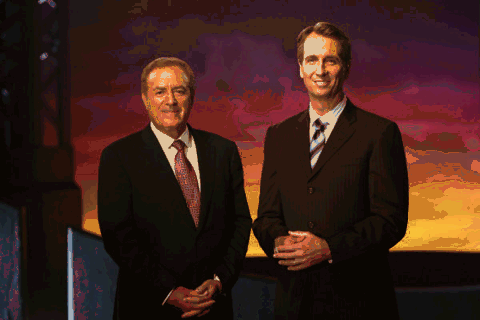 Sunday Night Football's Al Michaels, Cris Collinsworth NBC photo
By ED BARK
NBC clearly fumbled the ball by putting Jay Leno in prime-time last season. But the Peacock also deserves some credit for a programming masterstroke known as
Sunday Night Football
.
The Sept. 12th
SNL
opener between the Dallas Cowboys and Washington Redskins had the biggest national audience for any Week 1 Sunday or Monday prime-time game in 14 years, according to Nielsen Media Research.
Cowboys-Redskins drew 25.3 million viewers; ABC's Sept. 2, 1996
Monday Night Football
matchup between the Cowboys and Chicago Bears had 27.7 million viewers.
NBC's Thursday night NFL kickoff game between the New Orleans Saints and Minnesota Vikings did even better than Cowboys-Redskins with 27.5 million viewers nationally. The two games gave the Peacock total dominance on both nights, with this Sunday's prime-time rematch between the Manning brothers -- Peyton's Indianapolis Colts and Eli's New York Giants -- also likely to be a bellringer.
NBC secured the
Sunday Night Football
franchise in 2006, taking it from ESPN, which in turn took
Monday Night Football
from ABC. The Sept. 12th Cowboys-Redskins game was the most-watched Sunday night game under the NBC banner, beating last season's Sept. 20th debut of Jerry's Palace, which had 24.8 million viewers witnessing the Cowboys' last second loss to the Giants.
The Cowboys have participated in five of
Sunday Night Football
's 10 most-watched games.
***
Mondo Joaquin Phoenix will make a return visit on Wednesday, Sept. 22nd to CBS'
Late Show with David Letterman
.
Phoenix's Feb. 11, 2009 appearance on
Late Show
was one of the year's most talked-about TV moments. In case you somehow missed it -- online or otherwise -- it will be repeated on the Thursday, Sept. 16th
Late Show
.
Phoenix this time ostensibly will be promoting his new documentary film
I'm Still Here
, which was released last week by
Magnolia Pictures
. Dallas Mavericks owner Mark Cuban co-founded Magnolia Pictures with business partner Todd Wagner.
On his earlier Letterman appearance, Phoenix supposedly was helping to publicize another Magnolia film,
Two Lovers
, in which he co-starred with Gwyneth Paltrow. But it didn't quite work out that way.