Old address, new approach in Fox's BH90210
08/07/19 08:52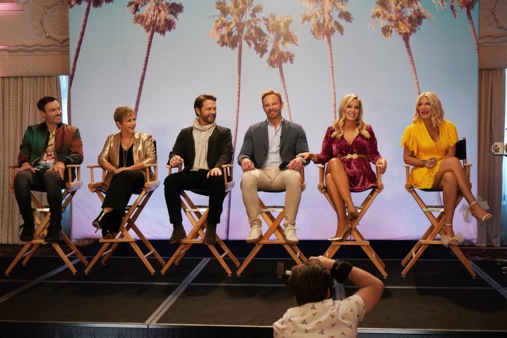 The 90210 cast is all smiles at a reunion within a reunion. Fox photo
Premiering:
Wednesday, Aug. 7th at 8 p.m. (central) on Fox
Starring:
Tori Spelling, Jason Priestly, Jennie Garth, Ian Ziering, Gabrielle Carteris, Brian Austin Green, Shannen Doherty, La La Anthony, Vanessa Lachey, Ivan Sergei, Christine Elise McCarthy, Ali Liebert, Karis Cameron
Produced by:
Chris Alberghini, Mike Chessler, Paul Sciarrotta, Gabrielle Carteris, Shannen Doherty, Jennie Garth, Brian Austin Green, Jason Priestly, Tori Spelling, Ian Ziering
By ED BARK
@unclebarkycom on Twitter
The address is CBS for the most success with TV reboots.
The most famous address of all, though, belongs to Fox. And its six-episode "event series" reboot of
Beverly Hills, 90210
-- shortened to
BH90210
-- for the most part makes for a surprisingly satisfying time travel to the current "heightened" lives of seven original cast members. (Charter co-star Luke Perry, who also had agreed to take part when his duties on The CW's
Riverdale
allowed, died in March of this year. He's fondly remembered in the closing moments of Wednesday's premiere episode.)
Fox's original
90210
ran for a decade from 1990 to 2000 before The CW network took another dip with
90210
, which lasted from 2008 to 2013. Jennie Garth, Tori Spelling and Shannen Doherty made cameo appearances in that one, but the series centered on a new generation of teens.
In
BH90210
, though, the surviving principals are all in, with Doherty (the last to commit) so far much less seen in the two episodes made available for review. The hook is a 30th anniversary Vegas reunion that ends up being both a disaster and a catalyst. It's also a springboard for what's to come in Episode 2, with Spelling and Garth plotting to pull off a
90210
reboot (just as they did in real life) while their fellow cast members initially blow them off. Spelling in particular picks up the mantle of her late father, Aaron Spelling, who created
90210
and a bushel basket of other hit TV series. "No one stopped my dad," she says of his doggedness in bringing his ideas to TV screens.
In their "heightened" modes (somewhat cued by Larry David in HBO's
Curb Your Enthusiasm
and Matt LeBlanc in Showtime's
Episodes
), here's what's up since the original series wrapped.
***
Tori Spelling (Donna Martin on the original
90210
) is a mother of six children who's married to a semi-slacker named Nate (Ivan Sergei). Their
Spelling the Beans
series has just been canceled, and they're up against it financially. Spelling and her real-life husband, Dean McDermott, are parents of five kids and have co-starred as themselves in two "reality" series.
***
Jason Priestly (Brandon Walsh) is a director married to a publicist who yearns to start a family. The real Priestly also has directed, but has two children with his wife, a makeup artist.
***
Jennie Garth (Kelly Taylor) is divorced twice and going through a third. Her headstrong daughter, Kyler (Karis Cameron), yearns to be an actress, which Garth emphatically doesn't want for her. In real life, Garth has three children and is twice-divorced.
***
Ian Ziering (Steve Sanders) is married to a career-obsessed blonde bombshell who's lately auditioning for a role on
The Real Housewives of Beverly Hills
. He's more intent on hawking his own brand of products. The real-life Ziering achieved major success with the cheesy series of
Sharknado
movies. After contentiously divorcing a former
Playboy
model, he remarried and is the father of two children.
***
Gabrielle Carteris (Andrea Zuckerman) is newly a grandma and president of the Actors Guild of America. She's also searching for her true sexual identity. In real life, Carteris is president of the merged Screen Actors Guild-American Federation of Television and Radio Artists. She's been married to a stockbroker since 1992, and they have two children.
***
Brian Austin Green (David Silver) is mainly a house husband married to a star hip-hop artist known as Shay (La La Anthony). They have three children. The real Green married actress Megan Fox in 2010. They separated but later reconciled, and have three sons together.
***
Shannen Doherty (Brenda Walsh) is involved in animal rescue efforts and long estranged from the rest of her
90210
mates. In real life, the controversial Doherty, who's likewise an animal activist, regularly feuded with the show's co-stars before leaving after four seasons.
These are the basic fact/fiction parameters of the first reboot in which a complete ensemble cast plays themselves, not the TV characters they made famous. Then again, they're all set to begin playing those characters anew by the end of Episode 2 after Fox executives enthusiastically green light a continuation of
90210
when Spelling and Garth pitch it to them. Any confusion in print isn't a problem with the show itself, which is easy enough to grasp.
The original series lacked diversity and inclusion in times when there were few complainers. Fox's reboot addresses this with both Green's marriage to an African-American singing star and Carteris' determination to doubly explore her sexuality as herself and as the rebooted Andrea Zuckerman.
There also are some unfortunate subplots, particularly the inclusion of a nameless young white male stalker whose obsession with Green in particular leads him to seriously creep out the rest of the cast. Filming on
90210
was completed shortly before the mass murders in El Paso and Dayton, Ohio, with disaffected, hate-filled young white males allegedly triggering the assault weapons.
90210
obviously didn't intend in any way to be a reminder of these heinous actions. But alas, here we are.
The reboot also weaves in a blackmail plot involving Priestly and his wife, who has a "secret" tied to her sudden turn of events.
90210
certainly didn't lack in serial drama soapiness, but the reboot tends to be thrown off its mark by these bad-nasty devices.
Otherwise the real revelation is Tori Spelling, who stands out among the ensemble as funny, free-spirited and even a bit poignant at times. If anyone carries this show through its first two episodes, she's the one.
Carteris is also a standout in terms of vulnerabilities and feelings that weren't allowed to be anywhere near fully expressed in the original
90210
. And Priestly is vividly in this mix as a vainglorious approximation of his real self and a co-conspirator in the first episode's rather daring hookup.
"Maybe going back is just what we all need to move forward," Tori tells Jennie of her aggressive plans to make a reboot a reality.
That's a grand simplification, but also more than a good enough rationale to make
BH90210
TV's latest born again entity. It's been a dreary summer of mostly junky new broadcast network fare, led by CBS'
Love Island
. There's nothing technically new under the sun with
BH90210
. But it nonetheless feels that way via this fresh approach to what easily could have been a very wrong address.
GRADE:
B
Email comments or questions to:
unclebarky@verizon.net