TV Bulletin Board (Wed., Jan. 27) -- Mammoth week for Fox
01/27/10 10:23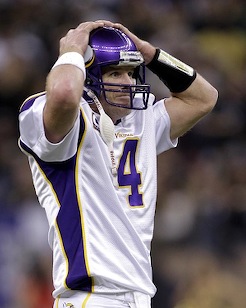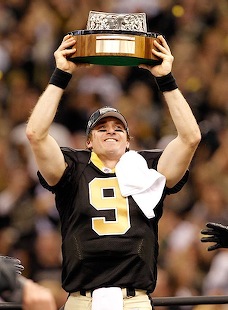 QBs Brett Favre and Drew Brees. Guess who won? nfl.com photos
By ED BARK
Fox already has "Animation Domination" on Sunday nights. How about TOTAL DOMINATION in the latest prime-time ratings week.
Sunday night's overtime NFC championship game between the victorious New Orleans Saints and Minnesota Vikings averaged a garguantan 57.9 million viewers nationally, according to Nielsen Media Research.
That made it the most-watched conference climax in 28 years. Two editions of
American Idol
and Fox's post-game show ranked 2-3-4 during the week of Jan. 18-24, in which Fox averaged 24.4 million viewers. That more than doubled the total of runnerup CBS (9.6 million) and further dwarfed ABC (6.3 million) and NBC (5.3 million).
CBS bragged in a press release that it had nine of the week's top 10 scripted series, led by
Two and a Half Men
. But that's like saying that Cowboys QB Tony Romo threw nicer spirals than the Vikings' Brett Favre during the previous Sunday's 34-3 loss to Minnesota.
Fox also ran away with the ratings among advertiser-coveted 18-to-49-year-olds, averaging 11.6 million for the week while second place CBS had 2.4 million.
CBS still leads in total viewers in the season-to-date prime-time ratings, with 11.7 million compared to Fox's swelling total of 9.8 million. And CBS obviously will clean up on Feb. 7th with its telecast of what could well be the most-watched Super Bowl ever -- New Orleans vs. the Indianapolis Colts.
With
Idol
rolling along through May, Fox again has the 18-to-49 race pretty much locked up, averaging 4.8 million viewers in this age range in the season-to-date Nielsens while second-place CBS is at 4.1 million.
In the latest ratings week, ABC's most-watched program was
Grey's Anatomy
(12.7 million total viewers) while poor, pitiful, critically savaged NBC couldn't break the 10 million mark with anything. The Peacock's best performer,
The Biggest Loser
, ranked 20th with 9.9 million viewers. NBC had just three programs in the Top 40, none of them named
The Jay Leno Show
.
***
TNT has renewed
Men of a Certain Age
for a second season while CBS is promising 21st and 22nd editions of
Survivor
and a 17th go-around for
The Amazing Race
.
The 20th
Survivor
, subtitled
Heroes vs. Villains
, premieres on Feb. 11th. And
Amazing Race
16 gets out of its starting blocks on Feb. 14th.
As previously detailed, both of next month's returning editions have Texas contingents. For a look-see, go
here
and
here
.