TV Bulletin Board (Nov. 12)
11/13/08 16:39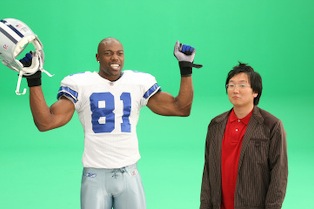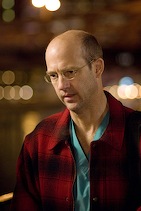 Terrell Owens looked like a hero last fall; calling Dr. Greene on ER,
NBC's already pivotal
Sunday Night Football
matchup between the Dallas Cowboys and Washington Redskins will be further spiced by
Bruce Springsteen
's halftime performance of his new song, "Working On a Dream."
Springsteen is warming up for a bigger halftime performance at the Feb. 1st Super Bowl in Tampa, which also will be on NBC. But will the Cowboys show up?
***
Earlier on the same Sunday, CBS'
60 Minutes
hopes to retain last week's crown as
prime-time's most-watched show
with the first post-campaign interview of president-elect
Barack Obama
and his wife,
Michelle Obama.
CBS announced its latest big score Thursday, with correspondent
Steve Kroft
set to tape his interview with the Obamas on Friday, Nov. 14th in Chicago.
Last Sunday, Kroft led
60 Minutes
with his election night interview of Obama's four principal campaign strategists. That edition drew 18.5 million viewers nationally to edge CBS'
CSI: Crime Scene Investigation
as prime-time's highest-rated show for the week of Nov. 3-9, according to Nielsen Media Research.
60 Minutes
will have to do better than that Sunday night. Another CBS crime drama,
NCIS
, already is the clubhouse leader with a personal best 18.8 million viewers for Tuesday's episode.
***
Tonight's the night (Thurs., Nov. 13) for
Anthony Edwards'
return to NBC's
ER
, where he'll reprise Dr. Mark Greene in a series of flashback scenes.
ER
is commemorating its 15th and final season with encore visits by some of the series' most popular stars and characters. The biggest fish of all,
George Clooney
, hasn't been landed yet. But you've got to think he'll reappear in some way before
ER
checks out sometime next year.
***
HBO's live, sixth season finale of
Real Time with Bill Maher
is on Friday (Nov. 14th) at the usual 10 p.m. (central) start time. Scheduled roundtable guests are
Ashton Kutcher, Jon Meacham
and
Ileana Ros-Lehtinen
. The host's one-one-on interview subjects haven't been announced yet.
***
NBC's
Saturday Night Live
has added two featured cast members,
Abby Elliott
and
Michaela Watkins
, with both joining the show on Nov. 15th.
Abby is the daughter of veteran comedian
Chris Elliott
and the granddaughter of the late
Bob Elliott
, who teamed with Ray Goulding to form the famed
Bob & Ray
comedy duo. She last worked with the Upright Citizens Brigade Theater, which was founded by
Amy Poehler
, who recently left the show as planned after having her first child.
Watkins comes from the Groundlings Theater, where former/current
SNL
cast members
Will Ferrell, Phil Hartman, Laraine Newman
and
Kristen Wiig
got started.
***
Finally,
Rosie O'Donnell
is beginning to dribble out the guest list for her live Nov. 26th variety show on NBC. So far she has
Kathy Griffin, Jane Krakowski, Alanis Morissette
and
Ne-Yo
Hi y-o-o-o-o-o-o!