Another fine mesh of things in CBS' Bob Hearts Abishola
09/19/19 10:28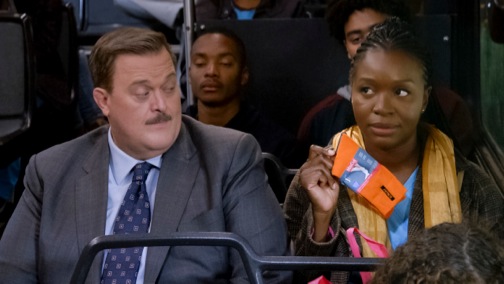 Billy Gardell and Folake Olowofoyeku will slowly become an outwardly odd couple in the new comedy series
Bob Hearts Abishola
. CBS photo
Premiering:
Monday, Sept. 23rd at 7:30 p.m. (central) on CBS
Starring:
Billy Gardell, Folake Olowofoyeku, Vernee Watson, Christine Ebersole, Shola Adewusi, Barry Shabaka Henley, Maribeth Monroe, Travis Wolfe, Jr.
Produced by:
Chuck Lorre, Al Higgins
By ED BARK
@unclebarkycom on Twitter
Billy Gardell has been waiting for another big shot while also perhaps wondering whether he'd ever get one.
The Mike of CBS'
Mike & Molly
watched as co-star Melissa McCarthy headlined one feature film after another, hosted
Saturday Night Live
to great acclaim and an Emmy, and earned two Oscar nominations, most recently for her serious turn in
Can You Ever Forgive Me?
You might say he was eclipsed.
But sitcom maestro Chuck Lorre, the executive producer of
M&M
, seems to care very much about taking care of Gardell. And in CBS'
Bob Hearts Abishola
, he's fashioned another worthy vehicle for him, even if Gardell might well end up again being overshadowed by his co-star.
Gardell plays a Detroit-based, 50-year-old compression socks salesman whose mild heart attack lands him in the hands of a no-nonsense Nigerian cardiac nurse named Abishola (newcomer Folake Olowofoyeku). He first finds that he doesn't like her socks. They're cheap and droop at the band. But Bob soon is also charmed by Abishola's ways with words, particularly when she pronounces his name as "Bub."
He's otherwise in business with a prototypically loud and demanding mother, Dottie (Christine Ebersole) plus a sister/brother combo (Maribeth Monroe and Matt Jones as Christina and Douglas).
Abishola lives in a cramped apartment with Auntie Olu (Shola Adewusi), Uncle Tunde (Barry Shabaka Henley) and elementary school-aged son, Dele (Travis Wolfe, Jr.). They're instantly a lot more fun and bearable than Bob's family.
Also adding spice is Abishola's hospital receptionist colleague Gloria (Vernee Watson), who's both tart and street smart. She's the conduit in Bob's plan to break the ice with Abishola by gifting her with some comfy pairs of his Malaysia-made socks.
Only the premiere episode was made available for review. And by the end of it, Bob and Abishola have only just begun to show signs of clicking. Gardell very ably portrays the pursuer after getting past a lame passing gas joke in the opening minute. It's Olowofoyeku, though, who shines with what looks to be an effortless ease, whether fending off Bob or tending to her son. She's undoubtedly a star in the making.
There's loads of potential here, both romantically and culturally. And executive producer Lorre's track record is one of the very best in the business, whether it's
Two and a Half Men, The Big Bang Theory, Mom
and
Young Sheldon
(all for CBS) or
The Kominsky Method
(returning Oct. 25th for a second season on Netflix).
Bob Hearts Abishola
feels good -- and good to go -- the second Olowofoyeku enters the picture and begins riffing with Gardell. They seem to be made for one another -- at first as actors and eventually as characters whose future dating ups and downs should keep this show on a steady, agreeable course.
GRADE:
B
Email comments or questions to:
unclebarky@verizon.net