TV Bulletin Board (Thurs., Nov. 17) -- Gervais back as Globes host
11/17/11 09:40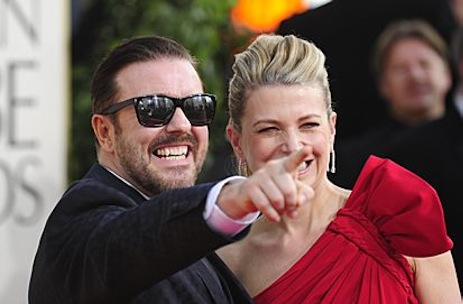 Ricky Gervais at last January's Golden Globes. NBC photo
By ED BARK
Ratings speak louder than Ricky Gervais' heavy-duty barbs at Hollywood heavyweights.
So he's been invited back to host this January's Golden Globes ceremony on NBC.
"They must be mad," Gervais said in a publicity release. "Not sure if I'm flattered that they trust me or insulted that they trust me. Either way, they shouldn't trust me."
Gervais also trumpeted his return
in a tweet:
"Just told Billy Crystal he'd better not use any of my holocaust or pedophile material at The Oscars." And later: "Be afraid, Hollywood egos, be very afraid. It's gonna be biblical."
NBC said that the 2011 Globes, in which Gervais stunned some with his punch-to-the-scrotum humor, was the most-watched since the 2007 festivities. It drew 17 million viewers nationally.
Dick Clark Productions again will oversee the show for NBC. Its president, Orly Adelson, said that Gervais' "unique point of view and his mischievous streak are a perfect match to the irreverent nature of the show."
Be assured that cocktails again will be served -- early and often. The 69th Globes will be on Jan. 15, 2012.
***
Winter/spring attractions on PBS will include two big-ticket filmed documentaries.
Clinton
, airing under the
American Experience
banner, will devote four hours to the life and times of former president Bill Clinton. PBS has produced numerous praiseworthy bios of presidents, with Lyndon Johnson, Ronald Reagan, Franklin Delano Roosevelt, Teddy Roosevelt and John F. Kennedy among those profiled. The Clinton bio will premiere on President's Day, Feb. 20th, and conclude on the following night.
Later next year, PBS will present
Johnny Carson
as part of its long-running
American Masters
series. The network says it finally has "secured the Carson estate's previously unavailable cooperation and permission." The two-hour bio is scheduled for May 14th.
PBS also will air a second group of
Sherlock
episodes (beginning on May 6th) and an adaptation of Charles Dickens'
Great Expectations
(April 1st and 8th) starring Gillian Anderson.