TV Bulletin Board (Aug. 27) -- Tinytown Texan among 20 new Survivor castaways
08/27/09 09:40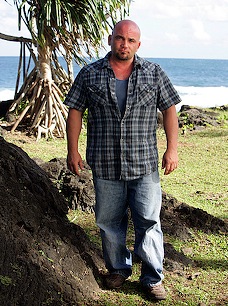 Oil company owner Russell Hantz of Survivor: Samoa
By ED BARK
Broadcast TV's longest-running reality competition series sets sail for the 19th time on Sept. 17th, with a brawny oil company owner from a dinky Texas town among the 20 castaways on CBS'
Survivor: Samoa
.
Russell Hantz
, 36, hails from
Dayton
, population 5,709 as of the 2000 census. It's located in far east Texas, a bit north of burgeoning Stilson.
Hantz positions himself as a cocksure svengali in a CBS promotional tape.
"You can call me the puppetmaster," he says. "If I tell 'em to run, they're gonna run. I tell 'em to stop, they'll stop. And when I'm finished with 'em, just throw 'em in the trash."
That's the spirit.
***Laura Linney
, an Emmy winner for her performance in HBO's
John Adams
miniseries, will return to contemporary times as a cancer-sticken suburban housewife in the new Showtime series
The C Word
.
The network bills it as a comedy, with Showtime entertainment president Robert Greenblatt saying that Linney "will no doubt make this character both heartbreaking and disarmingly funny."
A pilot will be shot this fall.
***
TNT has renewed its action series
Leverage
for a third season. The network also recently announced a pickup of the medical drama
HawthoRNe
for a sophomore year.
***Summer Glau
, formerly of Fox's
Terminator: The Sarah Connor Chronicles
, is segueing to the network's second-year series
Dollhouse
, where she'll play a recurring character named Bennett.
Dollhouse
creator
Joss Whedon
previously employed Glau in his shortlived Fox series
Firefly
.