TV Bulletin Board (Aug. 6) -- Leno announces first prime-time musical guest, Letterman continues to best his successor
08/06/09 13:09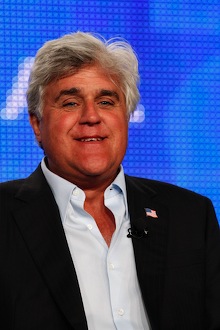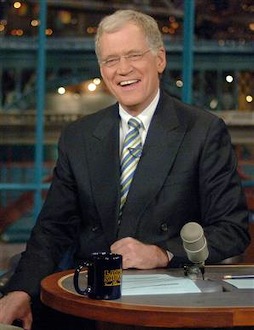 Who's smiling now? Both Leno and Letterman at the moment.
By ED BARK
NBC's biggest prime-time gamble ever,
The Jay Leno Show
, has its inaugural musical guests inked.
The Sept. 14th premiere will feature
Jay-Z, Rihanna
and
Kanye West
performing the Z-man's "Run This Town" from his "highly anticipated" new CD, "The Blueprint 3," conveniently in stores and online three days earlier.
Leno's one-hour show will air Mondays through Fridays this fall after he left what had been NBC's No.1-rated
Tonight Show
in the hands of
Conan O'Brien
on June 1st. But as CBS crowed Thursday,
Late Show with David Letterman
now has beaten
Tonight
in total viewers for four consecutive weeks, its longest winning streak in more than 14 years (the weeks ending June 9th, 16th, 23rd and 30th of 1995.)
In the week of July 27-31, Letterman averaged 3.38 million viewers to O'Brien's 2.63 million. ABC's
Nightline
ran second opposite the first half-hours of
Late Show
and
Tonight
with 3.36 million viewers.
O'Brien continues to win among advertiser-favored 18-to-49-year-olds, but his margin was just two-tenths of a rating point last week. Leno soundly beat Letterman in all audience demographics when he was at the
Tonight
throttle.
CBS entertainment president
Nina Tassler
, in a Monday session with TV critics, said that Letterman will continue to benefit from the network's high-powered 9 p.m. (central) crime shows, which Leno will have to face.
"He's very excited," she said of Letterman, who again declined to meet with critics. "So there will be great guest stars, great strategy leading up to his (fall) launch, but he's raring to go."
Tassler said CBS feels "pretty confident" that Letterman can maintain his lead over O'Brien during the fall season. But then again, she never was much for words.
***
On another late night front,
Craig Ferguson
and his post-Letterman
Late Late Show
at last will be joining the real world in HD. The switch takes place on Aug. 31st, CBS says. Letterman, O'Brien,
Jimmy Fallon
and
Jimmy Kimmel
already are in high-def.
***
Dallas-based HDNet, owned by Mavericks maestro
Mark Cuban
, will carry five games during the United Football League's inaugural season. The first is set for Saturday, Oct. 10th at 6 p.m. (central). Cuban says that "fans are hungry for more professional football and we're thrilled to add the UFL to our great roster of championship sports coverage."
***
CBS is replacing
Guiding Light
with a new version of
Let's Make A Deal
hosted by
Wayne Brady
. It'll premiere on Monday, Oct. 5th, with original host
Monty Hall
signing on as a token "creative consultant."
"I will be walking with a big whip," Hall joshed during a session with TV critics.
"Don't say 'whip' when a brother is sitting next to you," Brady rejoined.
***Amy Poehler
, who will return to NBC's prime-time lineup with the second season of her
Parks and Recreation
series, has taken on the added burden of appearing with former desk mate
Seth Meyers
on the first two episodes of fall's
Saturday Night Live: Weekend Update Thursday
. She'll be on the Sept. 17th and 24th editions.
***
ABC's 11-night, prime-time run of
Who Wants to Be A Millionaire
, with original host
Regis Philbin, will end each night's episode with a celebrity player trying to answer a single question worth $50,000 for his or her designated charity. Each celebrity also will have a celebrity "Ask the Expert" lifeline. It all begins on Sunday, August 9th at 7 p.m. (central). In order of appearance, here are the celebs and their lifeline companions:

Kate Perry/Sam Donaldson
Vanessa Williams/George Stephanopoulos
Sherri Shepherd/Wolf Blitzer
Lauren Conrad/Cokie Roberts
Shawn Johnson/Candy Crowley
Rachael Ray/Connie Chung
Patricia Heaton/Jodi Picoult
Wynonna/Gwen Ifill
Snoop Dogg/Ken Jennings
Steve Nash/Mo Rocca

The concluding August 23rd show will feature a surprise guest and Bill Nye as helpmate.