CBS' Carol's Second Act looks to be incurably unfunny
09/25/19 15:23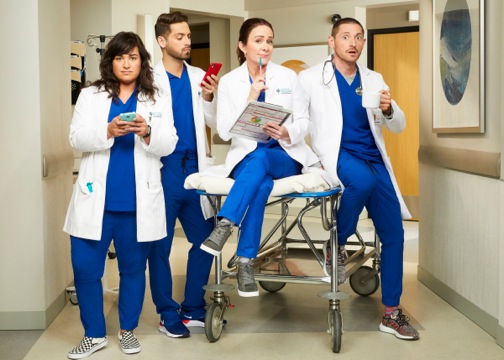 Patricia Heaton is stuck in the middle of Carol's Second Act. CBS photo
Premiering:
Thursday, Sept. 26th at 8:30 p.m. (central) on CBS
Starring:
Patricia Heaton, Kyle MacLachlan, Ito Aghayere, Jean-Luc Bilodeau, Sabrina Jalees, Ashley Tisdale, Lucas Neff
Produced by:
Emily Halpern, Sarah Haskins, Patricia Heaton, Adam Griffin, David Hunt, Rebecca Stay, Aaron Kaplan, Dana Honor
By ED BARK
@unclebarkycom on Twitter
Tetanus shots are more fun. Still, some sort of inoculation might be needed after watching Patricia Heaton striving to survive this new hospital comedy.
Carol's Second Act
marks her return to CBS in hopes of achieving a third major success following bravura stints in
Everybody Loves Raymond
and
The Middle
. But man, this is not the way to go about it.
Saddled with an annoyingly awful giggle track -- plus outdated applause when Heaton first appears --
Carol's Second Act
turns out to be an antidote to the old bromide that laughter is the best medicine. You won't find any of that going around here. And if you somehow do, it might be best to go in for a checkup.
Heaton plays divorced Carol Kenney, who's retired from schoolteaching and is now hoping to become a doctor. But she's 50, and thereby hopelessly old in the eyes of three fellow interns young enough to be her kids. The jokes to that effect come close to being an epidemic, but cheery Carol keeps her sunny side up until finally blowing up at episode's merciful end.
Kyle MacLachlan chips in as the rather goofy Dr. Stephen Frost, senior attending physician at Loyola Memorial Hospital. Chief resident Maya Jacobs (Ito Aghayere) mechanically orders the interns around, to no comedic effect. Aghayere doesn't seem to have a handle on this role at all.
Barely recognizable as intern Caleb is Lucas Neff from Fox's
Raising Hope
, which was only about, oh, 10 times funnier. The other newbies are snooty Daniel (Jean-Luc Bilodeau) and insecure Lexie (Sabrina Jalees). At the end of Thursday's premiere episode, Carol's pharmaceutical sales rep daughter Jenny (Ashley Tisdale) pops in to tell mom how proud she is of her.
Carol's Second Act
has an overload of eight executive producers, which has proven over time to be three or four too many. Another was dropped after the pilot episode as further evidence that this show has been struggling to get its act together.
Heaton clearly gives her all in the face of one groaner after another. Such as chief resident Maya informing Carol that "someone who can't follow orders is someone who can't be a good doctor." Or later, "I enforce discipline. It doesn't mean I'm heartless."
Literally nothing jells in this ham-handed first half-hour, and it may already be too late for full-blown emergency surgery. Still,
Carol's Second Act
could well get a decent tune-in due to Heaton's mere presence. And the basic older CBS audience might appreciate her character's reference to Angela Lansbury as well as an attempt at Lucille Ball-esque physical comedy in a shower scene.
Otherwise we all make bad choices on occasion. As did Heaton between
Everybody Loves Raymond
and
The Middle
when she co-starred with Kelsey Grammer in Fox's short-lived
Back to You
. In that context, this, too, will pass.
GRADE:
C-minus
Email comments or questions to:
unclebarky@verizon.net