The kids aren't alright in HBO's excessive Euphoria
06/12/19 10:03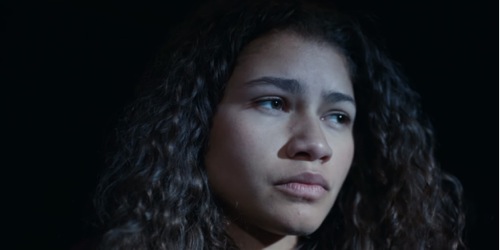 In a high school haze. Zendaya stars in Euphoria. HBO photo
Premiering:
Sunday, June 16th at 9 p.m. (central) on HBO
Starring:
Zendaya, Hunter Schafer, Jacob Elordi, Alexa Demie, Algee Smith, Sydney Sweeney, Maude Apatow, Barbie Ferreira, Angus Cloud, Storm Reid, Nika King, Eric Dane, Javon "Wanna" Walton
Produced by:
Sam Levinson, Drake, Future the Prince, Ravi Nandan, Kevin Turen, Hadas Mozes Lihtenstein, Ron Leshem, Daphna Levin, Tmira Yardeni, Mirit Toovi, Yoram Mokady, Gary Lennon, Jim Kleverweis
By ED BARK
@unclebarkycom on Twitter
A passing reference leaves its mark in Episode 3 of HBO's aggressively graphic
Euphoria
.
The kid sister of central character Rue Bennett (Zendaya, already on a first name basis) is alone in her room, immersed in her IPad. What's she watching?
My So-Called Life
, Gia (Storm Reid) tells Rue.
Today's high schoolers weren't anywhere near being born when the
then very daring ABC coming-of-age drama series
premiered a quarter-century ago and lasted just one season.
Euphoria
, which launches Sunday, June 16th on HBO, makes the disaffected youth of Pittsburgh's Liberty High seem like the original comic book versions of Archie, Jughead, Betty and Veronica. But it certainly shows how far we've come -- or fallen.
Euphoria
's most jarring scene, among many, is of a corpulent, abuse-craving man masturbating his fully exposed penis into an erect state while watching a live feed of masked, half-dressed high schooler Kat Hernandez (Barbie Ferreira), who insults him on demand for payment in return. So should any parent in their right mind allow their adolescents to watch
Euphoria
? I'm gonna vote "No" on that one. Not that the kids won't find a way.
Those of a certain age (anyone over 30) rightly might shudder at the thought that
Euphoria
is an even close to accurate depiction of contemporary high schoolers. Whatever one's political persuasion, the goings-on in the four episodes made available for review are not at all what we want for our kids.
Of course, some of the featured parents are majorly screwed up, too. Topping that list is Cal Jacobs (Eric Dane), a prosperous, bullying businessman who secretly harbors a video collection of his rough sexual escapades with high school girls. But as we see in a flashback, his son, Nate (Jacob Elordi), discovers them as a pre-teen. Hello, sculpted spawn of Satan. Nate ends up being both a star football player for the East Highland Blackhawks and a terrorizing, twisted brute.
Some of the decidedly dark turns in
Euphoria
seem better suited to a mob drama. Nate is bad enough. But there's also a thoroughly ruthless drug overlord who terrorizes both Rue and her nominally protective supplier, Fezco (Angus Cloud). Fezco otherwise dispenses his wares with help from a baby-faced little associate known as Ashtray (Javon "Wanna" Walton, who in real life is a pint-sized boxing prodigy). In Episode 4, Fezco and Ashtray dispense drugs from their "pretzel stand" at the annual town carnival.
Adapted from a same-named Israeli series,
Euphoria
is heavy on Zendaya's narrative, which recounts both her story and those of other key high school characters. Principal among them is Jules Vaughn, a transitioned newcomer played by transgender woman Hunter Schafer. In addition to a cavalcade of executive producers (including Drake and Future the Prince among the 13 listed by HBO),
Euphoria
also has a credited "transgender consultant."
Jules, among those who run afoul of Nate's perverted father, later finds herself bonding with Rue. Their relationship blooms, grows and arguably offsets some of
Euphoria
's gratuitousness. Particularly when we learn about Jules' traumatic formative years in an Episode 4 that lamentably also veers into more of Nate's over the top villainy.
Rue's self-absorption and drug addiction make
Euphoria
a very tough sell in the early going. Her eventual and seemingly serious attempts to get sober may gradually elicit more sympathy -- or not. Meanwhile, Rue's poor mother, Leslie (Nika King), tries to keep from going off the deep end herself.
Perhaps striving to make a "statement,"
Euphoria
's number of exposed penises exceeds the series' bared breasts in these first four of 10 episodes. And it's not even close, with Rue even presiding over a fantasy treatise on "dick pics." Some might see this as an overdue form of gender equality after HBO's
Game of Thrones
had it the other way around until the #MeToo movement took hold and rendered the series' comparatively chaste down the stretch.
Given its high school focus, HBO likely has its most controversial series ever in
Euphoria
. And to what end? The series' visual style points and redemptive qualities -- yes, there are some -- tend to be overwhelmed by a wealth of excesses. The performances, particularly by Zendaya, Schaefer and Ferreira -- are not the problem. But getting "real" doesn't have to mean diving head first into a cesspool of drugs, profanity, promiscuity and a borderline indifference to it all. That's where
Euphoria
so far fails not only itself, but the many impressionable youth that likely will be the series' core audience.
GRADE:
C+
Email comments or questions to:
unclebarky@verizon.net