"Live Newt Girls" -- with a pimp impression, too!
10/02/09 07:32 AM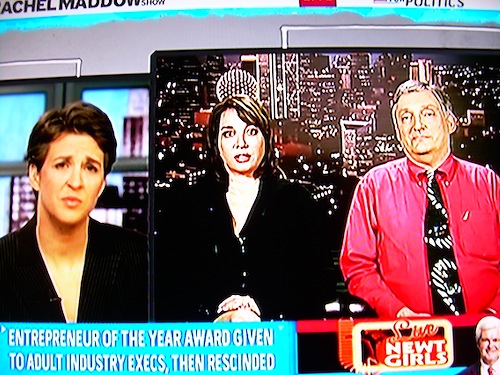 Lodge owner Dawn Rizos and her PR maestro, Michael Precker, on MSNBC's Rachel Maddow Show Thursday night. Photo: Ed Bark
By ED BARK
Um, Michael, that outfit made you look like, well, a pimp. And poor Dawn looked like a deer caught in the headlights -- at dusk.
Chortling over Newt Gingrich's latest dumb move, MSNBC's
Rachel Maddow Show
welcomed Dawn Rizos, owner/CEO of The Lodge, and her in-house PR man, Michael Precker, to Thursday night's edition.
Why they were there is detailed in the
story below
. In brief, a money-grabbing organization headed by Gingrich had named Rizos an "Entrepreneur of the Year" provided she paid $5,000 to join his conservative American Solutions for Winning the Future club. She duly sent him a check. But the honor, to be given on Oct. 7th in Washington at an "intimate dinner," was rescinded after Gingrich belatedly learned that The Lodge is a Dallas-based upscale gentlemen's club.
Thus the "Live Newt Girls" graphic in the right lower corner of home screens Thursday night. Keith Olbermann also toyed with Gingrich on his preceding
Countdown
program, saying he had "pulled out" after learning The Lodge was a "strip joint."
Precker, a friend and former colleague at
The Dallas Morning News
, knows how to butter the bread for media outlets. The story received wide play locally Wednesday after he sent out a press release and copious supporting materials. National attention followed, and why not? It's a delicious little morality play, with Mr. Family Values (Gingrich) again caught with his pants down. His organization earlier had intended to award a porn producer -- Pink Visual -- before discovering its true mission. This guy used to be House Speaker?
Unfortunately, Precker and Rizos didn't exactly make a winning impression Thursday night. Rizos at best looked uncomfortable on camera and acted too aggrieved during her limited remarks. And Precker's appearance only served to reinforce the stereotype that a woman needs a man to do much of her talking.
You live, you learn. And your friendly content provider isn't such a whiz in front of the cameras either. But if the national media roadshow continues, it'd be best to let Rizos appear on her own. Precker could prep her beforehand, but otherwise should stay out of the picture.
In any case, his Thursday night TV wardrobe just has to go. It also would have been better had Precker
not
invited Maddow to The Lodge at segment's end. She didn't seem too down with that.