WFAA8 mostly a no-show for West, TX memorial service while rivals cover it in its entirety and the Obamas also stay the course
04/25/13 05:02 PM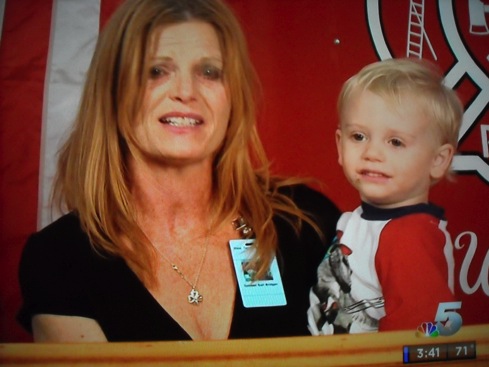 One of many telling images missed by WFAA8 Thursday. Photo: Ed Bark
By ED BARK
@unclebarkycom
WFAA8 acted alone Thursday afternoon. And its decision to mostly ignore the West, TX memorial service at Baylor University in Waco remains puzzling if not inexplicable.
D-FW's three other major TV news providers -- Fox4, NBC5, CBS11 -- all carried the service live and in its entirety. It consumed just over two-and-half-hours, ending at 4:52 p.m. Thursday.
WFAA8, which not so long ago touted its willingness to "cross state lines" in pursuit of a story with a solid local angle, interrupted regular programming only for President Obama's remarks. The President, who with First Lady Michelle Obama stayed for the complete service, spoke from 3:54 to 4:10 p.m. WFAA8 then immediately cut back to
Katie
, whose featured guest was Celine Dion. The ABC affiliate also ran its regularly scheduled syndicated 2 to 4 p.m. lineup of
Anderson Live
(which has been canceled for next season) and
Dr. Oz
.
WFAA8 news director Carolyn Mungo has not returned an email, sent several hours ago, asking for an explanation of why the station did what it did.
The memorial service was streamed on wfaa.com, but one first had to sit through a commercial. There also were problems with the video, which ran behind the live, commercial-free televised coverage on Fox4, NBC5 and CBS11.
Earlier Thursday, WFAA8 saw fit to air a live one-hour warmup show for the dedication of the George W. Bush Presidential Center. That makes its virtual blow-off of the West, TX memorial service all the more bizarre. Fox4, NBC5 and CBS11 didn't have 9 a.m. warmup shows, but otherwise joined WFAA8 in
carrying the Bush event live
and commercial-free.
The cable news networks -- CNN, Fox News Channel and MSNBC -- cut to the President's address from Waco while otherwise spending their time on other news stories. But that's to be expected. They're national news services. What was totally unexpected was WFAA8's decision to largely take a pass on an event that basically occurred in its own backyard. Waco is just a 90-minute road trip from Dallas.
WFAA8 decided to ignore the very moving testimonies from survivors of those who died while fighting the massive fires in West, TX. The above picture, of a widow and little boy who lost their husband/father, was just one of the many emotional moments.
Viewers of Fox4, NBC5 and CBS11 had the opportunity to see them all. So did the President and First Lady, who cared enough to stay the course in a state that decisively voted for their Republican opponents in both the 2008 and 2012 elections.
WFAA8 was soundly beaten by Fox4 in the local Nielsen ratings and edged by CBS11 during the
continuous April 17th breaking news coverage
of the West, TX tragedy. It used to be a given that WFAA8 would dominate its rivals under such circumstances.
Its hands-off handling of Thursday afternoon memorial service won't help WFAA8 to burnish its news reputation. The station chose
Anderson Live, Dr. Oz
and
Katie
at times when all three of its rivals knew where to go and what to do.
Yes, anyone who wanted to see the complete West, TX memorial service had ample options Thursday. But that one of those options wasn't WFAA8 is still a considerable shock to the system.
Email comments or questions to:
unclebarky@verizon.net