Mob rules -- suitwise -- at Fox4
03/10/09 12:59 PM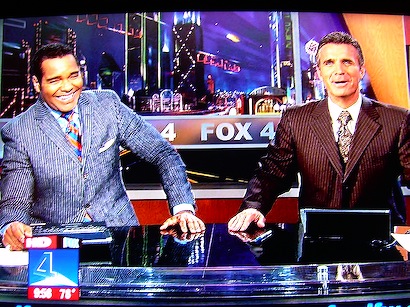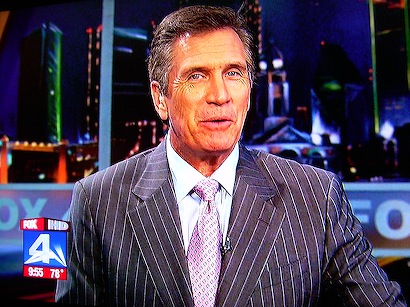 Pinstripes palooza: Baron James, Steve Eagar (upper) and Mike Doocy (lower) suited each other on Monday's 9 p.m. newscast. Photos: Ed Bark
By ED BARK
OK, we're mostly just havin' fun with 'em now. And that's only because we can.
Still, was it just coincidental that news anchors Steve Eagar and Baron James, and sports anchor Mike Doocy all wore their racketeer gear on Monday's 9 p.m. newscast?
Their show of solidarity -- or maybe frivolity -- came just a few nights after
Eagar called attention
to his wide-striped Navy blue suitcoat and said he was "kind of bucking the boss" by wearing it after being ordered to stop. The intrepid anchor instead asked viewers to decide, but then backed off on Wednesday's 9 p.m. edition after getting word from his "boss's boss" to, in Eagar's words,
"Ditch the suit."
So he said he would, citing its pinstripes as the prime offender.
That seemed to be the end of it until Eagar and James, filling in for anchor Heather Hays, joined forces in a dazzling display of Frank "The Enforcer" Nitty vs. George "Machine Gun" Kelly. Later came Doocy doing his level best to imitate George "Bugsy" Moran.
Maybe it's better to view them as a modern-day James gang. Because The Baron long has been Fox4's loudest proudest dresser. On Monday night he clearly outclassed Eagar and Doocy in a punched-up Pee-wee Herman-meets-Austin Powers suitcoat that damn near made my eyes water.
The Baron apparently is exempt from any male fashion edicts by Fox4 management. But one wonders sometimes whether his attire occasionally clashes just a bit with some of the more serious news of the day.
Oh well. Former WFAA8 weather-meister Troy Dungan brought D-FW severe weather warnings for years while sporting his trademark bow ties and coats that sometimes looked as though they'd been worn by Willy Wonka. And the station's current sports anchor, Dale Hansen, occasionally appears in attire that makes him look like a pizza supreme.
Ah, but we kid all of them. And now we're done with this particular thread of conversation. Save to dare Eagar to wear Uncle Barky's old orange corduroy, wide-lapeled sportcoat one night. That'd show The Baron.