Top 10 national TV developments of 2009
12/16/09 11:00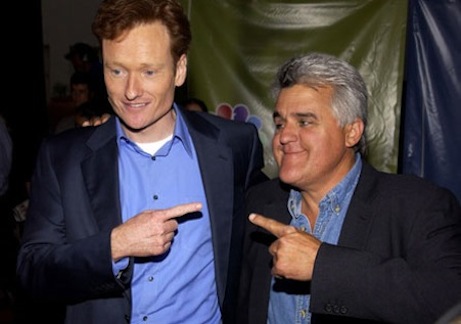 By ED BARK
Its been a seismic year in TV land.
Icons dying off. Major players signing off or shifting venues. Scandals, buyouts, additions, subtractions. And that doesn't even include Tiger Woods, whose year-ending travails have yet to play out and technically aren't a television story per se.
So we're going to leave Tiger out of this TV year in review -- along with the White House State dinner-crashing Salahis and Palin family scourge Levi Johnston. Let the TV rag mags have at 'em -- again and again and again.
Here's our Top 10 countdown:
10. Late night TV gets some colorizing
-- White men in tailored suits are still the dominant species in after-hours TV. But TBS and Fox respectively filed minority reports with two new fall entries --
Lopez Tonight
and
The Wanda Sykes Show
, which replaced
MADtv
. Neither is having the impact of Arsenio Hall. But you've got to re-start somewhere.
9. Jon and Kate plus hate
-- TLC, formerly The Learning Channel, got big-time ratings for
Jon & Kate Plus 8
after the couple began talking splitsville. Post-separation, both Gosselins splattered themselves all over the TV terrain while TLC eventually decided to call it quits on a planned reboot that would have left him mostly out of the picture. That had prompted Jon to file a lawsuit and TLC to counter-sue while Kate kept on weeping.
8. Pro football kicks butt
-- Ratings are down for just about everything -- except the NFL. Its audiences are up across the board on Fox, NBC, CBS and ESPN. What would the Peacock do without its only time slot winner --
Sunday Night Football
? What would ESPN have been this fall without
Monday Night Football
, which set a new cable ratings record for the first encounter between Brett Favre's newly adopted Minnesota Vikings and the Green Bay Packers? Renewing those contracts is going to cost a mint.
7. Goodbye to way too many icons
-- The past summer brought the deaths of Walter Cronkite, Farrah Fawcett and Ed McMahon, all within a month of each other. Add
Maude/Golden Girls
star Bea Arthur;
60 Minutes
creator Don Hewitt;
M*A*S*H
creator Larry Gelbart;
Fantasy Island
's Ricardo Montalban; kiddie show pioneer Soupy Sales; and
Streets of San Francisco
star Karl Malden, who mentored and molded Michael Douglas into an Oscar-winning actor. That's a whole lot of loss.
6. Prime real estate changes at ABC News
-- Charles Gibson's decision to step down as anchor of
World News
(effective Dec. 18th) triggered a decision to name Diane Sawyer as his replacement (effective Dec. 21st). Her successor on
Good Morning America
, George Stephanopoulos, joined that show on Dec. 14th, with his replacement on Sunday morning's
This Week with George Stephanopoulos
to be announced later. Largely lost in the shuffle was
GMA
news reader Chris Cuomo, who segued to
20/20
and was replaced by Juju Chang.
5. NBC Universal sells out
-- Cable giant Comcast announced its intention to buy a controlling interest in NBC Universal, relegating General Electric to a junior partner pending federal approval of the sale, which could take a year or more. In a sign of the times, Comcast extolled the dual revenue stream value of NBC Universal's cable properties (which include USA, Bravo, Syfy, Oxygen, MSNBC and CNBC) while reducing the fourth-place NBC broadcast network to a bare mention.
4. Idol judges Paula expendable
-- Charter judge Paula Abdul announced her resignation from
American Idol
via her Twitter page after Fox declined to meet her price while opting to pay king's ransoms to host Ryan Seacrest and acerbic arbiter Simon Cowell. The network then quickly announced Ellen DeGeneres as Abdul's replacement on Season 9 of prime-time's most popular series. DeGeneres pronounced herself an avid fan of
Idol
who will bring a viewer's voice to the proceedings. Meanwhile, Abdul seemingly has punched a return ticket to Nowheresville.
3. Oprah announces end of daytime reign, but only after a l-o-o-o-o-ng goodbye
-- Oprah Winfrey will be exiting her landmark syndicated show to devote full attention to a new, yet to be launched cable network that will bear her name. But Winfrey's end date is Sept. 9, 2011, making it 25 years in the saddle and also affording her ample time to milk her lame duck-dom. Winfrey forever will be known as the Queen of daytime talk, although her ratings in recent years have fallen well short of bejeweled in a number of markets, including Dallas-Fort Worth.
2. Letterman wars with Palin, reveals sex scandal, becomes king of late night
-- No other year has been as eventful -- or traumatic -- for David Letterman. His ill-advised joke at the expense of Sarah Palin's daughter prompted a relatively sincere apology after she branded him a creep. The married Letterman, who also has a young son, then detailed his own self-described "creepy" affairs with
Late Show
interns after a fellow CBS employee was arrested for trying to blackmail him. Viewers paid attention, vaulting Letterman back to the top of the late night ratings after Jay Leno gave way to Conan O'Brien as host of NBC's long-dominant
Tonight Show
.
Jay goes to prime-time, falls flat on his chin
-- Rather than lose him to a rival network, NBC gave Leno an unprecedented Monday-Friday slot in the concluding hour of prime-time.
The Jay Leno Show
, hailed as supremely cost-efficient compared to one-hour scripted dramas, started fast in the new fall season ratings before quickly running out of steam. Regularly placing third -- and sometimes fourth -- in the 9 p.m. (central) ratings, Leno's mostly lousy lead-in audiences also are hurting the performances of local late night newscasts and O'Brien's
Tonight Show
. It's a domino effect that NBC initially discounted but now acknowledges. What to do? Probably wait for Comcast to take over and re-draw the Peacock's prime-time blueprint.