01/24/07 21:11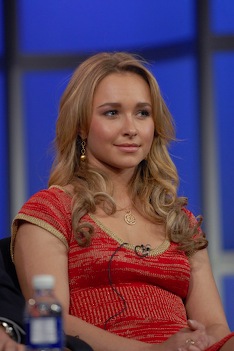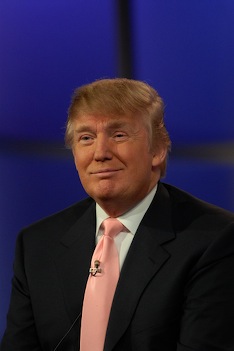 Hayden Panettiere of Heroes and hedonist Donald Trump.
By ED BARK
Almost everyone had something to say at network TV's 2007 midseason "press tour." Only a chosen few said it better than others, though. Here are some words worth a thousand pictures:
10.
Cast members of
Heroes
are asked about how long they expect to stick around, given producer Tim Kring's proclivity for killing off characters.
"I die all the time,"
says Hayden Panettiere, who plays indestructible Odessa, TX cheerleader Claire Bennet.
I feel like Kenny in South Park. Like, 'Oh my God, they killed Kenny.' "9.
Foz Allen, executive producer of BBC America's new
Robin Hood
series, says it was quite an experience for him filming in Budapest.
"My biggest culture shock is that Foz in Hungarian means 'cock.' Nightmarish."8.
Patrick Warburton ("Puddy" from
Seinfeld
) is co-starring in CBS' upcoming
Rules of Engagement
sitcom. Life off-camera can be a beat-down, he says.
"I have a 14-year-old son who could be out there cleaning up the dog poop. But he has the gag reflex, so I have to be out there. As I scoop up the dog poop and I take care of my chores around the house, sometimes I wonder what (co-star) David (Spade) is doing right now. . . He has this lovely assistant who does absolutely everything for him. And my life is trash cans and dog crap."7.
Comedy Central soon will be presenting
The Sarah Silverman Program
, starring the uniquely gifted, very acerbic comedian.
"All I get to play are these bitches in movies,"
she laments.
"The bitchy girlfriend or the bitchy roommate or the girlfriend before he realizes what love could be. And like, I hate that so much.
"And my boyfriend (Jimmy Kimmel) is like, 'Yeah, but then you get a chance to do your own thing, and you play a bitch.' But to me it's so different because it's a much more layered character. There's a little bit of pathos. I mean, her parents are dead, right? So there's something."6.
Donald Trump wishes only the best for Barbara Walters, Rosie O'Donnell and
The View
.
"Barbara Walters hates Rosie O'Donnell,"
he insists.
"The ratings on The View will tank. There will be turmoil, and it will go back to where it was . . . Sadly, I've increased the ratings. I've been on The View many times, unfortunately. In fact, Barbara Walters even chose me last year as one of her 10 most whatever-the-hell people. But watch that show without all the turmoil. It's a very boring show. Is that a nice answer?"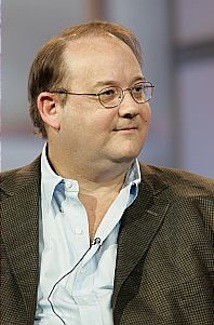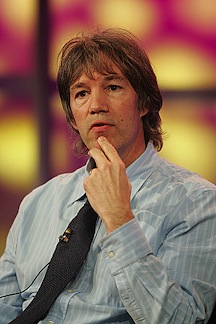 A-list producers Marc Cherry (Desperate Housewives) and David E. Kelley (Boston Legal and Fox's upcoming The Wedding Bells)
5.
Producer David E. Kelley's new comedic Fox series about the wedding-planning Bell sisters will premiere next month. In real life he's been married to actress Michelle Pfeiffer since 1993. Does he have any weird wedding stories of his own?
"The funniest part about my wedding story is I had absolutely nothing to do with it,"
Kelley says.
"My wife was so sensitive to the idea that paparazzi might invade the process and ruin it that she kept all the details secret from everybody, including me. And I remember sitting backstage, if you can call it that, right before I was about to walk down the aisle, and not having any idea what was about to happen. I thought, 'I wonder if I'm losing control of my life by getting married.' But it's worked out well."4.
The post-Janet Jackson era has posed increased content concerns for some producers.
Desperate Housewives
maestro Marc Cherry is abreast of the same problem week after week.
"Do you guys have the nipple problem?"
he asks fellow show-runners during an ABC panel.
"I spend like $100,000 a week taking nipples out of my show, because I've got a couple of actresses who refuse to wear bras. And the Standards and Practices people go, 'Can't see that.' "

"So what's interesting is then I'll turn on Friends and it's a nipple-fest. I don't understand the difference. So that's an interesting thing you have to deal with."3.
This just in: Bill Maher has had it with President Bush. No, seriously.
"I think he should be impeached because he didn't know the difference between a Sunni and a Shiite,"
says Maher, whose
Real Time
returns to HBO next month.
"To me that's an impeachable offense . . . I understand that George Bush prayed a lot about Iraq, but he never learned a lot about it. And I hope the American public takes that lesson the next time they go to the polls -- maybe vote for the guy who reads instead of the guy who prays."2.
Chris Rock doesn't have a definitive answer on whether he supports initiatives to stop the n-word from being used by comedians of all colors. He does, however, have a politically incorrect backup plan.
"I just told my broker to buy me 80 shares of 'Coon,' "
Rock says.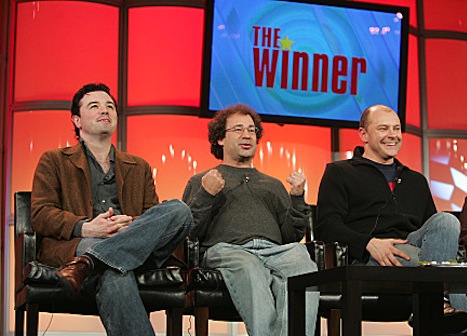 Ricky Blitt (center) won't be feeling any warmth from Faye Dunaway
1.
Finally we have the spectacle of bespectacled Ricky Blitt, who with
Family Guy
creator Seth MacFarlane (above left) is producing Fox's upcoming
The Winner
, starring Rob Corddry (right).
Blitt, an admitted real-life replica of The 40-Year-Old Virgin, takes particular glee in demolishing Faye Dunaway, who has a longheld reputation as a temperamental artist.
"I've never learned how to drive a car,"
he says.
"And every driver that I've used, I ask, 'Who is the worst person you've ever met?' And it's always Faye Dunaway. And also, by the way, not a good lay.""I actually have never met her,"
Blitt later elaborates.
"You seem to think I was joking when I said she was a bad lay? No. But everybody that I've ever met . . . they always say, 'Faye Dunaway. She is just a monster.' If I can do one thing as a writer and a creator, it's bring down that old bitch."
Hooray for Hollywood.