11/20/08 09:43
By ED BARK
After a long strike-imposed layoff, Fox's action-oriented Jack Bauer returns to the playing field on Sunday (Nov. 23) in a two-hour
24
movie that sets the stage for January's rock-around-the-clock return.
Meanwhile on FX, rogue cop Vic Mackey will pound his beat for the last time Tuesday (Nov. 25) on the series finale of
The Shield
.
Both justice-seekers -- although you might want to argue with their methods -- make our Top 10 list of TV's all-time, old-school alpha males. But where do they fit in among their peers? Let's get to it.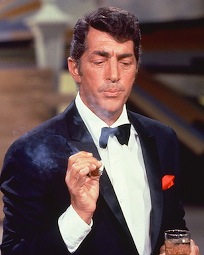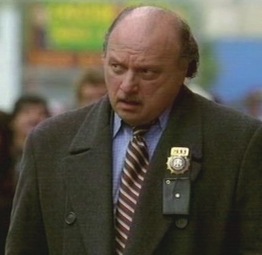 10. BEN CARTWRIGHT
(
Bonanza
) -- The Old West's ultimate single dad had a far tougher assignment than Rifleman Lucas McCain with his pesky kid, Mark. Big Ben presided over the sprawling Ponderosa while also reining in three unruly grown sons -- Adam, Hoss and Little Joe. Pa Cartwright occasionally bent but never broke. In the end it was his way or the highway, which in those days were dirt roads.
9. DEAN MARTIN
(
The Dean Martin Show
) -- Always in a tux and seldom without a cigarette or drink in hand, "Dino" never met a woman he couldn't leer at. And his playful longrunning variety hour always had an ample supply of amply endowed handmaidens, with a bevy of Golddigger dancers eventually morphing into four Ding-a-Ling Sisters. Politically incorrect? Luckily for him, the term hadn't been coined yet.
8. VIC MACKEY
(
The Shield
) -- FX's bald-headed raging bull broke new ground and many a skull as head of the LAPD's rattiest Strike Team. Vic more or less plays on the right side of the law but no TV cop has ever got away with his kind of murder. Cross him and you'll be crossed off, whether you're drug-dealing scum or just happen to be wearing a badge.
7. ANDY SIPOWICZ
(
NYPD Blue
) -- He set the mold before Vic Mackey broke it. Sipowicz wasn't a sipper. Battling alcoholism, a trigger-temper and numerous personal travails, he doggedly pursued New York's vermin with both a passion for justice and a penchant for bending the law. Superior officers mostly just got in his way. And he never tired of telling 'em that.
6. JOE FRIDAY
(
Dragnet
) -- Spare of words and wardrobe, L.A.'s taciturn Sergeant Do-Right cut to the chase with a catch-all tagline -- "Just the facts." He occasionally indulged himself with a thin Mona Lisa smile, but never let loose with a laugh. His trusty partners, first Frank Smith and then Bill Gannon, quickly learned to nod in assent. Because as Friday often put it, "We were working the day watch out of homicide." Any questions? Didn't think so.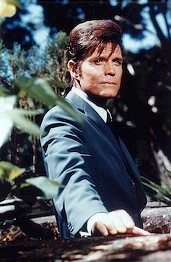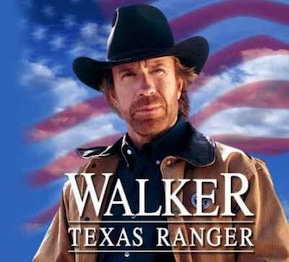 5. STEVE McGARRETT
(
Hawaii Five-O
) -- Fugitives from justice had little recourse except to hide in his always piled-high hair. But that didn't work either. No-nonsense Steve McGarrett and his island underlings always prevailed. Then the bossman rubbed it in by invariably ordering curly-topped detective Danny "Danno" Williams to "Book 'im, Danno." McGarrett matched Joe Friday's stolid demeanor and then trumped it by also throwing punches, dodging bullets and participating in high-speed car chases. All in a day's work.
4. CORDELL WALKER
(
Walker, Texas Ranger
) -- Star Chuck Norris wasn't about to catch and subdue crooks the conventional way. Instead his karate did most of the talking, with a climactic butt-kicking always in the cards. Walker otherwise didn't talk much, although he was known to laugh it up with his pals at the saloon owned by ex-Ranger C.D. Parker. Pretty ladies liked him a lot, but his heart belonged to main squeeze Alex Cahill, an assistant D.A. constantly in need of rescuing. Walker otherwise wasn't much for romancin'. A man's gotta do what a man's gotta do, and that doesn't leave much time for sweet-talkin'.
3. TONY SOPRANO
(
The Sopranos
-- He violated the he-man code by seeing a psychiatrist, but you might say he made up for it on other fronts as Jersey's macho-est mobster. Tony slept around indiscriminately, drank and ate to excess, ruled over a variety of short-fused second lieutenants, blew up at rebellious son Anthony, warred with wife Carmela while also showering her with creature comforts -- and of course ordered whacks when needed. He regularly performed the latter activity by himself or sometimes joined in with others. What a guy.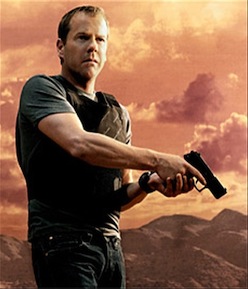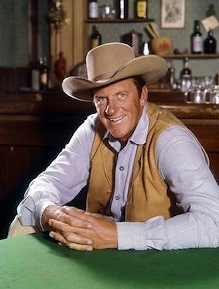 2. JACK BAUER
(
24
) -- He's taken lickings, but keeps on ticking in "real time" through
24
's various, violence-drenched world crises. Tortured to the point of near-death and bruised emotionally to the point of near-insanity, Jack never stops sacrificing himself for the greater good. Meanwhile his government and many of his colleagues keep on betraying him. Also unlucky in love, Jack never has any time to consummate a relationship let alone keep it from falling apart. What more do they want from this guy? Plenty. Scarred on the inside and out, he's a 21st century Superman without any fall-back super powers to make things just a wee bit easier. The only time he gets to fly through the air is when a building blows up.
1. MARSHAL MATT DILLON
(
Gunsmoke
) -- Here's a guy who kept the peace in Dodge City for a record 20 TV seasons. Not only that, he always won
Gunsmoke
's trademark opening fast-draw shootout. That's a longer unbeaten streak than Perry Mason ever had. Matt stood firm for above-the-board, honorable frontier justice. He also stood by pretty Long Branch Saloon owner Kitty Russell, who unflaggingly pined for him but never became a Missus. Maybe long, tall Matt and "Miss Kitty" exchanged a clandestine hug or something a bit more elaborate, but viewers never got a glimpse of anything more than a platonic exchange of smiles. Matt probably didn't want to risk gettin' her hurt as the girlfriend or wife of a dedicated lawman whom many wanted to bushwhack. Good luck with all that. Matt Dillon, TV's preeminent alpha male, never met a wrong he couldn't right, or a bad guy he couldn't write off.