06/30/08 13:33
By ED BARK
It's another big, boffo summer for movie stars who first came to prominence on the small screen.
Will Smith's
Hancock
opens on July 2nd, joining the likes of Adam Sandler's
You Don't Mess with the Zohan
, Steve Carell's
Get Smart
, Mike Myers'
The Love Guru
and
The Sex and the City
movie. Later in July, Will Ferrell strikes again with
Step Brothers
.
Guess what, though? Only one of the above makes this very exclusive Hollywood club of top 10 feature film big-timers who first had success in their own TV series. It's a very tough list to pare down, so let's set a few ground rules.
No. 1: Anyone who's won two Oscars is automatically in. That should be good for something, right?
No. 2: You have to be a prominent regular character in a TV series that lasted at least two seasons. So Leonardo DiCaprio's recurring, latter day role on
Growing Pains
and Brad Pitt's co-star turn in the little-seen 1990 Fox series
Glory Days
are not nearly enough leverage. Neither is Ben Affleck's portrayal of a high school quarterback in the shortlived 1993 NBC series
Against the Grain
. None would have made this list anyway. That's how tough it is.
No. 3: It's OK to be a director, too, but you have to mainly make your mark as a big-screen actor. That leaves out Ron "Opie" Howard.
No. 4: Longevity and sustained box office receipts count for a lot, but your hotness of late also figures in. You don't have to be alive, and it helps if you've had a franchise character who's endured through a sequel or two or three.
That said, this is a list that in the end leaves out the likes of John Travolta (
Welcome Back, Kotter
), Burt Reynolds (
Riverboat, Gunsmoke
), George Clooney (
ER
), Jamie Foxx (
The Jamie Foxx Show
), Johnny Depp (
21 Jump Street
) and Bill Murray (
Saturday Night Live
) among others. Sorry about that.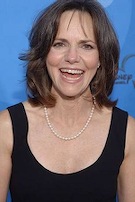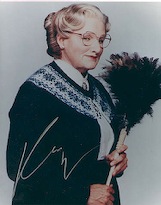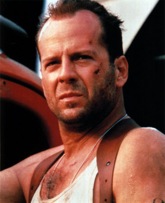 10. SALLY FIELD
(main TV claim to fame: Sister Bertrille in
The Flying Nun
) -- What's she done lately at the box office? Very little, but Field has two best actress Oscars (for
Norma Rae
and
Places in the Heart
), an all-time classic acceptance speech and one of filmdom's most famous tag lines -- "Life is like a box of chocolates . . . " -- as the title character's momma in
Forrest Gump
.
She's lately returned to the small-screen and won an Emmy as the matriarch of ABC's
Brothers & Sisters
.
9. ROBIN WILLIAMS
(main TV claim to fame: Mork from Ork in
Mork & Mindy
) -- He has a best supporting actor Oscar for
Good Will Hunting
and one of the signature comedic performances in film history as the title character in the mega-hit
Mrs. Doubtfire
.
Good Morning Vietnam, Dead Poets Society, Moscow on the Hudson
and the cringe-worthy but very popular
Patch Adams
also are among his hits.
Diminishing box office returns and too many ill-considered films have dulled his rep of late. Still, he's got a lot of notches on his belt and maybe a few more still coming.
8. BRUCE WILLIS
(main TV claim to fame: detective David Addison in
Moonlighting
) -- The
Die Hard
franchise remains strong, as last year's well-received fourth in the series proved. And Willis has two all-time, offbeat classics on his resume in
Pulp Fiction
and
The Sixth Sense
, both of which also were highly bankable.
He's also dared to take chances with his image via mondo supporting performances in films such as
Death Becomes Her
and
Twelve Monkeys
. Add
Sin City, Unbreakable and The Fifth Element to a very eclectic resume.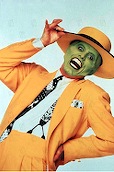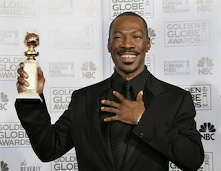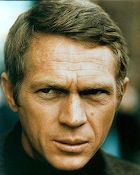 7. JIM CARREY
(main TV claim to fame: variety of roles on
In Living Color
) -- Don't take him seriously. Yes, take him seriously. Carrey, as has Robin Williams, mixes comedy romps with darker dramatic turns. But he's sobered up to better effect in
The Truman Show, Man on the Moon
and the vastly underrated
Eternal Sunshine of the Spotless Mind
.
Meanwhile, Carrey's laughers continue to rake it in. His initial low-budget
Ace Ventura: Pet Detective
led to bigger moneymakers such as
Dumb and Dumber; The Mask; Liar, Liar; Me, Myself & Irene; Fun with Dick & Jane
and
Bruce Almighty
. Even an early dark comedy flop,
The Cable Guy
, remains part of the lexicon.
6. EDDIE MURPHY
(main TV claim to fame: variety of roles on
Saturday Night Live
) -- His big-screen career seemingly has been on the ropes several times since those glory days as detective Axel Foley in the
Beverly Hills Cop
franchise. But Murphy mounted a major comeback in
The Nutty Professor
, which he also parlayed into at least one sequel to date.
Lately he's turned in a superb supporting performance in
Dreamgirls
(for which he deserved more than just an Oscar nomination) and of course is still the indispensable voice of the sidekick donkey in an ongoing string of
Shrek
movies. Other hits include
48 Hrs., Trading Places
and
The Golden Child
.
5. STEVE MCQUEEN
(main TV claim to fame: bounty hunter Josh Randall in
Wanted: Dead or Alive
) -- One of the big screen's ultimate kings of cool died in 1980 after leaving behind a wealth of indelible films and images. His motorcycle-jump over a barbed wire fence fueled
The Great Escape
. And his bumpity-bump car chase through San Francisco in
Bullitt
was a true wonder of 1960s filmmaking.
McQueen's legacy is further ensured in
The Sand Pebbles
(for which he received a best actor Oscar nomination),
The Magnificent Seven, The Cincinnati Kid, Nevada Smith, Papillion
and the original
Thomas Crown Affair
.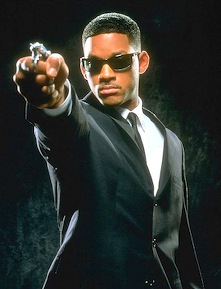 4. WILL SMITH
(main TV claim to fame: as himself in
The Fresh Prince of Bel-Air
) -- Seldom falling short of anything but box office gold, he's been reliably bankable since cutting his teeth in 1993's
Six Degrees of Separation
and following it up with the first of two
Bad Boys
films.
Independence Day
put him on the megastar map before
Men In Black
vaulted him into the stratosphere.
Ali
, which got him an Oscar nomination, preceded
The Pursuit of Happyness
, which earned him another one. No wins yet, though.
Smith's hit list also includes
Hitched, I Am Legend, I, Robot
and even a mostly panned remake of
The Wild, Wild West
, which still made $225 million worldwide. His latest,
Hancock
, already looks like a surefire blockbuster.
3. DENZEL WASHINGTON
(main TV claim to fame: Dr. Phillip Chandler in
St. Elsewhere
) -- Two acting Oscar wins (for
Glory
and
Training Day
) make him the most-honored minority star in big-screen history. Washington mostly stays away from heavy-duty action roles, instead raising the bar in sturdy, ever-watchable films such as
Malcolm X, Philadelphia, Courage Under Fire, Crimson Tide, The Hurricane, Remember the Titans, The Great Debaters
and a remake of
The Manchurian Candidate
.
He also can be a badass, though, as proven in both
Training Day
and last year's acclaimed
American Gangster
. Washington has three other Oscar nominations besides the two he's won. Consider him the Sidney Poitier of his generation -- and then some.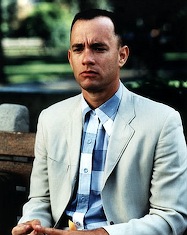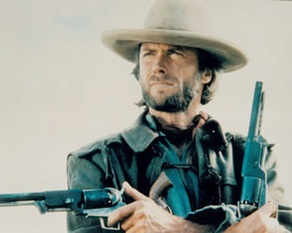 2. TOM HANKS
(main TV claim to fame: crossdressing Kip Wilson in
Bosom Buddies
) -- Back-to-back best actor Oscars for
Philadelphia
and
Forrest Gump
made him the first and only actor since Spencer Tracy to accomplish that feat. He's also been nominated three other times for
Big, Castaway
and
Saving Private Ryan
.
Hanks fittingly made his first big-screen splash in
Splash
and then kept ringing cash registers with the previously cited films plus
A League of Their Own, Sleepless In Seattle, Apollo 13, The Green Mile
, two
Toy Story
movies (as the voice of cowboy Woody),
Catch Me If You Can, Road to Perdition
and
The Da Vinci Code
. Oft-compared to Jimmy Stewart, he also can be a daredevil actor with a sense of the absurd displayed in 2004's
Ladykillers
, one of his rare flops.
1. CLINT EASTWOOD
(main TV claim to fame: trailhand Rowdy Yates in
Rawhide
) -- Movie characters don't get much more iconic than "The Man with No Name" in three career-turning "spaghetti" westerns and law enforcer "Dirty Harry" Callahan, whom he's played five times. But Eastwood's Oscars are for his directing of 1992's
Unforgiven
and 2005's
Million Dollar Baby
. In between them, he received the Academy's Irving G. Thalberg Memorial Award.
During more than 40 years of feature film acting, Eastwood's crowd-pleasing acting credits also include
Hang 'Em High, Coogan's Bluff, Pale Rider, The Outlaw Josey Wales, Escape From Alcatraz, Bronco Billy, In the Line of Fire
and
The Bridges of Madison County
. In 2006, he directed both
Flags of Our Fathers
and its companion film,
Letters From Iwo Jima
. He remains a formidable force, whether behind the camera or in harm's way.
06/12/08 08:54
By ED BARK
Another Father's Day looms, prompting a not-so-fond look back at TV's big batch of bad dads.
Sure, we appreciate the tube's more pristine pops, including Ward Cleaver, Jim Anderson, Cliff Huxtable and Ozzie Nelson. But dysfunctional dads are outnumbering them as prime-time marches on. Here's our rogues gallery of fathers from hell: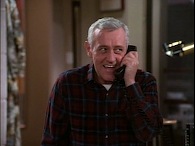 10. Jock Ewing
(
Dallas
) -- Hard-driving Ewing patriarch shot just one for three, with good angel Bobby outflanked by prodigal, embittered Gary and diabolical J.R. Jock set the tone by double-dealing ex-partner Digger Barnes out of a share of their oil company and from the arms of true love Eleanor "Miss Ellie" Southworth. J.R. then tried no end to please his daddy, which to him meant a life of cheating, swindling and womanizing. Jock sure looked good smokin' a cigarette, though.
9. George Jefferson
(
The Jeffersons
-- Volatile pipsqueak kept raging at one and all, including grown son Lionel. "Movin' on up" made him a semi-rich dry cleaning magnate. But he was mostly a washout as a father, husband and human being. Definitely not a people person.
8. Martin Crane
(
Frasier
) -- Bitch, bitch, bitch. Imperious in his ratty, patched easy chair, he used an old cop injury as a crutch and his mouth as a battering ram. On the receiving end were oldest son Frasier, who took him in, and second son Niles, who quivered a lot. The old man had a solid relationship, though, with his entitled dog Eddie.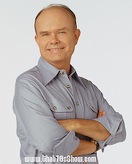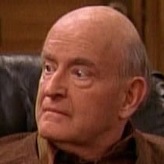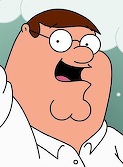 7. Red Foreman
(
That '70s Show
) -- Sourball, working class ranter spent most of his time finding fault with son Eric and his ever-present posse. Treated wife Kitty a little better as long as she catered to his constant needs and happily absorbed his guff. Never at a loss for discouraging words.
6. Frank Barone
(
Everybody Loves Raymond
) -- Lived and loved to bicker, with sons Raymond and Robert, and wife Marie his principal targets of opportunity. Always filled to the brim with bile, he specialized in condescending demands and reprimands. Butter his stinkin' toast wrong and he'd fester for a week.
5. Peter Griffin
(
Family Guy
) -- Out-and-out lout whose priorities are TV watching, beer-drinking and coarse displays of his unsightly physique. Kids Meg, Chris and baby Stewie are more screwed up than FEMA. Wife Lois would merit a Congressional Medal of Honor if she killed hubby in his sleep. Saving grace: he's only a cartoon.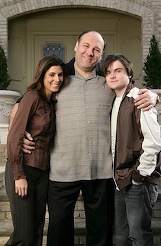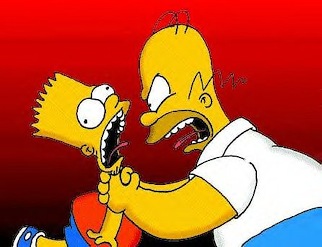 4. Tony Soprano
(
The Sopranos
) -- At least he was a good provider. Otherwise, his parenting and spousal skills rank somewhere between 0 and minus 1. Messed-up son A.J. rebelled against his crude brand of tough love while semi-idealistic daughter Meadow found him to be all-in-all pretty gross. Loved to kill or order whackings on a full stomach. So wife Carmela kept cooking.
3. Homer Simpson
(
The Simpsons
) -- Well-meaning doofus has failed at the fathering game for nearly two decades. Donuts and beer keep his pot belly boiling, but occasional choke holds on only son Bart haven't panned out so far. Far more a bumbler than a despot, he's easy prey for whatever creature comforts come his way. D'oh, will he ever do anything right? Saving grace: he's only a cartoon.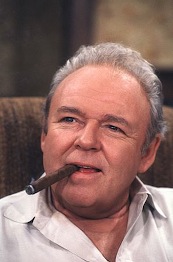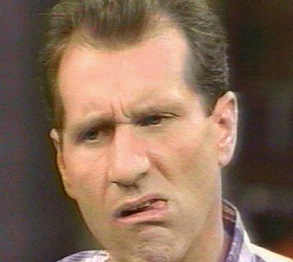 2. Archie Bunker
(
All In the Family
) -- TV's first king of Queens expected one and all to live at his beck and call. Otherwise the insults flew, whether aimed at "little girl" daughter Gloria, son-in-law Michael "Meathead" Stivic or long-suffering wife Edith, a k a "Dingbat." His all-purpose bigotry added another layer of invective to a guy who also fouled the air with his constant cigar smoke. Occasional meltdowns or displays of humanity were akin to a piranha deciding to eat only half its goldfish snack. Archie set the TV dad bar exceedingly low, with only one family patriarch managing to belly-crawl beneath it.
1. Al Bundy
(
Married . . . With Children
) -- A knuckle-dragger without peer, his base needs made even Homer Simpson seem rarefied. Al Bundy had no discernible redeeming qualities. His two kids, Kelly and Bud, happily insulted him to his face when they weren't verbally assaulting each other. Wife Peg viewed him as an inadequate lover and near-barren breadwinner. Which he certainly was. Achieving new lows was his only talent. He was a big, belching, beer fart of a dad -- and that was on one of his good days. Not even a cat would drag him in.