06/25/07 11:17
By ED BARK
Perhaps you've heard that Paris Hilton will be leaving jail on June 26th before scooting over to
Larry King Live
the next night. There she'll detail how she's found God, learned a variety of other valuable life lessons and now likes Hamburger Helper with a little dippin' ketchup on the side.
In her honor, here's unclebarky.com's Top 10 list of celebrities with a knack for inducing nausea. Bon appetit!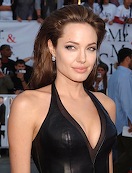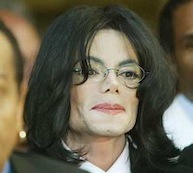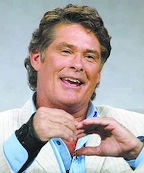 10. Angelina Jolie
-- OK, you're stunningly beautiful whether testifying before Congress, walking the red carpet, toting a new kid or playing Lara Croft. But please give it all a rest and stop preaching. Just spend your millions in the company of that
Ocean's Thirteen
pretty boy and give the rest of us earthlings a chance to do good works on our own without your constant prodding.
9. Michael Jackson
-- It's been remarkably all quiet on the Jacko front lately, so maybe you'll just stay out of the limelight for good. Yeah, sure. Never say Neverland when it comes to the self-annointed King of Pop, a true Hall of Famer in this particular league. It'd sure be great, though, if you'd just stay out of sight, out of mind. Let all these others take your heat.
8. David Hasselhoff
-- Hey "Hoff," stop Hassel-ing us. You've been incredibly lucky to land a judge's spot on
America's Got Talent
, which requires basically none on your part. No need to rub it in with video of you crawling on the floor after a hamburger after drinking like a fish. Unfortunately that's all the more reason these days for
People
to put you on its cover while
Entertainment Tonight
parlays you into an exclusive 28-part series. Germany still loves your singing and pretty much had you all to itself for a decade. But now look what you've done to your country of origin. John Tesh suddenly seems like Chopin.
7. Britney Spears
-- How about
NOT
making a comeback? How about just raising your two kids while keeping the hair on your head and letting Kevin Federline do all the ass-making of himself. He's highly capable, as you well know. But that's probably not in the cards, is it? A long respite from the spotlight just isn't your style, even if it might be your salvation. Think about it, though. What's left after going clubbing commando style, impulsively shaving your head and doing the rehab two-step? Give peace a chance.
6. O.J. Simpson
-- Searching for the real killers on pricey golf courses is a sight that still makes the blood boil. And your aborted
If I Did It
book is one of this century's biggest abominations, showing just how far you'll go to make some coin. Someday you're gonna pay, right? If only we really believed that. Life just isn't fair when a guy who should be doing life is still enjoying the high life.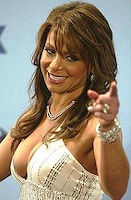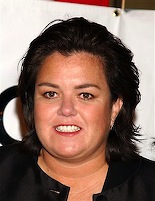 5. Paula Abdul
-- It used to be that when
American Idol
went away, you'd pretty much go away, too -- for six months at least. But there's no rest for the vapid, which is another way of saying that Bravo is premiering the new reality series
Hey Paula
on Thursday, June 28th. They're supposedly painting a "three-dimensional portrait" of you and your "Crazy Cool world -- from the stressed celebrity and tough business woman to the comedic prankster." Oh barf. Remember when three-dimensional used to mean at least a little something?
4. Rosie O'Donnell
-- You mercifully left
The View
early, but now it's bray-per-view on your blog.
The New York Times
only encouraged you with a recent big splash of a story that basically said you're still too marvelous for words. It'd be nice, though, if you'd just holster your yapper for a month or two. Instead you're lobbying to be the new host of
The Price Is Right
. Yeah, that'd be nice. Mixing Plinko with Bush administration bashing is just what America's looking for.
3. Donald Trump
-- NBC reportedly is trying to get you to do another edition of
The Apprentice
after initially saying they were done with it. Please don't do another one. That is unless you want to turn the tables and be a supplicant while one of your kids hosts the show. It might be fun seeing you living in a tent or genuflecting before Wolfgang Puck before trying to design a new restaurant menu for him. Otherwise just dedicate yourself to shutting up. Frankly, even Rosie kind of got the best of you during your prolonged feud with her. Her imitation of your hair out-boored you calling her a "fat slob."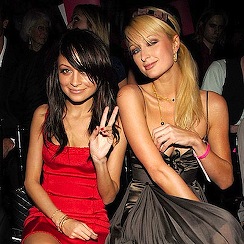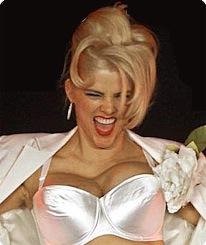 2. Nicole Richie and Paris Hilton
-- They feuded for a while but now are a matched pair again on E!'s
The Simple Life Goes to Camp
. The skinny is that Nicole's still frighteningly skinny and stupid, and might be going to jail soon. Meanwhile, Paris is going to be debarking the slammer and telling America all about the new her on
Larry King Live
. Should take about a minute, but they've got a whole hour to fill. In the annals of self-indulgence and voracious materialism, Paris and Nicole make Hugh Hefner look like St. Thomas of Aquinas. St. Thomas who?
1. Anna Nicole Smith
-- She lives on through the almost nightly excesses of
Entertainment Tonight
and its many imitators. The shame of it is that her surviving baby daughter, Dannielynn, likely will never have a chance to be more than a bauble at the mercy of the paparazzi and irresistible hard cash offers for exclusive photos. Anna Nicole remained a voracious poser to the end, leaving behind a wealth of footage, still shots and big money yet to come for those who can claim a rightful chunk of her. Death is only a minor inconvenience when you've laid the groundwork to this extent. In dying she's living exactly the life she planned.