12/21/16 13:06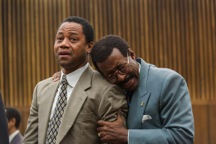 By ED BARK
@unclebarkycom on Twitter
HitFix.com, now known as UpRoxx, has just released its
fifth annual survey
of the year's Top 10 best new and overall TV programs.
Your friendly content provider again is among the 59 critics contributing this year. Our respective lists are fairly in sync, particularly among the new shows. But there's one notable exception. I again listed HBO's
Real Time with Bill Maher
among my Top 10 overall best programs -- in the No. 10 spot. There seemed little doubt I'd be the only one. And I was.
The feeling here is that Maher just doesn't get enough credit for being the pathfinder in this genre, dating back to his
Politically Incorrect
late nighter for ABC, which eventually got canceled because it became too politically incorrect. But TBS'
Full Frontal with Samantha Bee
is the flavor of 2016. And while I listed it among my Top 10 newcomers, I left it off the overall list in favor of
Real Time
.
Eight of my Top 10 new shows also made the consensus list. The only exceptions were FX's
Baskets
, which placed 18th among all critics, and AMC's
The Night Manager
, which was 28th.
On the overall Top 10 list, I had five series in common with fellow critics. Besides
Real Time
, the ones that didn't make the national cut were HBO's
The Night Of
(No. 13); ABC's
American Crime
(No. 18); Netflix's
The Crown
(No. 19); and Netflix's
Orange Is the New Black
(No. 31 despite a very strong rebound season).
Curiously, one critic had four first-year series among his overall Top 10. But none of those four made his list of 10 best new series. That just doesn't compute. Oh well, it's an imprecise art.
By any measure, FX dominated the survey, with
Atlanta
ranking as the consensus best new program and
The People v. O. J. Simpson: American Crime Story
the top overall show. Again, it's a little odd that
Atlanta
would outpoint
O. J.
in the new program category, but rank behind it in the No. 3 position on the overall Top 10 list.
OK, here are our respective choices.
Top 10 New ProgramsMy List:
1. The People v. O. J. Simpson: American Crime Story
2. The Crown (Netflix)
3. The Night Of (HBO)
4. This Is Us (NBC)
5. Atlanta (FX)
6. Westworld (HBO)
7. The Night Manager (AMC)
8. Stranger Things (Netflix)
9. Full Frontal with Samantha Bee (TBS)
10. Baskets (FX)
National List:
1. Atlanta (FX)
2. The People v. O. J. Simpson: American Crime Story (FX)
3. Full Frontal with Samantha Bee (TBS)
4. Better Things (FX)
5. Stranger Things (Netflix)
6. Insecure (HBO)
7. This Is Us (NBC)
8. Westworld (HBO)
9. The Crown (Netfllx)
10. The Night Of (HBO)
Top 10 Overall ProgramsMy List:
1. Game of Thrones (HBO)
2. The Americans (FX)
3. The People v. O.J. Simpson: American Crime Story (FX)
4. Veep (HBO)
5. The Crown (Netflix)
6. Rectify (Sundance TV)
7. American Crime (ABC)
8. Orange Is the New Black (Netflix)
9. The Night Of (HBO)
10. Real Time with Bill Maher (HBO)
National List
1. The People v. O.J. Simpson: American Crime Story (FX)
2. The Americans (FX)
3. Atlanta (FX)
4. 30 for 30 -- O.J.: Made in America (ESPN)
5. Game of Thrones (HBO)
6. Veep (HBO)
7. Bojack Horseman (Netflix)
8. Full Frontal with Samantha Bee (TBS)
9. Better Call Saul (AMC)
10. Rectify (Sundance TV)
Email comments or questions to:
unclebarky@verizon.net