06/12/12 14:37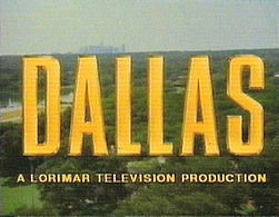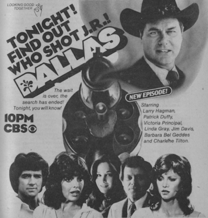 By ED BARK
@unclebarkycom
My first summer in Dallas turned out to be blazing hot on two fronts -- the then record-setting string of 100 degree days and the worldwide guessing game over "Who Shot J.R.?" on the cliffhanger night of March 21, 1980.
Because of a Screen Actors Guild strike, the answer would have to wait until the night of Nov. 21, 1980, when
Dallas
set an all-time ratings record that held until the
M*A*S*H
finale broke it on Feb. 28, 1983.
But these are pretty well-known facts about the most popular serial drama in TV history. As TNT prepares to fire up its new
Dallas
series on Wednesday, June 13th, here's a top 10 list of odds and ends that you'll likely be reading about for the first time. Reference points are my personal experiences and the extraordinarily comprehensive
25 Years of Dallas
book by Barbara A. Curran.
10.
Victoria Principal is conspicuously absent from TNT's
Dallas
re-do, which marks the full-blown returns of Larry Hagman, Linda Gray and Patrick Duffy in addition to recurring cameos by Ken Kercheval, Charlene Tilton and Steve Kanaly.
In fact, Principal has made just one return to an official
Dallas
project since leaving the series after the May 15, 1987 episode. She participated in CBS' Nov. 7, 2004
Dallas Reunion: The Return to Southfork
, made for the network by Henry "The Fonz" Winkler's production company.
In a telephone interview back then, Principal said she had distanced herself from
Dallas
because "I felt confined by the role of Pam Ewing . . . It was necessary for me to leave in order to have a career."
She hadn't returned to the city in 17 years. "I really did not fully appreciate what was going to happen to me emotionally when I agreed to do the reunion," she said. "When we landed, I wanted to drive through the city. And I was startled to find myself crying. I didn't know that I had missed Dallas. I didn't know that the skyline was so firmly imprinted in my heart . . . Most of the cast knows I'm not a weepy person, but I cried at the drop of a hat. It was just a flood of wonderment and memories. And finally for me, something I didn't know that I needed. Which was closure."
9.
Jim Davis, who played patriarch Jock Ewing, died in his sleep on April 26, 1981 at age 65. Larry Hagman was unable to attend his beloved TV daddy's funeral when his plane was detained by a London airport strike.
8.
Hagman's second liver is now more than 16 years old. Without a transplant he would have died. On location at Southfork Ranch in March 1996 for the CBS movie
Dallas: J.R. Returns
, he pronounced himself clean, sober and ready to celebrate the six-month anniversary of his $350,000 surgery.
"See those little white capsules? A hundred bucks apiece!" he exclaimed before downing another handful of his mandatory medication.
Hagman estimated that his pills alone cost $90,000 annually, and are paid for by the Screen Actors Guild and the Directors Guild.
"But there are lots of little ancillary things that you have pick up," he noted. "I guess it costs me about 10 grand a year, tops. What do poor people do that don't have any coverage? I mean, they just die, I guess."
7.
A then unknown Brad Pitt guest-starred in four episodes during Season 10 as frisky teenager Randy. Here's a clip of him getting a talking-to from ranch foreman Ray Krebbs:
6.
Dallas
, originally billed as a five-part miniseries, premiered on the night of April 2, 1978 opposite two Sunday night movies, Clint Eastwood's
High Plains Drifter
on ABC and
Love's Dark Ride
on NBC. The latter was a made-for-TV throwaway about an advertising advertiser who sought to rebuild his life after being blinded in a gun accident. The principal stars were Cliff Potts, Jane Seymour and Carrie Snodgress.
5.
Hagman's strikingly candid 2001 autobiography,
Hello Darlin'
, reveals that he took his first LSD trip with singer David Crosby. And he liked it very much.
"You lose your ego" while on acid, he told me during a stop in Dallas to promote the book. "It led me into having no fear of death, because you've been there, done that on LSD. And it ain't so bad. Matter of fact, it's wonderful."
4.
Only two cast members stayed with the original
Dallas
series for its entire 356-episode run -- Hagman and Ken Kercheval, who has a recurring role in the TNT re-do as the oft-beaten but never bowed Cliff Barnes.
"Cliff loses, but Cliff is not a loser," Kercheval insisted during one of the show's two-month summer sojourns in Dallas. "He is the most resilient human being in the world. To take the punishment that this guy has taken, and be willing to come back and face the most formidable foe on television. That's not a loser -- not in my book!"
3.
Linda Gray and
Dallas
' late executive producer, Leonard Katzman, often didn't see eye to eye on the show's treatment of women.
Katzman lamented the direction of the 1985-86 season, which he sat out because of creative differences with co-executive producer Philip Capice.
"J.R. was totally dominated by every woman in the show," he told me in an interview. "He walked around with his hat in his hand and said, 'Yes ma'am.' Strong men don't necessarily mean weak women, but I certainly don't think we can have any of our men dominated by the women."
Gray, whose Sue Ellen was a besotted mess in
Dallas
' formative seasons, returned fire when offered the chance.
"
Dallas
has always been a male-oriented show, and yes, I was dissatisfied when our producer said it was a show about strong men, " she said. "My problem with Sue Ellen was that she had become a victim. She drank, had an affair, sobered up and then drank and had another affair. Meanwhile, all of the women in the world were struggling to drop that image and get out of that perpetual hamster-in-a-cage role.
"Even though we were doing make-believe on
Dallas
, there came a time for me when I was bored with that role. I told them that, and I met with a little resistance. But they made some changes, and Sue Ellen was no longer a one-note character."
2.
With filming pushed back by another actors' strike, the original
Dallas
shot its last on-location scene in Dallas at the Million Dollar Saloon in November, 1988. It was for Season 11, with the final two seasons shot entirely in Los Angeles.
Hagman's J.R. mostly was called on to ogle a topless dancer who shook her hardware in close proximity during multiple "takes." Duffy had the day off, but showed up anyway to twit his old pal from a balcony on what a "giving" actor he'd become for these particular scenes. Hagman seemed to thoroughly enjoy himself, as did the crew. Subtitled "The Switch," the episode eventually aired on Feb. 3, 1989.
1.
In that crazy "Who Shot J.R.?" summer of 1980, Hagman and his wife Maj hosted a mega-gaggle of TV writers at their beachfront Malibu home. It proved to be a night for the ages, with Hagman rushing out to save a Texas flag from a close encounter with a fire pit during one of the rare times he could extricate himself from an air-tight circle of questioners.
Later in the evening, next door neighbor Burgess Meredith offered the use of his toilets after the Hagmans' commodes began suffering from over-use. It's now a long time ago, but still a very easy night to remember. "Who shot J.R.'s septic tank?" Sometimes those lead sentences just write themselves.
06/12/12 12:44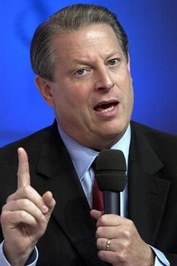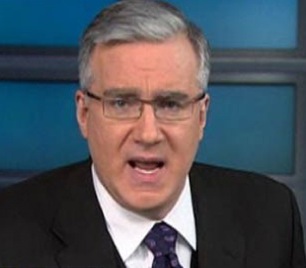 By ED BARK

Well, it happened again.
Keith Olberman got fired
Friday (March 30th), this time by Al Gore's little Current TV.

The network basically said it just couldn't take him anymore -- in a letter on Current's website from Gore and the network's co-founder, Joel Hyatt. Olbermann quickly issued a stream of tweets in which he pledged to sue Current while also apologizing for being foolish enough to sign on with the network in the first place.

Olbermann's bridge-burning track record mitigates against him. And he'll certainly get no sympathy here. But really, could you do anything worse than hire Olbermann to do anything? We're going to try to come up with 10 things that in fact probably would be worse. But it's a daunting challenge.


10.
Keep a rhinoceros as a house pet.


9.
Name Geraldo Rivera as the new spokesman for the United Negro College Fund.


8.
Pitch a reality competition series titled America's Next Great Yodeler.


7.
Market a new cauliflower-flavored soda.


6.
Devise a college course dedicated to re-appreciating the timeless music of the Ray Conniff Singers.


5.
Join a Gravy Boat of the Month Club.


4.
Announce that Hugh Hefner will be the keynote speaker at the Republican National Convention.


3.
Sign Phyllis Diller to host the next Academy Awards.


2.
Trim your fingernails with a hacksaw.


1.
Induct Chan Ho Park into the Baseball Hall of Fame.
06/12/12 12:41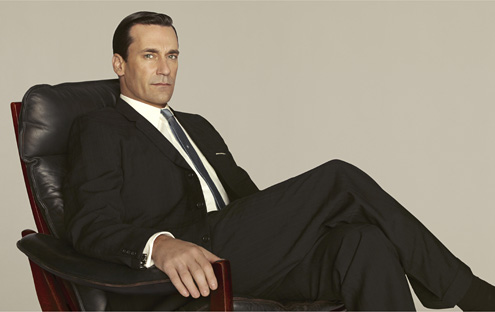 Jon Hamm is still "The Don" of Mad Men. AMC photo


By ED BARK
Mad Men creator Matthew Weiner always takes pains -- and therefore can sometimes be a pain -- to protect his signature series from any and all "spoilers."

He's outdone himself this time in the days leading to Mad Men's long-awaited Season 5 premiere on Sunday, March 25th after a 17-month absence from AMC.

In a letter to TV critics, Weiner even asks them to refrain from revealing the year in which the series resumes. It's all purportedly to ensure the audience's maximum enjoyment, although Weiner's obsessions with secrecy can make it difficult to review the two-hour opener sent earlier this month. After all, what can one really say?

Here, though, is a Top 10 countdown of elementary Mad Men reveals that I'm reasonably certain won't betray any confidences or ruin your Sunday night date.

10. The entire two-hour episode originates from planet Earth.

9. It's a talkie, and English is the predominant language.

8. It's presented in living color.

7. Alcohol and cigarettes are consumed.

6. Don Draper is in it.

5. There is sexual activity.

4. Events still occur well before Justin Bieber's birth.

3. Some of the scenes take place within a Manhattan advertising agency.

2. No one is mowed down by a machine gun.

1. There are no guest star appearances by the judges from American Idol.