01/29/09 11:00
By ED BARK
No one saw
Paul Blart: Mall Cop
coming. At least no one saw it coming to the tune of $64.8 million in ticket sales for its first two weekends of release.
That puts former
King of Queens
star Kevin James in the select company of TV denizens who have hit the big-screen motherlode with a surprise, career-turning hit. But where does James rank on the all-time list? Let's count 'em down.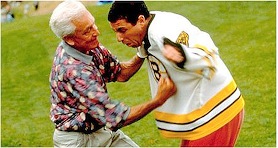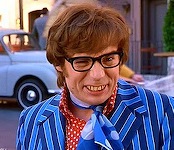 10. Steve Carell in The 40-Year-Old Virgin (2005)
-- His first star vehicle, after supporting roles in the likes of
Bruce Almighty
and
Anchorman
, took Carell into the realm of bankable comedy stars.
The Office
still churns his butter, but he now can pick and choose among big-ticket projects.
Domestic box office:
$109.4 million
9. Seth Rogen in Knocked Up (2007)
-- He co-starred in NBC's critically acclaimed but little-seen
Freaks and Geeks
before also languishing in Fox's likewise under-appreciated
Undeclared
. Both were creations of Judd Apatow, whose career soared along with Rogen's when he made him the unlikely leading man of a comedy-romance co-starring Katherine Heigl of ABC's
Grey's Anatomy
. Coming next year for Rogen: the starring role of Britt Reid in a new big-budget version of
The Green Hornet
.
Domestic box office:
$148.8 million
8. Adam Sandler in Happy Gilmore (1996)
-- The former
Saturday Night Live
star slowly gained traction in movies such as
Mixed Nuts
and
Billy Madison
. Then
Happy Gilmore
took him into the stratosphere as a goofball golfer with a hockey player's swing and mentality. Putting himself on the receiving end of a Bob Barker punch-out also proved to be comedy gold. Not a huge moneymaker, but a certified semi-cult classic that put Sandler on track to
The Wedding Singer, The Waterboy
and
Big Daddy
in the next three years.
Domestic box office:
$38.6 million
7. Mike Myers in Austin Powers: International Man of Mystery (1997)
-- Likewise an
SNL
alum, Myers created a multi-million dollar franchise character for himself in this surprise spy spoof hit. Catchphrases abounded, too, including "Oh behave" and "Yeah, baby." There have been two sequels to date, with Myers also cashing in as the voice of Shrek.
Domestic box office:
$53 million
6. Sharon Stone in Basic Instinct (1992)
-- Stone had barely scratched the surface after compiling a long list of TV credits ranging from
Magnum, P.I.
to
Bay City Blues
to the miniseries
War and Remembrance
. But this single role as a diabolical sexpot -- including a fleeting but memorable glimpse of her lower regions -- propelled Stone to international stardom. Not that she's done much of late.
Domestic box office:
$117.7 million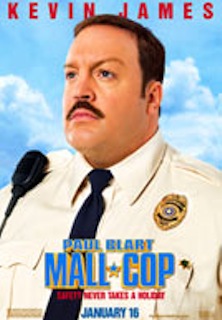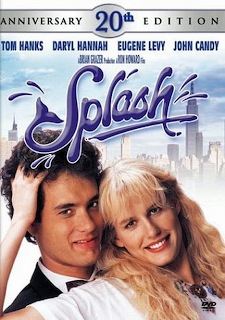 5. Kevin James in Paul Blart: Mall Cop (2009)
-- There'll be a sequel for sure. From there, who knows? But James suddenly is money in the bank on the big-screen, which is a shocker in itself. Ray Romano, Kelsey Grammer and the entire cast of
Friends
still can't say as much.
Domestic box office:
$64.8 million and growing.
4. John Travolta in Saturday Night Fever (1977)
-- Travolta was still playing "Sweathog" Vinnie Barbarino on ABC's
Welcome Back, Kotter
when this unexpected big-screen smash put him on Hollywood's A-list as strutting, white-suited, disco king Tony Manero. He stayed on top for several years before all but sinking from sight. Then
Pulp Fiction
jump-started his career all over again.
Domestic box office:
$94.2 million
3. Tom Hanks in Splash (1984)
-- He achieved modest fame -- mostly in drag -- as Kip/Buffy Wilson in ABC's
Bosom Buddies
. But
Splash
made his bones in a role that reportedly was turned down by the likes of Travolta, Bill Murray and Dudley Moore.
Splash
also gave Ron "Opie" Howard his first hit as a director. Both have gone on to win Academy Awards and earn mega-millions.
Domestic box office:
$69.9 million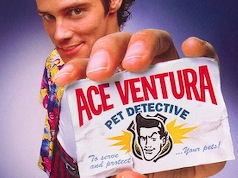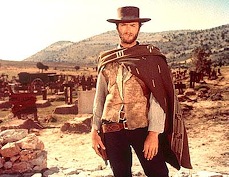 2. Jim Carrey in Ace Ventura, Pet Detective (1994)
-- Carrey was a gainful member of Fox's
In Living Color
repertory company and also had starred as cartoonist Skip Tarkenton in NBC's very quickly canceled
The Duck Factory
. But his low-budget, Jerry Lewis-esqe mania in
Pet Detective
made Carrey an instant big-screen comedy god. Maybe someday he'll get that Oscar to go along with all the dough he's made for both himself and various studios.
Domestic box office:
$72.2 million
1. Clint Eastwood in A Fistful of Dollars (1964)
-- Eastwood starred in this so-called "spaghetti western," made abroad on a shoestring budget, while still playing trail hand Rowdy Yates in CBS'
Rawhide
. He stuck to his guns on that series for its entire run of 217 episodes. But Eastwood's enigmatic, quick-triggered "Man with No Name" is the role that has made him a name to be reckoned with for the past 45 years. Never less than an A-lister, his numerous hit westerns and portrayals of snarly cop "Dirty Harry" Callahan continue to make Eastwood an indelible, inimitable big-screen deity on a worldwide scale. He's not a bad director either.
Domestic box office:
$14.5 million