09/12/07 10:56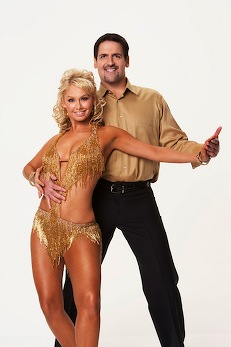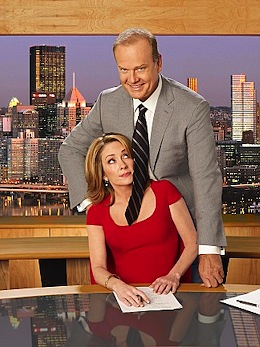 Mark Cuban & Kym Johnson; Patricia Heaton & Kelsey Grammer.
By ED BARK10. Will NBC's high-qualityFriday Night Lights play a full season in its new Friday night time slot?
The 8 p.m. (central) competition isn't all that tough from three newcomers -- ABC's
Women's Murder Club
, CBS'
Moonlight
and Fox's
Nashville
. Still, common sense says that high school football fans are out watching high school football on Friday nights. And that's a lot of viewers when you also include players, bands, cheerleaders, drill teams, etc.
NBC's promotional campaign will de-accentuate football to the point of trying to make you think this actually is
The O.C.
set in Austin. But it's not, and I'm afraid that new NBC entertainment president Ben Silverman will have a quick hook for
FNL
if it doesn't start out with a big kickoff return. Likely scenario: a game show takes its place by midseason.
9. Can Dallas Mavericks owner Mark Cuban possibly win ABC's Dancing with the Stars?
Probably not, although he might well make it at least to the midway point if he truly throws himself into it and doesn't have any problems from recent hip replacement surgery.
The strength of a contestant's built-in fan base is very important on this show. Cuban's is predominantly young males who'd rather blister the roofs of their mouths with a piping hot pizza slice than watch
Dancing
. So Cuban will have to charm the ladies while also resisting any overwhelming urges to trash the show's judges on live television or on his blog. Watch that body language and posture, too. And keep those wild eyes from looking too menacing.
Cuban should, however, be able to whip creaky Wayne Newton, who's going to look mighty scary in closeup. Two of the show's older women contestants, Jane Seymour and Marie Osmond, have widespread fan bases that might give them a leg up if they can dance a lick. Boxer Floyd "Pretty Boy" Mayweather also should be able to translate his fast footwork to a dance floor.
8. What new series faces the toughest competition?
No contest. It's Fox's set-in-New Orleans
K-Ville
, which opens on Monday nights at 8 against the closing half hour of
Dancing with the Stars
, NBC's
Heroes
, CBS' potent comedy duo of
Two and a Half Men
and
Rules of Engagement
, The CW's
Girlfriends
plus ESPN's
Monday Night Football
.
Also, the premiere episode of
K-Ville
is way too heavy on gun violence, wasting any built-in empathy viewers might have for the Big Easy. In short, it's a sure goner.
7. Can Fox's star-powered Back to You revitalize the classic studio audience sitcom?
If it can't, then what can? Kelsey Grammer and Patricia Heaton star as bickerlng Pittsburgh TV news anchors, with Fred Willard as a side dish. Not surprisingly then, the premiere episode is broadly funny and snappy.
Back to You
would be a sure hit following
Two and a Half Men
on CBS' sitcom-heavy Monday night lineup. It'll have a tougher time leading off Wednesday nights for Fox, but the network clearly won't drop this show without giving it every chance to build and hold an audience. My guess is that
Back to You
will be at least a modest hit. But its audiences won't come close to matching those for Grammer's
Frasier
or Heaton's
Everybody Loves Raymond
.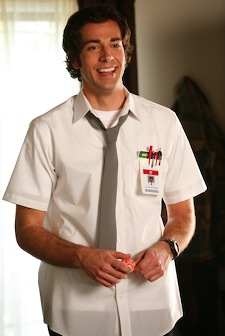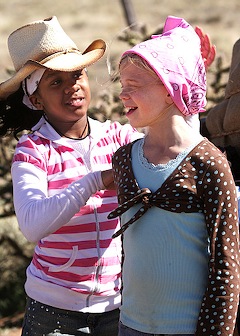 NBC's nerd-driven Chuck and two stars from CBS' Kid Nation.
6. Can NBC make a living on Monday nights with a wall-to-wall sci-fi/fantasy lineup of Chuck, Heroes and Journeyman?
At least two-thirds of this lineup might work.
Chuck
has a very appealing lead in Zachary Levi and a nicely sculpted super-agent protector played by Aussie newcomer Yvonne Strahovski. The first episode is bright, amusing, well-paced and likely to do very well with advertiser-craved younger audiences.
Heroes
already has a built-in fan base, even if it already started shrinking by the end of the show's first season. The big problem for NBC is
Journeyman
, starring a San Francisco newspaperman turned reluctant time traveler. The pilot is murky, jerky and no match for either CBS'
CSI: Miami
or ABC's somewhat resurgent
The Bachelor
. But two out of three wouldn't be too bad.
5. ABC seems to be taking a big risk with an all-new Wednesday night lineup. What are its chances?
Pretty good actually. The fantasy drama
Pushing Daisies
is getting a big push from many TV critics, even if this one is still a bit skeptical. Still, it's a daringly different show that should get a sizable tune-in.
In the middle of the order is
Private Practice
, the
Grey's Anatomy
spinoff starring spinee Kate Walsh and TV vets Tim Daly, Amy Brenneman and Taye Diggs among others. It's got some script and character problems but not a lot of heavy-duty competition unless NBC's even more creatively troubled
Bionic Woman
somehow takes off in a big way.
Then comes
Dirty Sexy Money
with former
Six Feet Under
star Peter Krause. More on that later in this list.
4. Will Fox's 24 regain its stride after last season's meandering, mediocre edition?
We won't know until January, when the series again returns to Monday nights. Early signs aren't great, though. A planned China locale has been scrapped, and another false start has put the show further behind its intended production schedule. The old, seat-of-the-pants, make-it-up-as-we-go-along approach might not work anymore for this show. But it's a good idea to abandon CTU and get Jack Bauer out on his own. And the show's first woman president should further jack things up.
3. Can CBS' Kid Nation overcome all the overblown controversy and be a surprise hit?
I'm strictly in a stick-your-neck-out minority on this one, but
Kid Nation
just might make it after all. Whatever happens, this reality series isn't child abuse despite being positioned as such. The 40 kids involved actually might teach grownups a thing or two about resiliency and coping with a little adversity while more or less fending for themselves. That would be a nice change of pace from Malcolm Milquetoast whining about having to take out the trash before his parents take him to the Apple Store.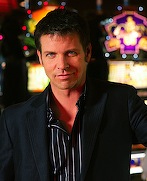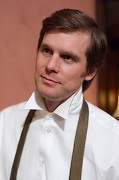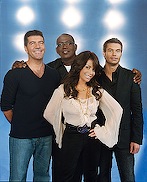 Lloyd Owen of CBS' Viva Laughlin, Peter Krause of ABC's Dirty Sexy Money and you know who from Fox's you know what.
2. What will be the season's biggest hit and biggest bomb?
The biggest bomb looks like an easy call. It would be CBS'
Viva Laughlin
, a weak-in-the-knees remake of the BBC's superb
Viva Blackpool
. Scheduled on Sunday nights at 7 p.m. opposite NBC's pro football and ABC's
Extreme Makeover: Home Edition
, this attempt to meld song-and-dance with a serialized whodunit works passably well only when Hugh Jackman's on-screen. Problem is, he's only committed to be in the pilot. This otherwise looks like a clinker/stinker without enough musical oomph, interesting characters or intrigue.
On the other side of this coin, I'll go with ABC's
Dirty Sexy Money
, which has a pop off the page title reminiscent of
Desperate Housewives
. It's not my favorite show of the new season, but I'm betting it will be the most commercially successful. Peter Krause is strong and sturdy in the lead while Donald Sutherland again adds a supporting character of considerable import.
1. Has American Idol finally hit the wall, or were the declining ratings at the end of last season simply due to an overall lackluster cast of singers, save for Melinda Doolittle?
Fox's crown jewel still has plenty of punch, but I think its ratings have peaked. It's still likely to flatten the shows in its path, but expect this January's seventh edition to slide a bit from its accustomed mountaintop. Everything in TV has a shelf life, even
Idol
. It's not inconceivable that ratings for ABC's
Dancing with the Stars
will equal
Idol
's at some point during the season.
Idol
is hardly finished, and should have at least three or four more very gainful seasons left in the tank. Further ratings records aren't likely, though. And now of course they'll prove me wrong.