Top 10 all-time TV flops
08/11/08 09:20
By ED BARK
Hope springs eternal each fall. At least in TV land it does.
We're nearing that time again, with every last new series deemed a must-see mega-hit until Nielsen Media Research's grim reaper ratings say otherwise.
Shows with big names attached take the hardest falls. So let's revisit 10 monumental flops whose big buildups and budgets went for naught.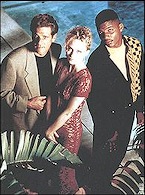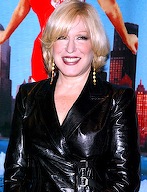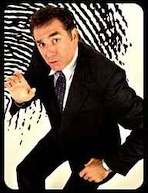 10. South of Sunset
(1993) -- One and done. CBS thought it could turn Glen Frey of The Eagles into a wisecracking, up-against-it Los Angeles private eye named Cody McMahon. But the opening night ratings were subterranean, prompting the network to let the sun set on Frey's acting ambitions after just a single episode.
9. Bette
(2000) -- "The Divine Miss M" starred as a thinly disguised caricature of herself in a lame-o sitcom in which her 12-year-old daughter Rose was played in the first episode only by Lindsay Lohan. Cripes, even then she apparently was difficult. CBS called off all
Bettes
five months later after audience levels drooped despite big-name guest appearances by the likes of Oprah Winfrey, Tony Danza, Dolly Parton and Danny DeVito.
8. The Michael Richards Show
(2000) -- First to launch a post-
Seinfeld
series, Richards bombed as hapless L.A. detective Vic Nardozza in a comedy series that was worked and reworked to no avail before NBC somehow saw fit to air it. Also going down with the ship were co-stars William Devane and Tim Meadows in his first post-
Saturday Night Live
effort to branch out.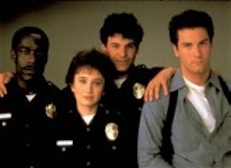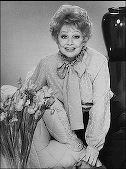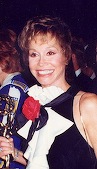 7. Cop Rock
(1990) -- Executive producer Steven Bochco already had
Hill Street Blues
and
L.A. Law
in the bank when he persuaded ABC to take a chance on a musical drama about hard-edged cops and crooks who broke into song on a moment's notice. It lasted three months before the network thoughtfully aired the last episode on Christmas Day. Co-star James McDaniel eventually recovered to become a regular in Bochco's
NYPD Blue
. But the producer's wife, Barbara Bosson, who played Mayor Louise Plank, went on to become his ex-wife.
6. Life With Lucy
(1986) -- At age 75, the undisputed Queen of Comedy made a major miscalculation in making one last grab at the brass ring. Her old writers, longtime comedy foil Gale Gordon and ABC potentate Aaron Spelling also jumped on board. Less than two months later, ABC mercifully called an end to it. Viewers just didn't want to see their beloved Lucy as a peppy, clumsy grandma who split time between a hardware store and babysitting her young grandchildren.
5. Mary
(1978) -- Just a year removed from the glory of
The Mary Tyler Moore Show
, the star tried her hand at comedy-variety with a one-hour series whose repertory company included then newcomers David Letterman, Michael Keaton and Swoosie Kurtz. Moore obviously had a good eye for talent, but the show lasted for just three episodes on CBS. Its executive producer, Grant Tinker, who was Moore's husband at the time, went on to become chairman of NBC.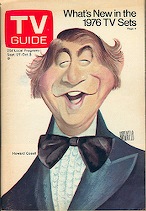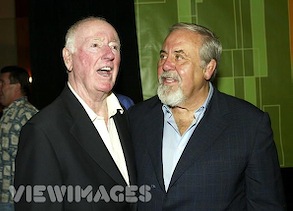 4. Saturday Night Live with Howard Cosell
(1975) -- Imagine "Humble Howie" introducing The Bay City Rollers as his inaugural musical guest. ABC's ballyhooed attempt to make Cosell the next Ed Sullivan became a fiasco for all seasons despite weekly guest appearances by a parade of A-listers from both the show business and sports worlds. Frank Sinatra, John Wayne and Andy Williams dropped in, as did Evel Knievel, Jimmy Connors and Muhammad Ali and Joe Frazier via satellite on the night before their "Thrilla in Manila." NBC's
Saturday Night Live
, which premiered just three weeks later, has managed to last a bit longer.
3. Turn-On
(1969) -- ABC envisioned an irreverent counterpart to NBC's
Laugh-In
when it hired that show's executive producer, George Schlatter (pictured above with Dick Martin), to pull the strings. This didn't work too well. Rife with sexual double entendres,
Turn-On
reportedly was turned off by at least one ABC affiliate in mid-show. The network then followed suit after just one episode, leaving a mostly no-name ensemble company in the lurch and opening night guest star Tim Conway as an off-center trivia question.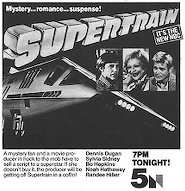 2. The Chevy Chase Show
(1993) -- The late night terrain shifted big-time in fall 1993, with David Letterman jumping from NBC to CBS, Conan O'Brien replacing him and Fox hoping to capitalize with Chevy Chase behind a desk. No high-priced late nighter has ever bombed bigger. Chevy, who turned out to be an Edsel, lasted just six weeks before scathing reviews and comatose ratings led to terminal transmission problems. Fox had even built the host his own theater, including a behind-the-desk fish tank. Tanked was the word, all right.
1. Supertrain
(1979) -- NBC's answer to
The Love Boat
remains the gold standard for mega-flops. The Peacock spared no expense in building a luxury rail-rider complete with swimming pool, steam room and discotheque. Conductor Harry Flood, played by Edward Andrews, was supposed to be the next Cap. Stubing. But the show quickly chug-a-chugged to ratings oblivion despite a carousel of guest passengers played by the likes of Zsa Zsa Gabor, George Hamilton, Jamie Farr, Dick Van Dyke, Loretta Swit and Don Meredith. What, no Charo? Maybe that was the problem.