Local Nielsen ratings snapshot (Fri.-Sun, March 13-15) -- NBC's Kings opens with commoner ratings
03/17/09 08:22 AM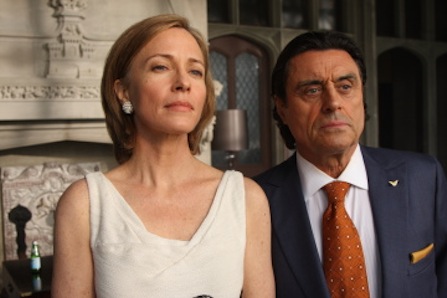 Queen Rose (Susanna Thompson), King Silas (Ian McShane) of Kings
By ED BARK
The two-hour premiere of NBC's lavish
Kings
wore its crown unsteadily Sunday night, drawing 119,574 D-FW viewers
That put it fourth from 7 to 9 p.m. behind ABC's leading contingent of
Extreme Makeover: Home Edition
(179,361 viewers) and
Desperate Housewives
(232,505 viewers).
Kings
fared a bit better among advertiser-coveted 18-to-49-year-olds, beating CBS'
The Amazing Race
in the 7 p.m. hour while losing to
Extreme Makeover
by just a smidgen. It then ran fourth from 8 to 9 p.m., where Fox's
Family Guy
had the biggest 18-to-49-year-old haul of the night (113,442 viewers in that age range).
Earlier Sunday, the Dallas Mavericks' hang-tough road loss to the Lakers averaged 93,002 total viewers on ABC. The Mavs were beaten overall from 2:30 to 5 p.m. by NBC's Doral Open golf tournament.
In the Friday Nielsens, Fox's
Dollhouse
continued to flop in these parts, running fifth with just 73,073 viewers from 8 to 9 p.m. CBS' competing
Flashpoint
led the way with more than double that crowd (205,933 viewers). It was no better for
Dollhouse
among 18-to-49-year-olds.
In Friday's local newscast derby, WFAA8 swept the 10 p.m. ratings in both total viewers and 25-to-54-year-olds, the main advertiser target audience for news programming.
Fox4 did likewise at 6 a.m., knocking NBC5 into second place for at least a day. CBS11 continued to battle WFAA8 for a distant third place, edging the ABC station in total viewers but falling to fourth among 25-to-54-year-olds.
WFAA8 won at 6 p.m. in total viewers while sharing the gold with Fox4 in the 25-to-54 demographic. At 5 p.m., NBC5 took first place in total viewers and tied WFAA8 for the top spot with 25-to-54-year-olds.