07/29/08 10:31 PM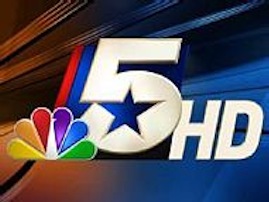 By ED BARK
Thomas Ehlmann, incoming vice president and general manager at D-FW's NBC5, will be required to make his mark when he assumes those positions on August 11th.
But what can or should he do? And how independent can he be under the watchful eye of higher power Larry Wert, the Peacock kingpin with the elongated title of president, central & western region, NBC Local Media?
Ehlmann will report to Wert, who also announced his hiring after
plucking him
from Chicago's WGN-TV. The new guy now works for one of 10 stations owned and operated by Peacock corporate. He left Tribune-owned WGN just as layoffs were being ordered, according to a
Chicago Sun-Times report
.
NBC5 already has the smallest news staff in the market, so further downsizing probably isn't imminent. But there are numerous other ways that Ehlmann can make an imprint on a station that's had some significant ratings downturns in the past two years, particularly at 10 p.m. Here are four possibilities, none of which are possible without approval from on high:
A.
Return long-form investigative reporting to NBC5 while also performing major surgery on a semi-tabloid newscast that mostly relies on short bursts of crime, tragedy and flimsy consumer reporting.
B.
Shake up the featured news anchor team of Mike Snyder and Jane McGarry. Maybe there are other things they could do for the station. They've had a long tenure together, but the ratings meter hasn't been moving in the right direction for a while.
C.
Make a major investment in a new studio that would put NBC5's newscasts in the heart of downtown Fort Worth instead of in the middle of nowhere off Barnett St. WFAA8's new glass-encased Victory Park digs have given that station a big jolt of visibility. NBC5 might be able to do the same for itself with a showy Sundance Square presence.
D.
Do nothing and stay the course. The NBC network is in a ratings ditch, too. When it improves its position, NBC5 will do likewise. It's not all Snyder's and McGarry's fault. They're not the brainiacs behind NBC's prime-time schedule.
So which of these would be your highest priority? Or maybe you have other ideas.