10/29/06 04:19 PM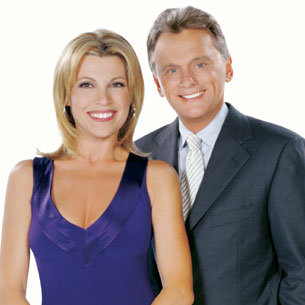 By ED BARK
The thrill of victory and, for the first time, the agony of high-def.
Wheel of Fortune
has both going for it this fall, which makes the show's two longrunning stars just a little camera-shy.
Vanna White, who will hit the half-century mark on Feb. 18, isn't ready for those kinds of closeups. Pat Sajak, who turned 60 last Thursday, would just as soon be shot the old-school way. They talked about putting their pores on the line during a recent stop in Dallas to tape three weeks worth of Texas-themed shows that begin rolling out Monday (6:30 p.m. on CBS11 locally).
"No. No, of course I'm not ready for it," White says without batting an eyelash. "It shows every line and wrinkle in your face. Makes you look 20 times older than you are!"
But how does she really feel?
"They apply the makeup differently because every little thing shows. Everything. Every follicle. I'm scared to look at it. I don't think I'm going to watch the show for a while. All these years people say, 'You look so much better in person.' But now I'm afraid what they're going to say."
Sajak spoke with clarity, too. So to speak.
"Boy, I'm not a fan of HD personally. I'd like some Barbra Streisand gauze...I want the Barbara Walters soft-focus. You can barely see Barbara anymore. People may be completely repulsed and say, 'Who's this new host that we have here -- Quasimodo?' I want low-def. Low, lower and lowest def."
They're otherwise doing just fine. Sajak is in his 25th year of hosting
Wheel
, which is very nice work if you can get it. The hours aren't long, the pay is super-sweet and
Wheel
is still the No. 1-rated show in syndication, according to Nielsen Media Research.
"It's a show that defies logic in some ways," Sajak says. "There's an old-fashioned nature to it that's kind of counter to what's going on in television. If I went to pitch this show to a network today, I wouldn't get past 30 seconds. But somewhere along the line we became part of the popular culture. Even if you don't watch the show every day, it's kind of comforting to know it's out there. It's like the sunset."
White, who began turning heads and letters in 1982, has both a star on the Hollywood Walk of Fame and an entry in the Guinness Book of World Records as "Television's Most Frequent Clapper." She supposedly averages 720 claps a show and more than 28,000 a season.
"What did they do, slow the camera down and count each one?" she wonders.
She's never replicated a dress on the air, and now has worn more than 5,000 different outfits. But White's briefly stumped when asked to name the first letter she ever turned (according to official
Wheel
press materials).
"Let me guess. N?"
"No."
"T?"
"Yes."
"OK. All right. I should have remembered that one."
She'd rather have people forget her upcoming 50th birthday.
"I don't know what I'm going to do. I need to figure out something. It's going to be here before I know it."
She then says "yikes" in a whisper, prompting her even older interviewer to blurt, "Don't get depressed."
"No? I kind of am," White says. "I am depressed. There's something about it. It just sounds so old. But it's only the way we feel, right? I'm going to be as good as I can when I turn that age on my next birthday. I refuse to say it."
Let's end on a brighter, perkier vowel. Sajak is a master of self-deprecation, it turns out. At the time of our interview, he hadn't yet read a
Rolling Stone
profile on
Wheel
creator Merv Griffin. But this did cause him to remember what
Rolling Stone
once said about him. The writer first referenced the movie
The Fly
. Then he said that if Dick Clark and a chipmunk entered its experimental machine together, Pat Sajak would emerge.
High-def at least won't do that to him.