07/24/09 10:33 AM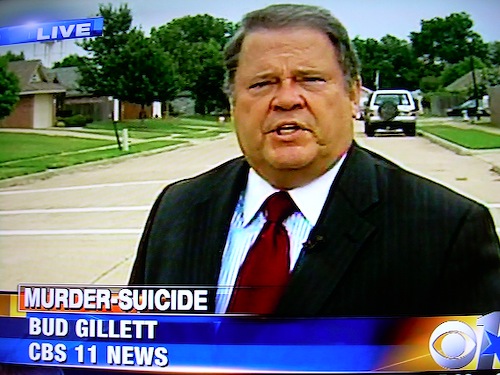 There he is, leading off Thursday's 5 p.m. newscast. Photo: Ed Bark
By ED BARK
Co-anchor Karen Borta had no discernible edge to her voice when she threw it to reporter Bud Gillett at the top of Thursday's 5 p.m. CBS11 newscast.
Less than eight hours earlier, CBS11 management had issued its official response to Gillett's
bluntly worded discrimination lawsuit
against the station. The suit is "completely unfounded and we intend to fight it vigorously," the CBS-owned station said. (Both the suit and the station's response were first reported on unclebarky.com.)
Then it was business as usual, at least in terms of what viewers saw on home screens. Gillett returned to work -- resuming his regular Thursday through Monday schedule. And he led CBS11's 5 p.m. news with a live report on a murder-suicide in Midlothian. No muss, no fuss.
Returning a phone call Friday afternoon, Gillett politely said, "I can't talk about anything." But as previously noted, his 11-page lawsuit already speaks volumes, at least from his perspective.
Many of his co--workers, particularly the station's minority women reporters, obviously have a different view after being singled out in the lawsuit as undeserving of the air time and visibility they're supposedly getting at Gillett's expense. According to the lawsuit, it's because he's "an older, white, male, born-in-the-U.S.A. reporter" who's been locked into a "dead-end career" that includes working on both Saturdays and Sundays.
Management has to be exceedingly careful in such cases. And although no one will talk on the record, this much is clear:
***
Gillett, 60, almost assuredly will not be fired because that would only fan the flames of his lawsuit.
***
He could be offered a buyout that would have to be authorized at the corporate level. But of course Gillett in turn would have to drop his lawsuit. In companion materials provided by his attorney, Hal K. Gillespie, Gillett contends that before he filed his suit, CBS11 was "prepared to offer me a 'package' if I wanted to leave." But Gillett, who joined the station in September 2001 after a long career at Dallas-based KDFW-TV (Channel 4), insists that he wants to stay at CBS11 and "grow in my career."
***
This could take a long time, and under very unusual circumstances. It's very rare -- and I can't think of a precedent in D-FW -- for a reporter or anchor to continue working at his or her station while a lawsuit of this kind is pending.
Former WFAA8 anchor Scott Sams, now with CBS11, already had been dropped by his station when he
sued for discrimination
shortly after his September 2004 dismissal. In January of 2007 he was awarded a partial judgment of $600,000, with both sides claiming victory.
Former Fox4 reporter Rebecca Aguilar was immediately taken off the air, in October 2007, after her controversial interview of an elderly man who had shot and killed two intruders at his junkyard. Aguilar's subsequent
discrimination suit
against the station, filed in January of this year, is scheduled to go to court in July, 2010, she says.
***
Gillett is likely to be a pariah -- and understandably so -- among many of his co-workers. Maybe it's not easy being an ordinary looking, older white guy in a telegenic medium. But some of the language in Gillett's lawsuit makes him seem more like a jingoistic Neanderthal than a justice-seeker. Including this passage: "Defendants (CBS11) have a pattern of giving preferred assignments to Hispanic and foreign born employees and less preferable work to Caucasian, born in the United States, older male employees."
Five of Gillett's CBS11 colleagues are singled out as basically inferior to him. News director Scott Diener also is said to have "threatened" Gillett by calling him "bitter." These are wounds that won't heal, regardless of how all of this comes out.
Bottom line:
I've long respected Gillett, and
said so in these spaces
, as a solid, professional reporter whose work is largely unheralded. But he was already nearing 53 when CBS11 hired him -- and put him on the weekends he now so despises. He had left Channel 4 in 2000 after 22 years at the station. There was no bidding war for him.
Television, as are other workplaces, can be a cruel mistress. And yes, there are a lot of big jerks in management. But Gillett is not exactly a bright, shining rising star in a medium where looks, diversity and attracting a young audience long have been facts of life.
Simply put, he's got a full-time, no doubt decently paying job in the country's fifth largest TV market. Maybe it's no bed of roses, but Gillett is deluding himself if he thinks his best days as a reporter are ahead of him. Yeah, his experience should count for a lot. But it's not a lifetime pass anymore -- in any line of work.
His lawsuit says that Gillett's "unfavorable schedule, modest exposure and lack of promotion are the death knell to a successful, award-winning reporter's career. Working a weekend schedule for an extended period of time hamper's a reporter's ability to obtain another position. An unfavorable schedule for a reporter is far more than a mere inconvenience or a petty indignity. The weekend schedule marginalizes Gillett's work because weekend assignments take him out of the regular business week."
And so on. News flash. Life isn't fair. But overall, life has been pretty good to Bud Gillett. So it's sad to see him go out this way. Win, lose or draw on his lawsuit, he's done himself no favors. In the end, no one likes a bitter beer face.