01/28/09 08:27 AM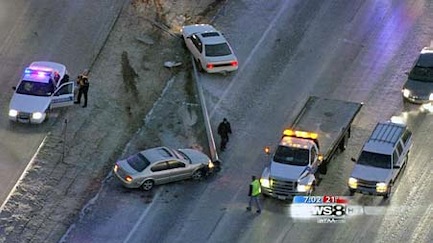 By ED BARK
Neither rain, sleet, snow -- or two power outages in the hour beforehand -- could stop Fox4's 9 p.m. newscast from its appointed icy rounds Tuesday.
It didn't look good, though, when color bars initially greeted viewers who'd been watching the Fox network's
Fringe
.
Anchor
Steve Eagar
turned up shortly, though, from a camp-out in Fox4's newsroom instead of at the anchor desk with
Heather Hays
.
"We're kind of in a mess here at Fox4," Eagar told viewers before throwing it to meteorologist
Dan Henry
, who had a lone static weather map in play before it froze on-screen and his audio went out.
"Fox4 news is experiencing technical difficulties," viewers were told via a "crawl" at the bottom of home screens. "If you are experiencing loss of audio it is not your television set. Please be patient while we correct the problem."
Henry shortly returned to the living and vamped with his lone weather map before Eagar again stepped in.
"We've had some power failures. Computers are down," he said.
But Fox4 reporters were still visible and audible via live shots from multiple locations. We'll get to them and rival stations' coverage after noting that Eagar and Hays made it back to their anchor desk after the first commercial break.
Things went reasonably well from there, although Henry's weather computers remained sluggish. A little tech-speak kicked in after a map failed to materialize. "If you can, John, let's go back to Weather 7, and I'll hop back in the chroma-key here," Henry said. And so he did.
Fox4, NBC5, WFAA8, CBS11 and even "The 33" performed admirably under the circumstances Tuesday night. But Fox4 gets a gold star for holding its 9 p.m. newscast together after all seemed lost just a few minutes before start time. This is no small deal. As posted earlier on unclebarky.com, Fox4's weather-heavy Monday 9 p.m. newscast
had more viewers than any another program that day
. So the stakes were high, and a total blackout would have robbed Fox4 of hundreds of thousands of potential viewers.
OK, here's a look at who hit the streets on Tuesday's local late night newscasts. (P.S. NBC5, WFAA8 and CBS11 all knocked out their morning network shows Wednesday and then continued with local weather coverage past 9 a.m. Fox4's homegrown
Good Day
, which runs until 9 a.m., yielded to
Live with Regis and Kelly
a few minutes after the hour. By 10:30 a.m., only CBS11 was still sticking with non-stop local weather coverage.)
FOX4 (9 p.m. news)
Frozen chosen
--
Sophia Reza
in Carrollton at the George Bush turnpike & I-35E;
Lari Barager
in Fort Worth at I-30/I-35W;
Brandon Todd
in Denton;
Mike Doocy
outside American Airlines Center, where the Dallas Stars were playing;
Emily Lopez
in North Dallas.
"It's hitting my face, it hurts and it's cold," Todd said of the sleet he'd encountered.
Todd also displayed his ice-encrusted coat, which was "frozen."
Reza could be seen jumping up and down to stay warm during her second live shot.
Lopez declared, "It's not cold out here, Heather. It is fuh-reezing." She then showed off her sleet-laden hat. "That's the best $10 I ever spent."
Barager noted that her can of Coke had slush in it, rendering it more refreshing.
Doocy, initially under an umbrella and later in a stocking cap, said that the Stars drew just 6,900 fans Tuesday night, likely their smallest crowd ever.
NBC5 (10 p.m. news)
Frozen chosen
--
Scott Gordon
in Fort Worth at the "Mixmaster";
Ellen Goldberg
at the "High Five" in Dallas;
Randy McIlwain
in Denton;
Scott Friedman
outside D-FW Airport.
David Finfrock
manning the weather maps.
Gordon, encased in a light gray coat with hood, said, "It's not only a mess, it's downright dangerous here tonight."
"It's pretty much a ghost town out here," Goldberg observed from her post.
McIlwain crumpled an ice-crusted bush in his hand.
Addendum:
At mid-Wednesday morning, NBC5's anchors spent a good deal of time amusing themselves with motorists slowly skidding to a "standstill" on a nearby freeway. "The El Camino's making a move," co-anchor
Brendan Higgins
said drily. "This is better than a glass of ice tea on a hot summer day," enthused co-anchor
Deborah Ferguson
. Consider it the yin of a car chase yang. And OK, I couldn't turn away. So I guess it was "good television."
WFAA8 (10 p.m. news)
Frozen Chosen
--
Chris Hawes
in Fort Worth;
Jason Whitely
in Lewisville;
Steve Stoler
in Collin County;
Craig Civale
off of I-75 and later in West Dallas where a man had slipped off a bridge and fallen to his death in the icy Trinity River.
Pete Delkus
manning the weather maps.
Hawes, Whitely and Civale all went topless, er, hatless, and didn't seem cold at all. But Stoler bundled himself in a long black coat and big black hat. Nobody engaged in any histrionics.
CBS11 (10 p.m. news)
Frozen chosen
--
Carol Cavazos
at the Fort Worth "Mixmaster";
Jay Gormley
at the "High Five" in Dallas;
J.D. Miles
in Lewisville;
Jack Fink
in Plano;
Larry Mowry
manning the weather maps.
Miles was a blurry spectre in a yellow and white vest, and Eskimo-ish hood. His cameraman's lens had fogged up.
Mowry was summoned from a vacation in San Diego to head the weather team.
"THE 33" (9 p.m. news)
Frozen chosen
-- meteorologist Bob Goosmann in the station parking lot;
Shana Franklin
at I 35E and Fort Worth Drive;
Dawn Tongish
in Fort Worth;
Barry Carpenter
at Loop 12 and Hwy. 408;
Rebecca Miller
woman-ing the weather maps.
"Take a look at some of the cars in the ol' parking lot," Goosmann said before trying to scrape some ice off a front windshield.
In a second live shot, Goosmann noted that a nearby American flag was stuck to its frozen pole. Miller then rejoined from the toasty indoors, "I double dog dare you to go lick that pole. Naw, I'm kiddin'. Don't try to do that." (That's a reference to a famed playground scene in
A Christmas Story
for those who might have been puzzled.)
Franklin, sporting a Sherlock Holmes-esque hat, said to no one in particular, "If we're not frozen to death, we will rejoin you in about a half hour to update you on conditions."
She never returned. Send out a search party.