12/23/08 11:55 AM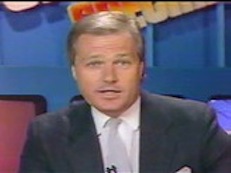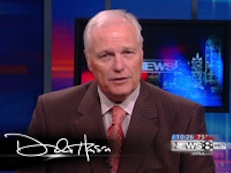 Then and now: Dale Hansen still doing "Thank God for Kids."
By ED BARK
More than 200,000 D-FW viewers watched Dale Hansen's
"Thank God for Kids"
segment Sunday night.
That's nothing new. The veteran WFAA8 sports anchor has been doing it every Christmas season since 1982.
But this time around, Hansen make a major point of lashing himself as an inadequate father while also faulting his adult son and daughter for not thinking better of him. His voice breaking, he then closed by saying, "I tried to be a good dad. I did the best I could. And no matter how long it takes, I promised their mom when she died 11 years ago, I
will
take care of our babies."
Hansen, who remarried before his first wife's death, has never been known to hide his feelings. It's both made him a star and led to a few firings along the way. But this wasn't just another blast at a pro sports figure. This was uncommonly personal. Whether it was the right forum is another matter. But for better or worse, Hansen communicates best when talking through a television screen or entertaining a large crowd at a public gathering. A lot of TV people are that way. It gets in the blood.
Asked about his "unusually personal commentary" in an email query, Hansen said that his longtime friend and former Cowboys assistant coach Joe Avezzano "might have said it best . . . 'Sounds like a plea for help with your son' "
"And that's probably exactly what it was. Make any sense?" Hansen added.
Hansen had many problems with his own father, who died earlier this year. He's made no secret of that, but they still communicated. Hansen's relationship with his only son, Eric, now 38, has worsened over the years. Eric dropped by to see him Sunday for the first time in two years and a month, Hansen told viewers.
"He doesn't like his dad much anymore, and hasn't for quite a while now," Hansen added. "I've tried everything I know, and I'm not giving up, but I'm afraid I've lost him. And along the way I'm losing my daughter, too. She thinks I care too much about him."
As reported by
The Dallas Morning News
, Eric Hansen had been questioned by police for informational purposes after real estate agent Jeanmarie Tolle Geis and her two young children were found dead in the family's North Dallas home Friday. Eric had been dating Geis for the past few months, and his eight-year-old son was best friends with her son, the story said.
Eric Hansen also was
interviewed on-camera
and identified as Dale Hansen's son in a story by WFAA8 reporter Jonathan Betz.
Dale Hansen, in his on-air commentary Sunday, said he had been too much of an absentee father during his son's and daughter's formative years. He compensated by spending lavishly on them. His rationale: "If I bought 'em enough and gave 'em enough, they wouldn't notice that I wasn't there."
Hansen repeatedly used the refrain, "And it's my fault, because they're my children." But he didn't place all of the blame on himself. If his children found themselves in a homeless center, "My son would be the one at the table complaining about the quality of the soup," Hansen told viewers. "And my daughter would be complaining that he had a bigger bowl than she did."
Hansen's daughter is a teacher, and he's most proud of that, he told viewers. "When someone walks by and sees my marker (gravestone) in the ground, they're gonna look down and say, 'Did you ever have a chance to meet that man's daughter? That man's daughter is a teacher. That man in the ground must have done something right.' "
In his subsequent email response, Hansen said he wanted to "talk about the feelings and problems I'm having with my children, with the hope that others would relate.
"They did, in surprisingly large numbers," he added. "The number of parents and kids who have told me of their separation has actually been surprising. But I do believe one of the things that has helped me stay on the air as long as I have is that I have no problem sharing my personal feelings -- good and bad."